Taiwan shares plunge below 13,800 points after U.S. volatility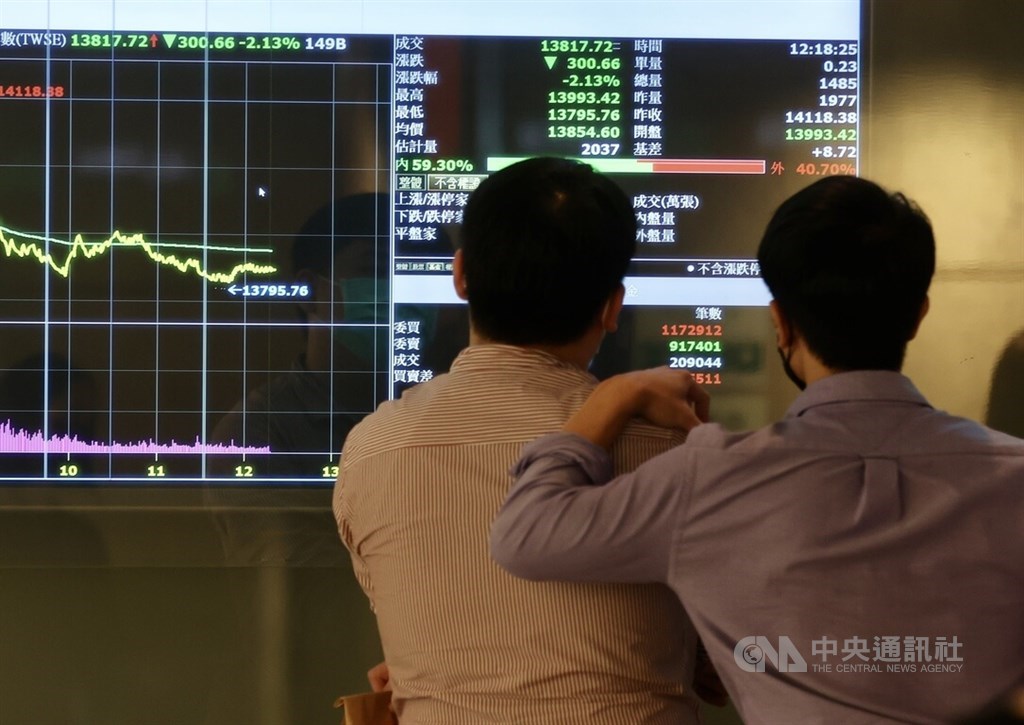 Taipei, Sept. 26 (CNA) Shares in Taiwan moved sharply lower by more than 300 points Monday with selling sparked by heavy losses on the United States markets amid concerns over the aggressive rate hike cycle being carried out by the U.S. Federal Reserve, dealers said.
The falling local bellwether electronics sector dictated the broad tone of the market with investors worried that rising interest rates could diminish the sector's luster relative to the cash dividend yield of tech stocks, dealers said.
Selling was also seen among old economy and financial stocks, pushing the main board below the 13,800-point mark, they said.
The Taiex, the weighted index on the Taiwan Stock Exchange, ended down 340.19 points, or 2.41 percent, at 13,778.19, after moving between 13,743,19 and 13,993.42. Turnover totaled NT$217.81 billion (US$6.83 billion).
The market opened down 0.89 percent in a knee jerk reaction to a 1.62 percent fall on the Dow Jones Industrial Average and a 1.80 percent decline on the tech-heavy Nasdaq index on Friday as the Fed's hawkish tightening continues to test investors' nerves, dealers said.
Downward pressure continued as large cap semiconductor stocks suffered from selling across the board, pushing the Taiex below the nearest technical resistance at around 13,928 points, the intraday low on July 12.
The index fell even further by the end of the session, although government-led funds jumped onto the trading floor to lend support, dealers said.
National Stabilization Fund intervention
After dipping to 13,928 points at one point on July 12, Taiwan's government authorized the intervention of the National Stabilization Fund, which was set up in 2000 with a budget of NT$500 billion to serve as a buffer against unexpected external factors that could disrupt the local bourse.
"As the Taiex failed to sustain itself above 13,928 points today, the main board has become technically fragile," MasterLink Securities analyst Tom Tang said. "The weakness simply reflects worries that the Fed will continue to act aggressively after a 75-basis point rate hike in September."
In a statement released by the Fed after it wrapped up a policymaking meeting on Sept. 21, Fed Chairman Jerome Powell said he and his colleagues were "strongly committed to bringing inflation back down to our 2 percent goal", while the "dot-plot," which the Fed uses to signal its outlook for the path of interest rates, indicated there would be no rate cuts until 2024.
In August, the U.S. consumer price index rose 8.3 percent, moderating from 8.5 percent in July but beating an earlier market estimate of 8.1 percent.
"The rate hike cycle in the U.S. market continues to prompt foreign institutional investors to cut their holdings; and liquid tech heavyweights, again, fell victim to the sell-off despite government intervention," Tang said.
According to the TWSE, foreign institutional investors sold a net NT$7.85 billion worth of shares on the main board Monday.
Tech stocks
After coming off a low of NT$443.00 on the back of government support, contract chipmaker Taiwan Semiconductor Manufacturing Co. (TSMC), the most heavily weighted stock on the local market, lost 1.87 percent to close at NT$446.50.
Among other falling large tech stocks, shares in smartphone IC designer MediaTek Inc. fell 1.90 percent to end at NT$569.00, IC packaging and testing services provider ASE Technology Holding Co. declined 3.21 percent to close at NT$81.30, and application-specific IC (ASIC) designer Alchip Technologies Ltd. ended down 5.25 percent at NT$866.00.
Also in the electronics sector, iPhone assembler Hon Hai Precision Industry Co. shed 2.35 percent to close at NT$104.00, and Largan Precision Co., a supplier of smartphone camera lenses to Apple Inc., dropped 2.12 percent to end at NT$1,845.00.
The electronics sector lost 2.42 percent with the semiconductor sub-index also down 2.42 percent, while the transportation sector led old economy stocks lower throughout the trading session, plunging 6.15 percent.
Shipping, financial firms
"Selling among shipping stocks in the sector was sparked by falling freight rates at a time when a weakening global economy dragged down demand," Tang said, referring to the Shanghai Containerized Freight Index, which shed more than 11 percent at the end of last week.
Evergreen Marine Corp., the largest container cargo shipper in Taiwan, lost 7.91 percent to close at NT$145.50, and rivals Yang Ming Marine Transport Corp. and Wan Hai Lines Ltd. fell 8.61 percent and 7.34 percent, respectively, to end at NT$61.60 and NT$69.40.
Bulk cargo shipper Tze Shin International Co. also shed 9.60 percent to close at NT$13.65, and rival U-Ming Marine Transport Corp. lost 6.45 percent to end at NT$38.45.
In the financial sector, which lost 1.62 percent, Cathay Financial Holding Co. fell 1.43 percent to close at NT$41.50, and Fubon Financial Holding Co. ended down 1.67 percent at NT$52.90.
"As the Dow fell below 30,000 points, more losses are likely to follow and continue to affect sentiment in Taiwan," Tang said. "So, it is hard to predict where the Taiex will find the next nearest technical support."
Related News
Sept. 24: U.S. dollar strengthens to 5.5-year high against Taiwan currency
Sept. 22: Central bank cuts Taiwan GDP growth forecast to 3.51% for 2022
Sept. 22: Central bank raises interest rates by 12.5 basis points
Sept. 10: Foreign institutional investors record net fund outflows for August
Aug. 31: Average daily turnover on TWSE plunging, but fundamentals sound: FSC
July 13: Taiwan shares soar as stabilization fund's decision boosts sentiment