U.S. trade talks can help counter China 'coercion': Cabinet official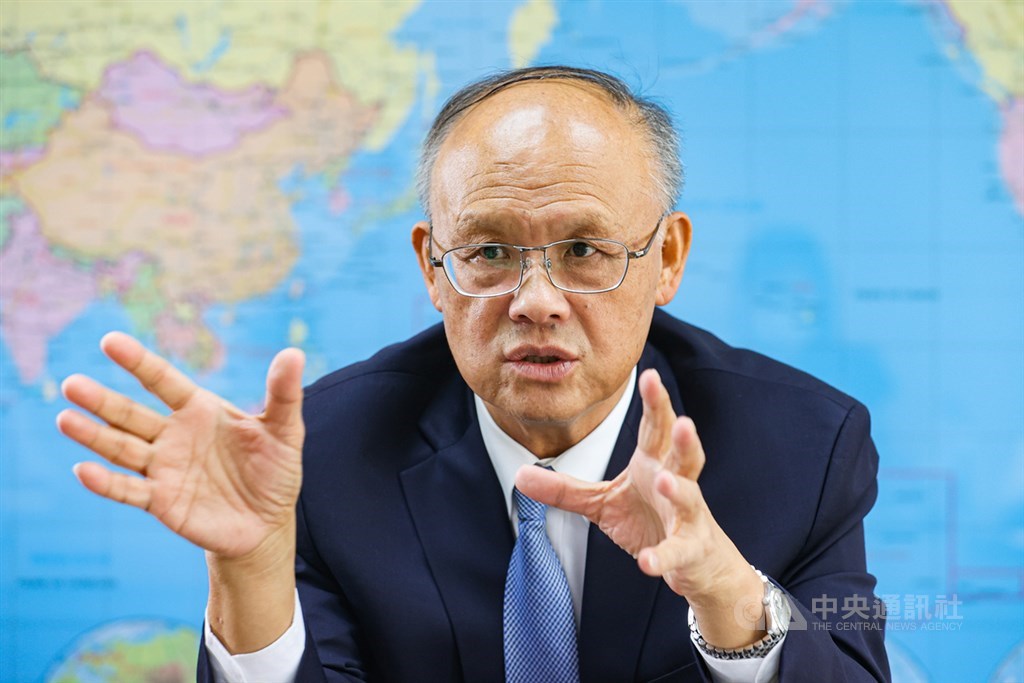 Taipei, Aug. 18 (CNA) Taiwan's top trade negotiator John Deng (鄧振中) told a Cabinet press conference Thursday that upcoming negotiations between Taiwan and the United States under a recently launched joint trade initiative would pave the way for both sides to come up with countermeasures against "economic coercion" by China.
As Taiwan and the U.S. begin negotiations under the Taiwan-U.S. Initiative on 21st Century Trade, both sides can explore ways to "counter economic coercion by a third country," said Deng, who also serves as a minister without portfolio at the Executive Yuan.
Deng later acknowledged that he was referring to China, adding that Beijing had been "engaging in economic coercion against Taiwan, the U.S., and other countries," which had greatly undermined the international trade order.
Although Deng did not elaborate on what Taipei and Washington might plan to do to counter or mitigate the impact of such Chinese economic coercion, he said the two countries would discuss ways to facilitate bilateral trade.
This will help Taiwan export more agricultural products to the U.S., Deng said, adding that the country was keen to sell pineapples, processed meat, and orchids to the U.S.
China suspended the imports of Taiwanese pineapples in March 2021, saying it had found "harmful creatures" on shipments of the fruit from Taiwan that could affect its own crops.
Taiwan's Council of Agriculture rejected Beijing's claims and said the action had violated international trade rules.
In early August, the Chinese authorities halted the imports of more agricultural and food products from Taiwan in the wake of the trip to Taipei by U.S. House Speaker Nancy Pelosi.
Deng's comments came hours after the United States Trade Representative (USTR) announced that the first round of negotiations "for the purpose of reaching agreements with high-standard commitments and economically meaningful outcomes" under the joint trade initiative will begin this fall.
Deng told the press conference while both sides were still finalizing the date for the commencement of first-round talks, Taipei would convey to Washington that it hopes to begin the talks as early as September.
According to the USTR, both sides have "set a robust agenda for negotiations" on 11 trade issues, such as facilitating trade, good regulatory practices and strong anti-corruption standards, as well as the protection of labor rights and the environment.
The first round of negotiations is likely to focus on topics on which the two sides already share similar views, including facilitating bilateral trade and enhancing ties between small-and-medium-sized enterprises, Deng said, adding that other issues could also be discussed as the negotiations proceed.
The goal is to sign trade agreements once Taipei and Washington reach a consensus on certain issues, Deng said.
Even though there is not a set timeline for the signing of any trade agreement, both sides have shown a great deal of ambition with regards to entering into some agreements as soon as possible, he added.
According to Deng, these trade agreements will deepen trade and economic relations between Taiwan and the U.S., draw more foreign investment to Taiwan and facilitate the country's bids to join international trade pacts such as the Comprehensive and Progressive Agreement for Trans-Pacific Partnership (CPTPP).
They will also help pave the way for Taipei and Washington to negotiate a free trade agreement (FTA) should the U.S administration greenlight talks of tariff issues with Taiwan, Deng added.
Also at the press conference, Cabinet spokesperson Lo Ping-cheng (羅秉成) cited Premier Su Tseng-chang (蘇貞昌) as saying during an earlier Cabinet meeting that the upcoming negotiations under the joint initiative were "a breakthrough" in the promotion of trade ties between Taiwan and the U.S.
Su expressed hope that the two sides would wrap up negotiations in the near future, Lo said.
Meanwhile, U.S. Assistant Secretary of State for East Asian and Pacific Affairs Daniel Kritenbrink said at a briefing Wednesday thatthe initiative is "designed not only to grow trade volumes and cooperation between the United States and Taiwan, but also an opportunity to assist Taiwan in building its resilience and ensuring that we have resilient and secure supply chains between us."