Taiwan shares end below 15,000 points, led by tech sector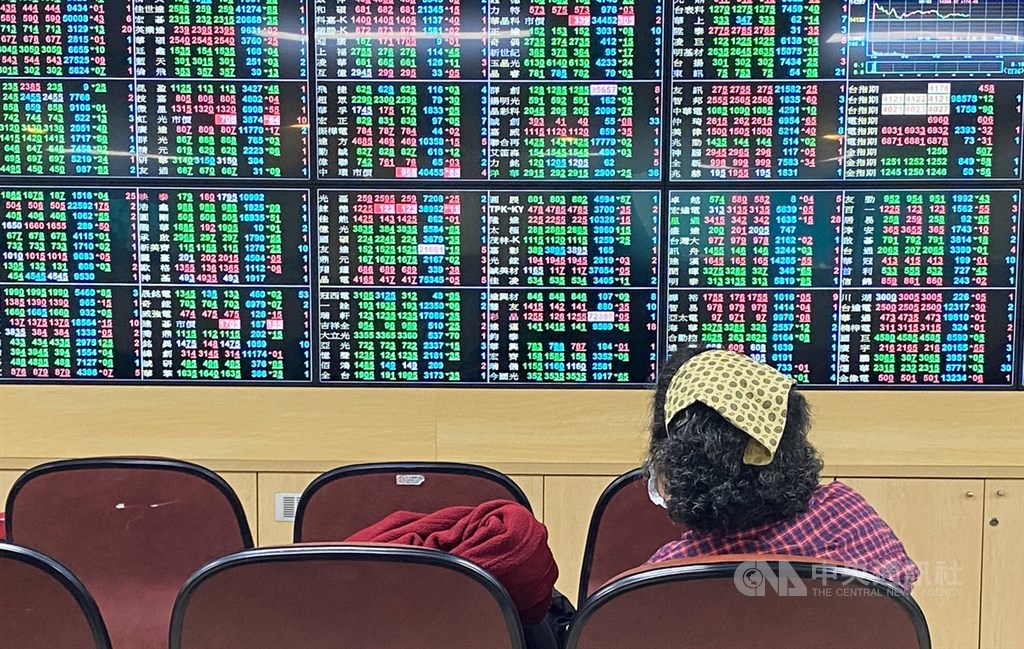 Taipei, Aug. 10 (CNA) Shares in Taiwan dipped below the 15,000-point mark Wednesday as selling in the bellwether electronics sector -- semiconductor stocks, in particular -- tracked an overnight plunge on the U.S. markets.
Turnover, which totaled NT$185.20 billion (US$6.17 billion), was thinned by investors staying on the sidelines while waiting to see how the release of the U.S. July consumer price index (CPI) later in the day would affect the direction of the U.S. Federal Reverse's rate-hike cycle.
The Taiex, the Taiwan Stock Exchange's (TWSE) weighted index, ended down 111.26 points, or 0.74 percent, at 14,939.02, after moving between 14,890.55 and 14,982.33.
The market opened down 0.73 percent and selling escalated with large-cap semiconductor stocks in focus.
Selling in the electronics sector was sparked by a 4.57 percent overnight plunge on the Philadelphia Semiconductor Index, which came in the wake of a warning issued by U.S.-based memory chipmaker Micron Technology Inc. that its sales for the current quarter may fall below or near the lower end of its June 3 forecast.
But with the Taiex falling and moving closer to the nearest technical support at around 14,900 points, the downturn was capped by the end of the session.
Tech stocks
"It was no surprise that semiconductor stocks in Taiwan followed their counterparts on the U.S. markets to trend lower today, as Micron's warnings raised concerns over weakening demand in the industry," Cathay Futures consultant analyst Tsai Ming-han said.
The semiconductor subindex lost 2.09 percent to push down the overall electronics sector by 1.23 percent, driving the broader market lower. Contract chipmaker Taiwan Semiconductor Manufacturing Co. (TSMC), the most heavily weighted stock on the local market, lost 1.96 percent to close at NT$500.00, off a low of NT$499.50.
"Micron has felt the pinch of weaker demand for consumer electronics products such as PCs, but TSMC's sales remained strong due to its high-end processes catering to emerging technologies," Tsai said. "Although TSMC shares came under pressure, the stock still saw some technical support at around NT$500.00."
After the market closed, TSMC reported a new record high of NT$186.76 billion in consolidated sales for July, up 6.2 percent from a month earlier and also an increase on the previous high of NT$185.71 billion recorded in May.
Micron's earnings battered Taiwanese memory chip stocks, with Nanya Technology Corp. down 2.46 percent to end at NT$51.60, and Winbond Electronics Inc. down 3.26 percent to close at NT$20.75.
Among other falling semiconductor stocks, United Microelectronics Corp., a smaller contract chipmaker, lost 1.83 percent to end at NT$40.30, smartphone IC designer MediaTek Inc. fell 3.75 percent to close at NT$668.00, and display driver IC designer Novatek Microelectronics Corp. shed 5.58 percent to end at NT$245.50.
Meanwhile, iPhone assembler Hon Hai Precision Industry Co. rose 0.92 percent to close at NT$110.00, and after the market closed, Hon Hai reported second-quarter net profits of NT$33.29 billion, up 12 percent from a year earlier and up 13 percent from a quarter earlier.
"The Taiex saw some support from the financial sector, which offset losses incurred by the tech sector to some extent, with both local and foreign institutional investors on the buy side for financial stocks in recent sessions," Tsai said.
Financials, biotech and shipping firms
In the financial sector, which rose 0.61 percent, Fubon Financial Holding Co. gained 0.52 percent to close at NT$58.20, Cathay Financial Holding Co. added 0.65 percent to end at NT$46.40, CTBC Financial Holding Co. rose 1.07 percent to close at NT$23.55, and Taishin Financial Holding Co. ended up 3.46 percent at NT$16.45.
Biotech stocks also received a boost, with test kit brand Panion & BF Biotech Inc. rising 1.76 percent to close at NT$115.50, and drug developer Chunghwa Chemical Synthesis & Biotech Co. gaining 2.28 percent to close at NT$58.20.
However, the sector's relatively small weighting failed to boost the Taiex, Tsai said.
In the transportation sector, which fell 1.36 percent, Evergreen Marine Corp., the largest container cargo shipper in Taiwan, lost 1.90 percent to close at NT$103.00, and rivals Yang Ming Marine Transport Corp. and Wan Hai Lines Ltd. fell 2.36 percent and 1.90 percent, respectively, to end at NT$91.10 and NT$103.00.
"The upcoming U.S. CPI data is very important," Tsai said. "While the market has widely anticipated that July CPI growth will stabilize slightly compared with June's 9.1 percent, investors simply wanted to see the real number, and such caution continued to dominate market sentiment and trading volume."
According to the TWSE, foreign institutional investors sold a net NT$17.81 billion worth of shares on the main board Wednesday.