Taiwan shares dive below 16,300 points, led by tech stocks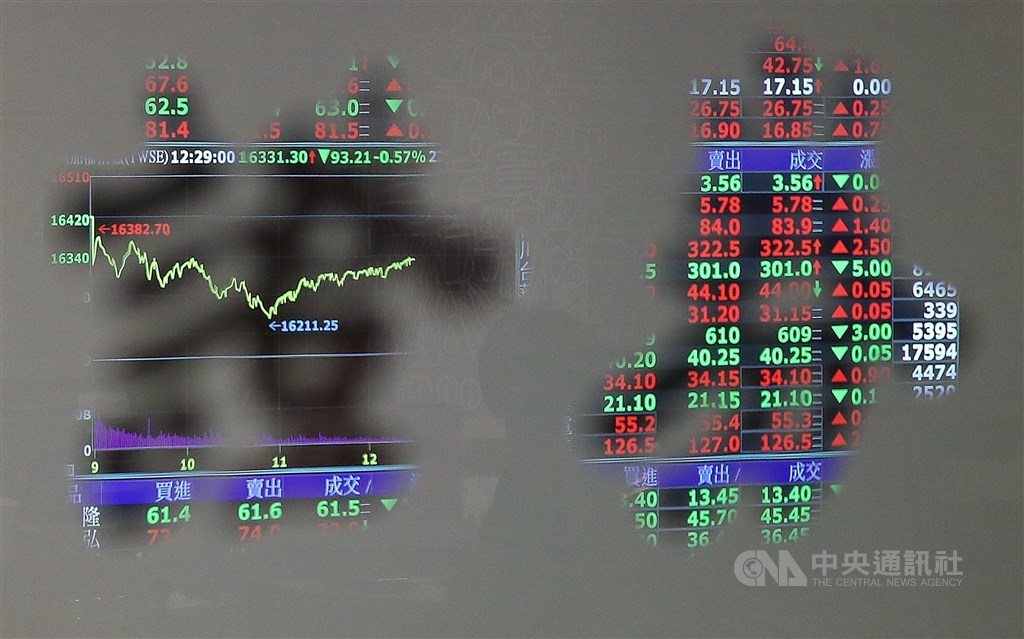 Taipei, Feb. 24 (CNA) Shares in Taiwan took a beating Wednesday, closing below the 16,300-point mark, as the semiconductor sector and other tech stocks followed a downturn of their counterparts in the United States, dealers said.
Contract chipmaker Taiwan Semiconductor Manufacturing Co. (TSMC), the most heavily weighted stock on the local market, led the tech sector's losses, while large-cap old economy stocks weakened after showing some resilience the previous day, dealers said.
The Taiex, the benchmark weighted index on the Taiwan Stock Exchange (TWSE), ended down 230.87 points, or 1.40 percent, at the day's low of 16,212.53, after hitting a high of 16,456.94. Turnover stood at NT$382.96 billion (US$13.78 billion).
Wednesday's closing was the lowest since trading resumed Feb. 17 after the Lunar New Year holiday.
The market opened down 0.69 percent, with integrated circuit heavyweights in focus, as investors took cues from a 0.58 percent fall on the Philadelphia Semiconductor Index on the U.S. markets, dealers said.
The Taiex continued to fall, particularly in the afternoon session, as selling in TSMC and other large IC stocks increased, pushing down the index by more than 200 points by the end of the session, dealers said.
"With U.S. bond yields on the rise, tech stocks with high price-to-earnings ratios came under pressure," Cathay Futures Consultant analyst Boryi Chien said. "Taiwan's semiconductor stocks, which had gained substantially in recent sessions, simply followed the lead of their American counterparts."
The benchmark 10-year U.S. treasury yield, which has risen steadily since the start of 2021, remained at around 1.36 percent Tuesday. So far this month, the yield has climbed 28 basis points.
Chien said TSMC, which had led the Taiex's record rise in recent sessions, became the target of Tuesday's sell-off, as investors rushed to lock in their gains after a 3.35 percent dive in its American depositary receipts in the U.S. overnight.
TSMC fell 2.50 percent to close at the day's low of NT$625.00, its lowest price since the market reopened on Feb. 17.
Led by TSMC, the semiconductor sub-index fell 2.32 percent to the day's low of 421.09.
"The selling in TSMC is likely to level off closer to the nearest technical support, at around NT$623.00, its 20-day moving average," Chien said.
Among the other weakened semiconductor stocks, IC packaging and testing services provider ASE Technology Holding Co. tumbled 3.64 percent to end at NT$106.00, United Microelectronics Corp. fell 1.97 percent to close at NT$54.70, and dynamic random access memory (DRAM) chipmaker Nanya Technology Corp. dropped 1.83 percent to end at NT$96.60.
Also in the electronics sector, Largan Precision Co., a supplier of smartphone camera lenses to Apple Inc., lost 0.85 percent to close at NT$3,520.00. Flat panel makers AU Optronics Corp. and Innolux Corp. bucked the downturn, gaining 1.96 percent and 2.79 percent, respectively, to end at NT$18.25 and NT$16.60 on higher product prices.
Chien said non-tech stocks largely moved lower in line with the broader market, as they failed to maintain their gains from the previous session. "Other major regional markets were affected by high interest rate concerns, and many local old economy stocks followed suit," Chien said.
Among the falling old economy stocks, China Steel Corp., the largest steel maker in Taiwan, fell 0.99 percent to close at NT$25.05, Taita Chemical Co. lost 2.56 percent to end at NT$34.25, and Longchen Paper & Packaging Co. dropped 4.62 percent to close at NT$23.75.
In the financial sector, which rose 0.01 percent on higher interest rates, E. Sun Financial Holding Co. gained 0.40 percent to end at NT$25.35, and Fubon Financial Holding Co. closed 0.50 percent higher at NT$50.00, while Cathay Financial Holding Co. fell 0.12 percent to finish at NT$42.65.
"Investors had better keep a close eye on the bond yield movement in the U.S., which will move American stock markets and in turn influence other markets, including Taiwan," Chien said.
According to the TWSE, foreign institutional investors sold a net NT$23.90 billion worth of shares on the main board Wednesday.