Taiwan shares end flat after rebounding from early losses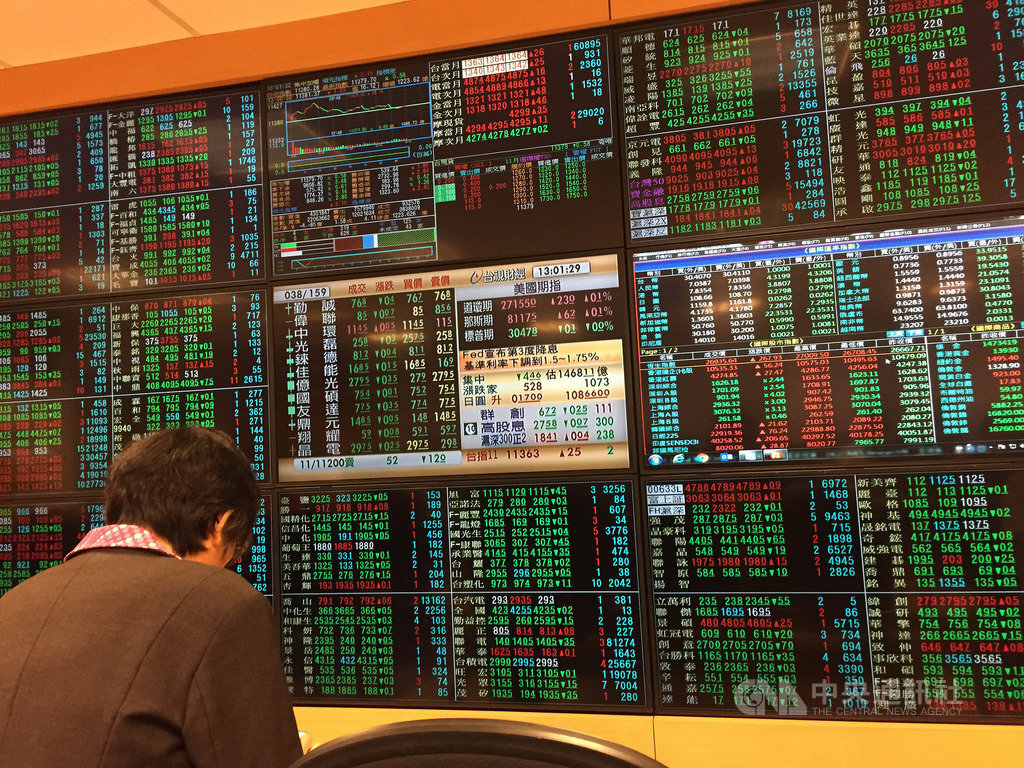 Taipei, Nov. 22 (CNA) Shares in Taiwan closed little changed Friday after late-session buying helped the market rebound from a decline earlier in the day, dealers said.
Turnover was relatively low, however, as investors were concerned about ongoing trade friction between the United States and China and the possibility they will not sign a first-phase agreement by the end of this year, dealers said.
The weighted index on the Taiwan Stock Exchange (TWSE), the Taiex, ended up 8.53 points, or 0.07 percent, at 11,566.80, after moving between 11,534.15 and 11,577.02, on turnover of NT$107.25 billion (US$3.52 billion).
The market opened down 1.52 points and soon returned to positive territory on a technical rebound from a session earlier, when the Taiex closed down 0.63 percent, dealers said.
But with the Taiex moving closer to the nearest technical resistance ahead of 11,600 points at around 9:30 a.m., selling set in again as investors reacted to the 0.20 percent decline in the Dow Jones Industrial Average overnight, they said.
In the final minutes of the session, however, buying emerged in big cap stocks such as Taiwan Semiconductor Manufacturing Co. (TSMC) and defensive telecom stocks, including Chunghwa Telecom Co., to help the Taiex finish above its previous closing level.
"International media reports said the U.S. and China are expected to delay the signing of a phase-one trade agreement to 2020 instead of later this year, which raised anxiety over global trade," Hua Nan Securities analyst Kevin Su said.
According to the reports, Beijing has been negotiating with Washington for more extensive tariff rollbacks, but the Trump administration has responded with more demands of its own.
While Chinese Vice Premier Liu He, the top Chinese negotiator, has invited U.S. Trade Representative Robert Lighthizer and Treasury Secretary Steven Mnuchin to Beijing to sit down for further talks, it was unclear whether the U.S. side has accepted the invitation.
"Amid renewed uncertainty over global trade, it was no surprise that Taiwan's stock market was in consolidation mode throughout the session today and turnover was limited," Su said.
"The silver lining was that some bargain hunters were willing to buy and support the Taiex by the end of the session."
Su said TSMC, the most heavily weighted stock in the local market, was one of the beneficiaries of the late bargain hunting, ending 0.64 percent lower to close at NT$309.00 after hitting an earlier low of NT$308.00.
Such bargain hunting also lifted defensive telecom stocks. Chunghwa Telecom closed 0.88 percent higher at NT$114.00, off an early low of NT$113.00, and rival Taiwan Mobile Co. rose 0.43 percent to close at NT$116.00, off an early low of NT$115.50.
Asia Pacific Telecom Co. rose 8.61 percent to close at NT$8.20 after parent Hon Hai Precision Industry Co. promised to invest NT$10 billion through a private placement to raise its stake in the subsidiary.
Su said the late buying also lifted old economy stocks. Food brand President Enterprises Corp. rose 0.55 percent to close at NT$73.40, and Eclat Textile Co. added 0.50 percent to end at NT$399.00.
While the financial sector closed down 0.28 percent, Cathay Financial Holding Co. rose 0.83 percent to close at NT$42.40 after bargain hunting helped the stock recover from a low of NT$41.95, and Fubon Financial Holding Co. added 0.55 percent to end at NT$45.30, off a low of NT$44.95.
"In addition to the global trade issue, investors should also follow the actions of foreign institutional investors, who are expected to continue to dictate the local market," Su said.
According to the TWSE, foreign institutional investors remained net sellers Friday, selling a net NT$149 million in shares after a net sell of NT$9.83 billion Thursday.