ASIAN GAMES
/
Taiwan Go player Hsu Hao-hung wins men's individual gold at Asian Games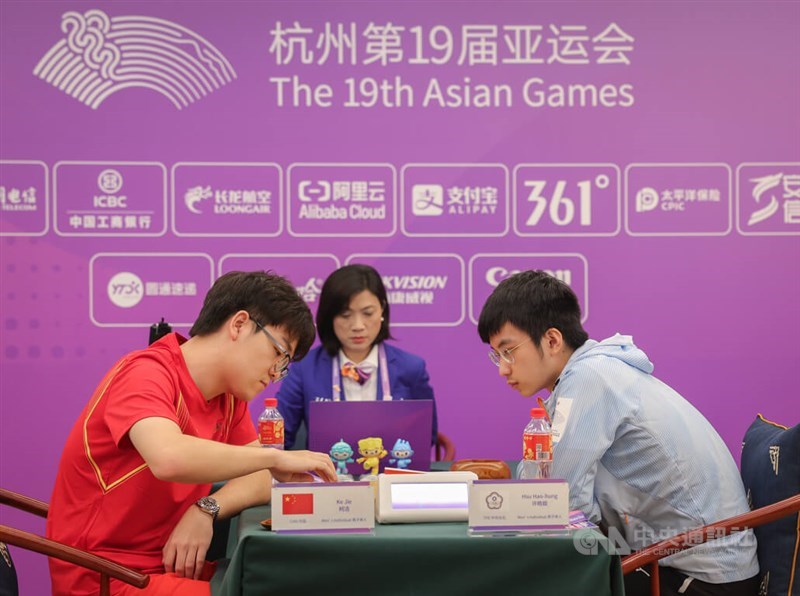 Taipei, Sept. 28 (CNA) Taiwan 9-dan professional Go player Hsu Hao-hung (許皓鋐), who dominated the country's Go scene last year by winning eight of nine major domestic titles, vowed last year to win a world cup-level championship "to let the world see Taiwan's Go."
Almost a year later, Hsu lived up to his words by becoming the individual men's Go champion at the Hangzhou Asian Games on Thursday.
In the gold match, 22-year-old Hsu defeated Chinese Go titan Ke Jie (柯潔) in the men's individual final in a match lasting over two hours.
His half-a-point victory not only secured Taiwan's fourth gold medal in the quadrennial sports event, but was also the first gold medal the country has won in the sport at the Asian Games.
The victory also marks the biggest achievement by a Taiwan Go player since Go legend Chou Chun-hsun (周俊勳) lifted the LG Cup in 2007 -- previously the only top international title ever won by a Go player representing Taiwan.
Hsu, ranked No. 35 in the world according to Go Ratings, had a wild run en route to the title, taking down the top three Go players in the world from the quarterfinals.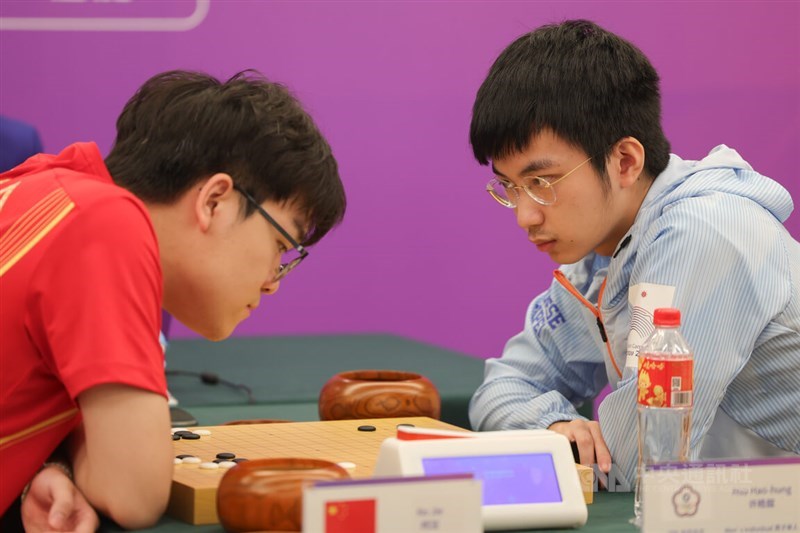 Despite finishing only third in Group A in the preliminary round with a 4-2 record, Hsu upset South Korean world No. 2 Park Jeong Hwan in the quarterfinals Wednesday, before dispatching world No. 1 Shin Jin-seo by half-a-point Thursday morning and world No. 3 Ke in the afternoon.
At the post-match press conference, Hsu said he is very happy to have won the gold medal and thanked everyone who works hard for the game of Go and supported him.
"It (victory) was a good confidence boost for me," Hsu said.
Asked to comment on Thursday's gold match, 6-dan pro veteran Chou Ping-chiang (周平強) described it as a game of twists and turns with both players taking turns in front.
Although Go AI indicated Ke's winning percentage hit 98 percent at one point, a few bad moves later in the game gave Hsu a chance to stage a comeback, said Chou, praising Hsu for maintaining his composure and rhythm toward the end of the game, which played a pivotal role in securing the victory.
Hsu's last match against Ke was a defeat in January 2021 in the Chun-Lan Cup world championship quarterfinals.
Before Thursday, the pinnacle of Hsu's career came in 2022 when he won eight out of nine major domestic titles and saw his status rise to 9-dan.
However, Hsu told CNA in an interview in December 2022 that rather than win more domestic titles, he would "rather win a world cup-level championship to let the world see Taiwan's Go."
After his latest victory, it is clear that Hsu's Go career is far from reaching its peak.
In the ongoing Asian Games, he also competes in the men's group event. The Go men's team and and women's team competitions run from Sept. 29-Oct. 3.
View All