Taiwan gymnast grabs gold at Singapore Gymnastics Open Championships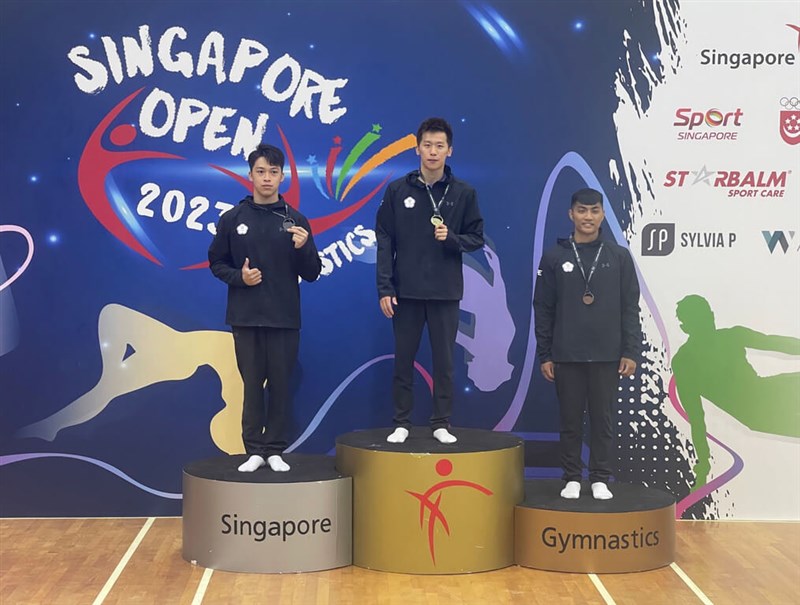 Taipei, June 4 (CNA) Taiwanese Olympic medalist Lee Chih-kai (李智凱) won the gold medal in his best event, the pommel horse, at the Singapore Open on Saturday, as Taiwan's gymnasts prepared for the Asian Gymnastics Championships that start in Singapore on June 10.
Lee won the gold medal with a score of 15.40 points, the same he produced in the qualifying round, to top fellow Taiwanese Shiao Yu-jan (蕭佑然) and Huang Yen-chang (黃彥彰), who won silver and bronze, respectively.
Lee's exercise had a 6.5 degree of difficulty, the highest among the eight finalists, and he received 8.9 points for execution for a total score of 15.40, the same score that earned him a silver medal at the Tokyo Summer Olympics held in 2021.
It was Lee's second gold medal of the season following one won at the Cairo Gymnastics World Cup in late April.
Lin Yu-hsin (林育信), the coach of Taiwan's team in Singapore, said both of Lee's gold medals this year were won with routines that had 6.5 degrees of difficulty, and if Lee maintains his current form, he should contend for gold medals in bigger events later in 2023.
They include the Chengdu 2021 FISU World University Games, being held in late July after a two-year delay because of the COVID-19 pandemic, and the 2022 Asian Games being held in Hangzhou in late September.
Even before those two events, the 2023 Asian Artistic Gymnastics Championships, being held in Singapore June 10-18, will test where Taiwanese gymnasts stand against others in the region.
The Singapore Open, featuring mostly Taiwanese gymnasts and a smattering of others from South Korea and Southeast Asia, was seen as a warmup for the Asian Championships.