Taiwan's injury toll rises to 164 from weekend earthquakes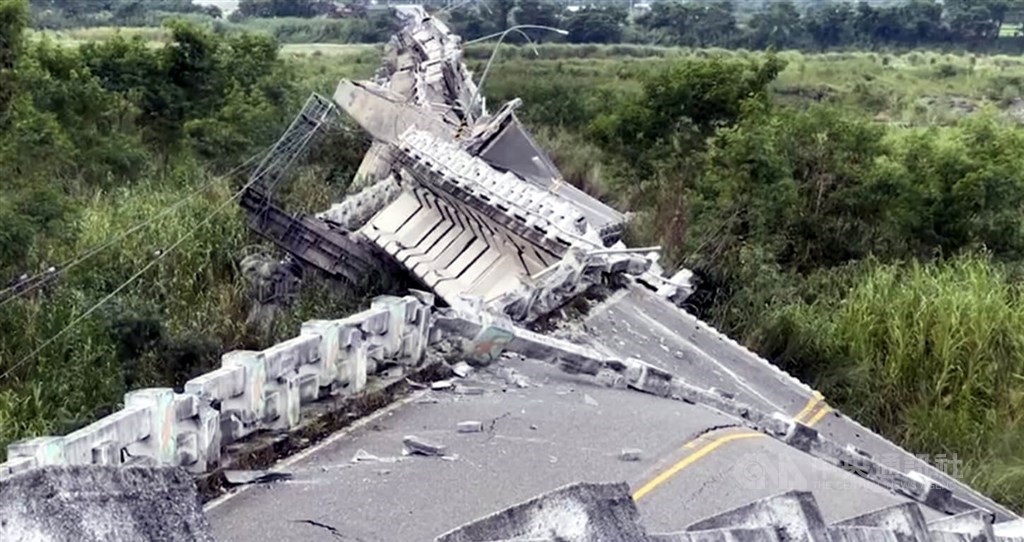 Taipei, Sept. 19 (CNA) The number of injuries sustained during a series of earthquakes in Taiwan last weekend has risen to 164, while the death toll remains at one, the Central Emergency Operation Center (CEOC) said Monday.
As of 2:30 p.m. Monday, 130 emergency rescue vehicles and 2,265 personnel had been deployed, in the wake of the quakes that were centered mainly in Taitung's Chishang Township but were felt across most of Taiwan, according to the CEOC.
The two most powerful earthquakes, magnitude 6.4 and 6.8, occurred on Saturday and Sunday, respectively, causing damage to buildings and infrastructure, mainly near the epicenter in Chishang, the CEOC said in a statement issued after a meeting of its task force.
The one fatality recorded to date was a man surnamed Huang (黃), who died when a piece of machinery fell on him during the magnitude 6.8 quake, at a ready-mix cement factory where he worked in Yuli Township, Hualien, the CEOC said.
Meanwhile, the number of injured people increased Monday to 164, the CEOC said, but it did not give any details of how the majority of injuries had occurred.
Earlier reports, however, had confirmed that the series of earthquakes that started Saturday had toppled some buildings and caused damage to others, while also breaking apart at least two bridges and causing rock slides that blocked several roads.
Hundreds of travelers who had been stranded in mountain areas due to the blocked roads have been rescued, after excavators and trucks were dispatched to the sites to clear the roadways, the CEOC said Monday.
On Liushidan Mountain in Hualien, all 400 people who had been stranded there were transported down the mountain in 100-plus vehicles, after 20 hours of work to clear the road, according to an official in Hualien's Fuli Township.
Another group of 86 travelers who were stranded on Chike Mountain in Yuli were guided down alternative routes, as work was still in progress to clear and repair the main access road, according to the Hualien County government.
In the CEOC's statement, it said that a section of Provincial Highway 30, which connects Taitung's Changbin and Yuli townships, is expected to be reopened later Monday, after it was closed on the weekend due to cracks and subsidence caused by the quakes.
During the CEOC task force meeting, the Ministry of Health and Welfare reported that 29 quake victims in Hualien and 23 in Taitung were being housed in three emergency shelter centers.
The central government will provide NT$30,000 (US$954) in disaster relief funding to displaced persons, while those who have been severely injured will each receive NT$250,000, and the relatives of dead and missing persons will be given NT$800,000, the CEOC said.
The temblors left 22,024 households without power, and as of Monday afternoon 445 still had no electricity, most of them in Hualien and Taitung, according to the Ministry of Economic Affairs.
Of the 4,842 households that had lost their water supply during the earthquakes, 1,801 had not been reconnected, as of Monday, the ministry said.
As of Monday morning, more than 70 aftershocks had been recorded following the magnitude 6.8 earthquake that rocked Taitung County the previous day and a magnitude 6.4 temblor that shook the same area on Saturday, according to the Central Weather Bureau.
The earthquakes caused NT$63.01 million in damage to 417 schools around Taiwan, with Taitung schools accounting for NT$14 million, the Ministry of Education said.
Related news
Sept. 19: Contingency bus services launched after quake damages railway in eastern Taiwan
Sept. 19: Over 70 aftershocks follow 6.8-magnitude earthquake in eastern Taiwan
Sept. 18: Series of earthquakes in Taiwan leave 1 dead, 79 injured
Sept. 18: Train services in eastern Taiwan disrupted by Sunday earthquakes
Sept. 18: Tsai calls on public to stay vigilant of aftershocks in wake of quake
Sept. 18: Earthquake brings down bridge, derails train in eastern Taiwan
Sept. 18: Dozens of temblors follow Saturday's Taitung earthquake
Sept. 17: Strong quake causes partial building collapse, interrupts rail transport