CORONAVIRUS
/
Taiwan reports 57,216 new COVID-19 cases, eight deaths
Taipei, May 11 (CNA) Taiwan saw its single-day COVID-19 cases surpass 50,000 for the second straight day on Wednesday, with the Central Epidemic Command Center (CECC) reporting 57,216 new cases and eight deaths from the disease.
The new cases consisted of 57,188 domestically transmitted infections and 28 cases that were contracted abroad, the CECC said.
The number of new domestic cases was 12 percent higher than the number reported Tuesday, according to the CECC.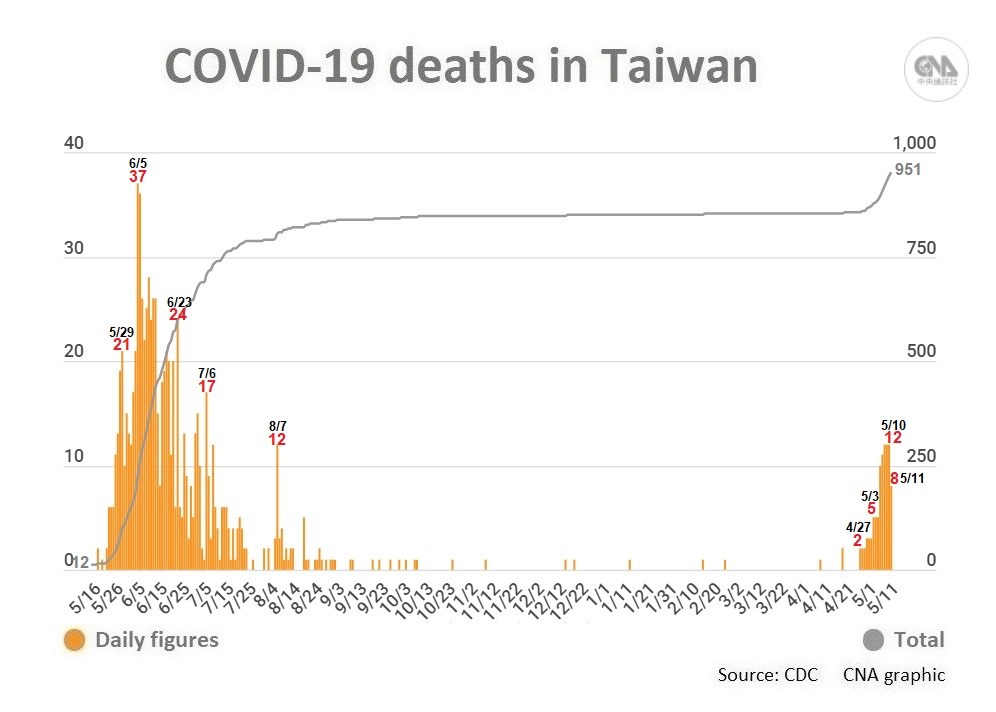 The eight deaths reported Wednesday involved people in their 60s to 90s, five of whom were unvaccinated.
The CECC also reported Wednesday that an additional 60 people had developed moderate symptoms and nine had developed severe symptoms.
Of the 421,703 domestic cases recorded in Taiwan from Jan. 1 to May 10, 748 have been classified as moderate infections and 146 as severe, accounting for 0.18 percent and 0.03 percent of the total, respectively.
All other cases have been individuals with only mild symptoms or who were asymptomatic, according to the CECC.
Of Wednesday's new cases, New Taipei reported the highest number at 19,620, followed by Taoyuan with 9,751, Taipei with 8,265, and Taichung with 3,356.
Kaohsiung reported 3,153 cases, Tainan 2,073, Keelung 1,825, Hsinchu County 1,444, Pingtung County 1,222, Hualien County 1,018, and Hsinchu City 996.
Yilan County reported 979 cases. Changhua County 934, Miaoli County 650, Yunlin County 476, Nantou County 358, Taitung County 357, Chiayi County 313, Chiayi City 205, Penghu County 117, Kinmen County 59, and the Matsu Islands 17.
Meanwhile, of the 28 new imported cases, 24 were travelers who tested positive on arrival in Taiwan, according to the CECC.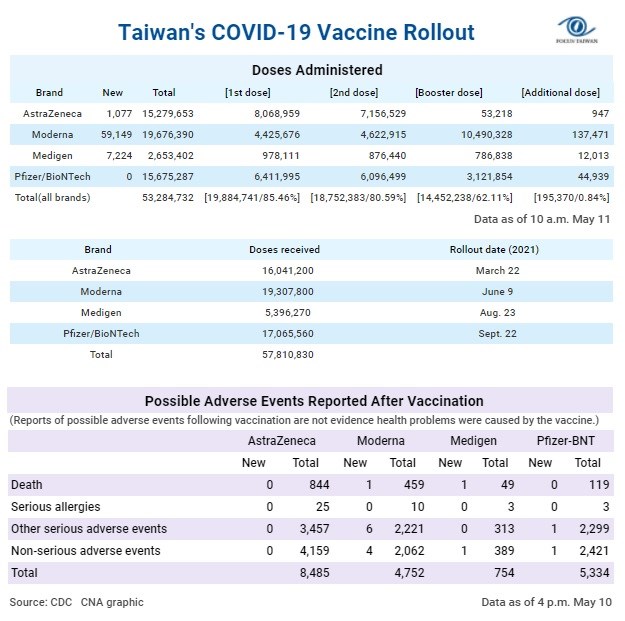 To date, Taiwan has confirmed 505,455 COVID-19 cases since the pandemic began in early 2020, including 493,410 domestically transmitted infections.
With eight deaths reported Wednesday, the number of confirmed COVID-19 fatalities in the country reached 951. Of these, 98 have been recorded this year.
Also on Wednesday
May 11: Three groups of people with positive rapid test results to be counted as COVID-19 cases
May 11: CECC authorizes personal imports of COVID-19 rapid tests
May 11: Taiwan to receive delayed child COVID-19 vaccines May 16
May 11: Taiwan to pledge US$1.5 million donation at second COVID-19 Summit
Related News
May 10: Medical doctors explain lower use of oral COVID-19 drugs in Taiwan
May 9: Taiwan receives 1.85 million Pfizer-BioNTech COVID vaccine doses
May 8: Q&A/What to do if you or your contacts get COVID-19
May 7: Quarantine cut to 7 days for mild, asymptomatic COVID-19 cases: CECC
May 7: Taiwan rolls back quarantine rules for contacts of COVID-19 patients
May 4: Taiwan adjusts hospital policy for COVID-19 patients
Recent cases
May 10: Taiwan reports 50,828 new COVID-19 cases, 12 deaths
May 9: Taiwan reports 40,304 new COVID-19 cases, 12 deaths
May 8: Taiwan reports 44,361 new COVID-19 cases, 12 deaths
May 7: Taiwan reports 46,536 new COVID-19 cases, 11 deaths
View All