CORONAVIRUS
/
Committee advises 2nd vaccine dose for 12-17 age group, booster shots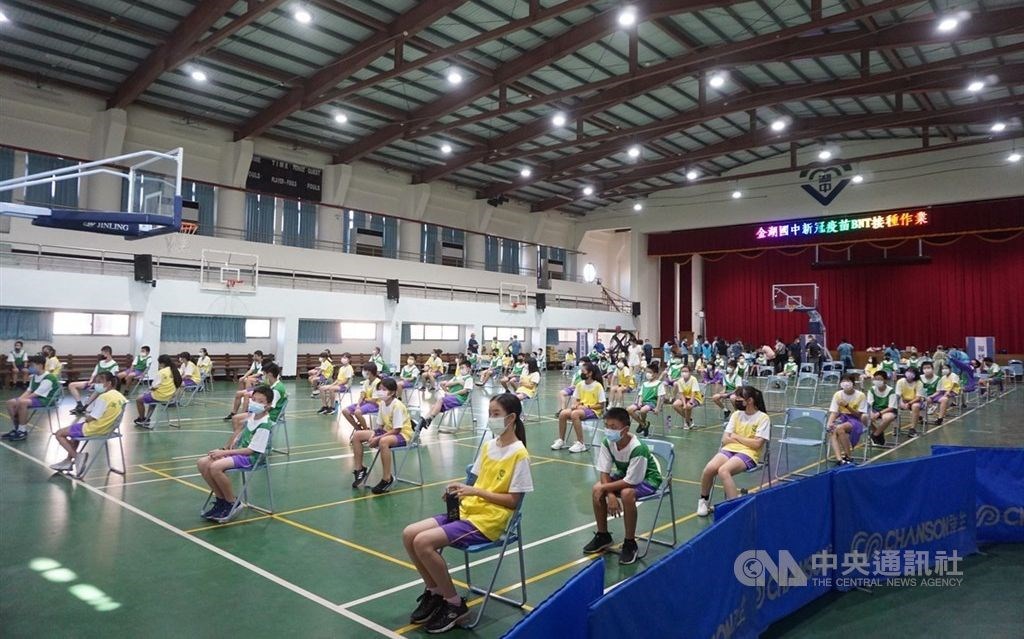 Taipei, Nov. 29 (CNA) A government committee has recommended that those in the 12-17 age group receive a second dose of the Pfizer-BioNTech vaccine and that certain at-risk groups get a third COVID-19 booster shot, the Central Epidemic Command Center (CECC) said Monday.
Taiwan's Advisory Committee on Immunization Practices (ACIP) recommended that "those aged 12-17 who have already gotten their first Pfizer-BioNTech shot and did not experience severe side effects get a second shot of the same brand," according to a CECC statement.
The two shots should be spaced at least 12 weeks apart, according to the ACIP.
The ACIP put forward their recommendations after a meeting Sunday, during which they analyzed the risks of COVID-19 infection, severe illness, and death in adolescents, as well as reported cases of myocarditis and pericarditis among vaccine recipients in Taiwan and in other countries.
Cases of myocarditis, inflammation of the heart muscle, and pericarditis, inflammation of the outer lining of the heart, have been reported worldwide in recipients of mRNA COVID-19 vaccines such as those from Pfizer-BioNTech and Moderna.
Although rare, the two diseases have occurred more frequently in adolescent males after receiving a second vaccine dose, according to the World Health Organization.
The ACIP concluded in its meeting that even though cases of myocarditis and pericarditis could be linked to the vaccine, those aged 12-17 should still get two shots considering the greater threat COVID-19 poses.
Pfizer-BioNTech's vaccine is the only COVID-19 vaccine currently on offer to those in the 12-17 age group in Taiwan. The first-dose rollout for this age group began on Sept. 22.
Based on the ACIP's suggestions, Health Minister Chen Shih-chung (陳時中) said Monday that the CECC would arrange for 12-17-year-olds to receive their second vaccine shot in schools from mid-December.
As was the case with the first dose, those in the age group will have to present a consent form signed by a parent before they can get a vaccine shot, Chen said.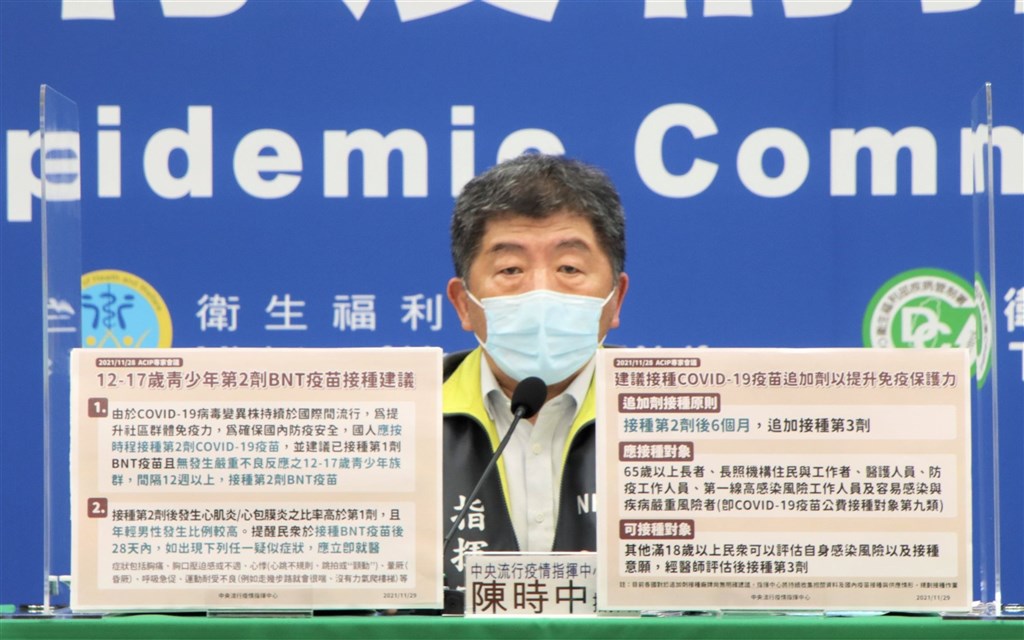 In a separate statement released by the CECC on Monday, the ACIP recommended COVID-19 booster shots for individuals considered high risk for the disease who have already received two COVID-19 vaccine doses.
Among those considered high risk are people aged 65 years old or over, residents and employees at long-term care facilities, medical workers, epidemic prevention workers, people at higher risk of COVID-19 exposure due to their jobs, and people who suffer from rare or serious illnesses or injuries.
The booster shots should be administered six months after one's second COVID-19 vaccine shot, the ACIP said.
For the general population, those 18 years old and over can assess their own risk of being infected with COVID-19 and discuss with their doctors before getting a booster shot, the ACIP said.
According to the ACIP, although two COVID-19 vaccine doses can protect against infection as well as severe illness and death caused by the disease, the level of protection wanes over time.
Chen said that the interval of six months recommended by the ACIP between one's second and third dose can be shortened to five months if the individual has an urgent need to travel abroad.
The CECC will offer different vaccine brands for people to choose from for their booster shot, Chen said, adding that the booster shot rollout could begin as early as Jan. 1.
The CECC announced in July that it had signed a contract with Moderna to purchase 35 million doses of the company's second-generation vaccine, 20 million of which are scheduled to be delivered in 2022.
To date, 18.19 million people, or 77.70 percent of Taiwan's 23.41 million population, have received at least one COVID-19 vaccine dose, while 12.771 million people, or 54.54 percent, have received two doses.
View All