CORONAVIRUS
/
Taiwan reports 31 new COVID-19 cases, 'relatively low' number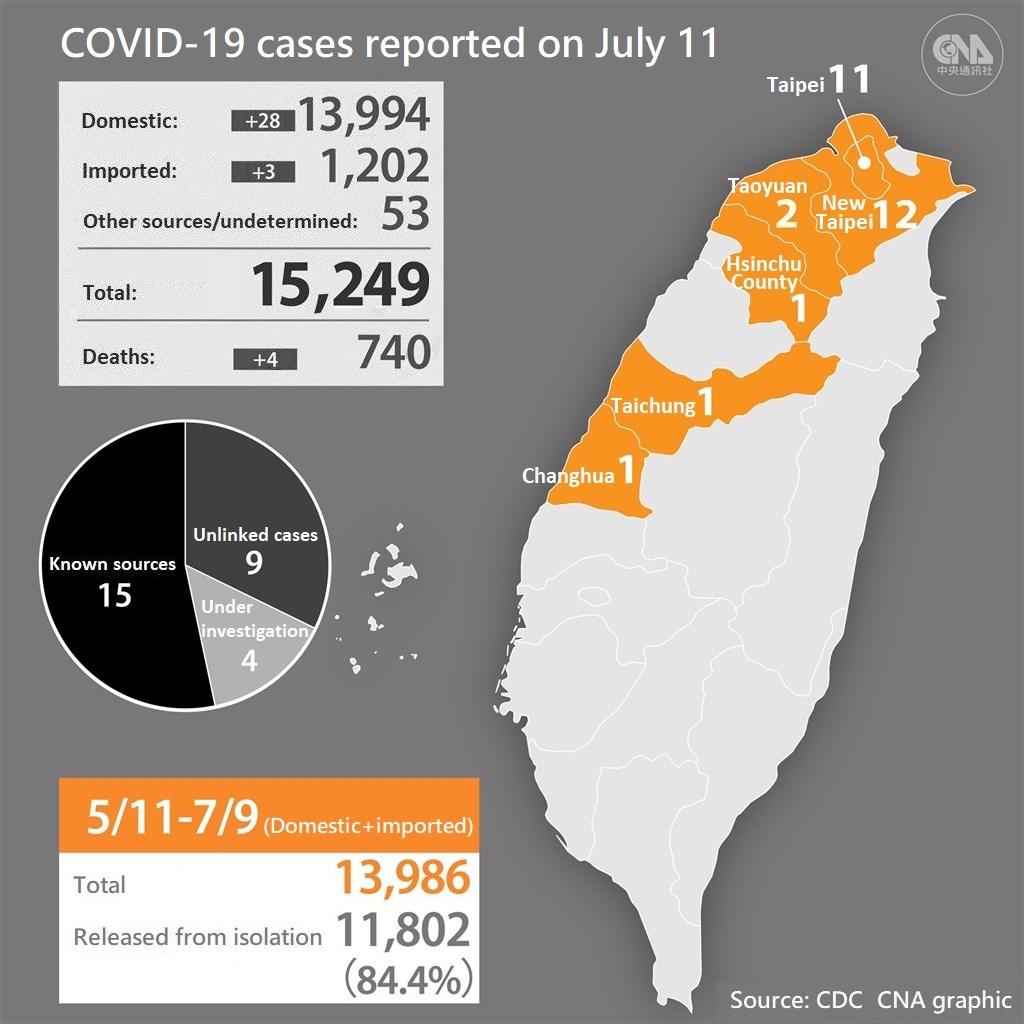 Taipei, July 11 (CNA) Taiwan on Sunday reported 31 new cases of COVID-19, all but three of which were domestic infections, as well as four deaths from the disease, according to the Central Epidemic Command Center (CECC).
Among the 28 domestic cases, 10 tested positive while in quarantine, which does not indicate much danger of community spread, Health Minister Chen Shih-chung (陳時中) said at the CECC's daily press briefing.
In general, the number of new cases remained "relatively low," said Chen, who heads the CECC.
New Taipei reported 12 new cases, Taipei 11, and Taoyuan two, according to CECC data.
Meanwhile, Taichung City and Hsinchu and Changhua counties each reported one case, the CECC said.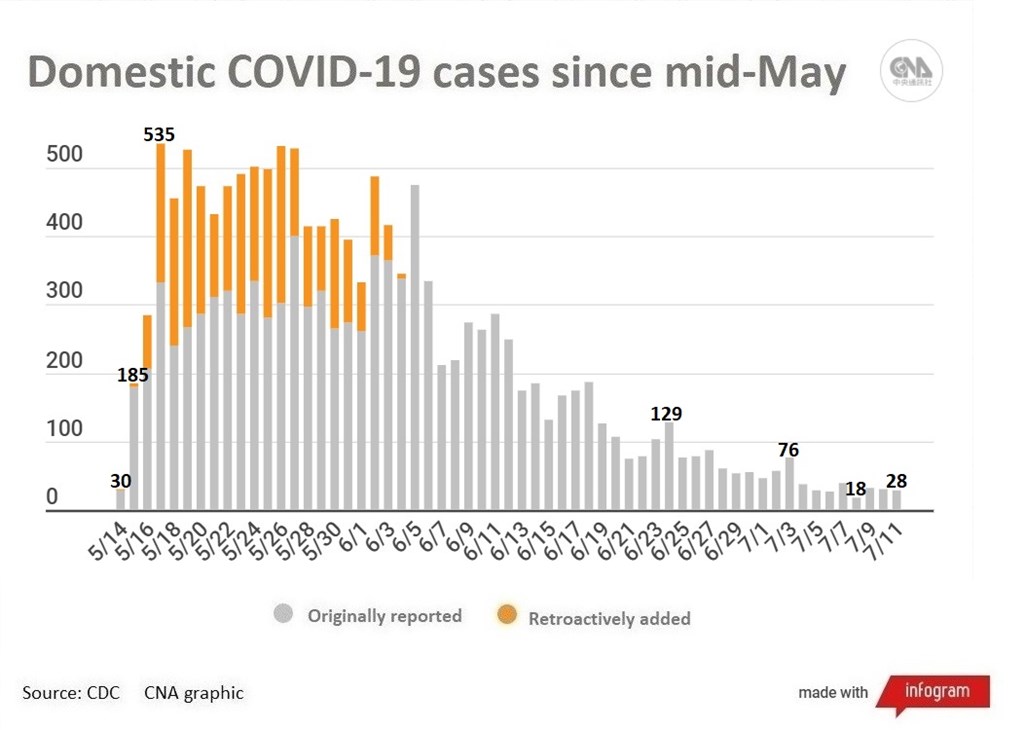 Of the 28 domestic cases, 15 had a known source of infection, while nine had unknown links to other cases, and four were under investigation, the CECC said.
Two of the three imported cases were Taiwan nationals in their 30s and 40s, who returned in early July from Saudi Arabia and Indonesia, respectively, according to the CECC.
The other imported case was a Filipino in his 30s, who works on a ship and tested positive after returning to Taiwan on July 10, the CECC said.
The new cases bring the total in Taiwan to 15,249, of which around 13,800 are domestically transmitted infections reported since May 15, when the country first recorded over 100 cases in a single day.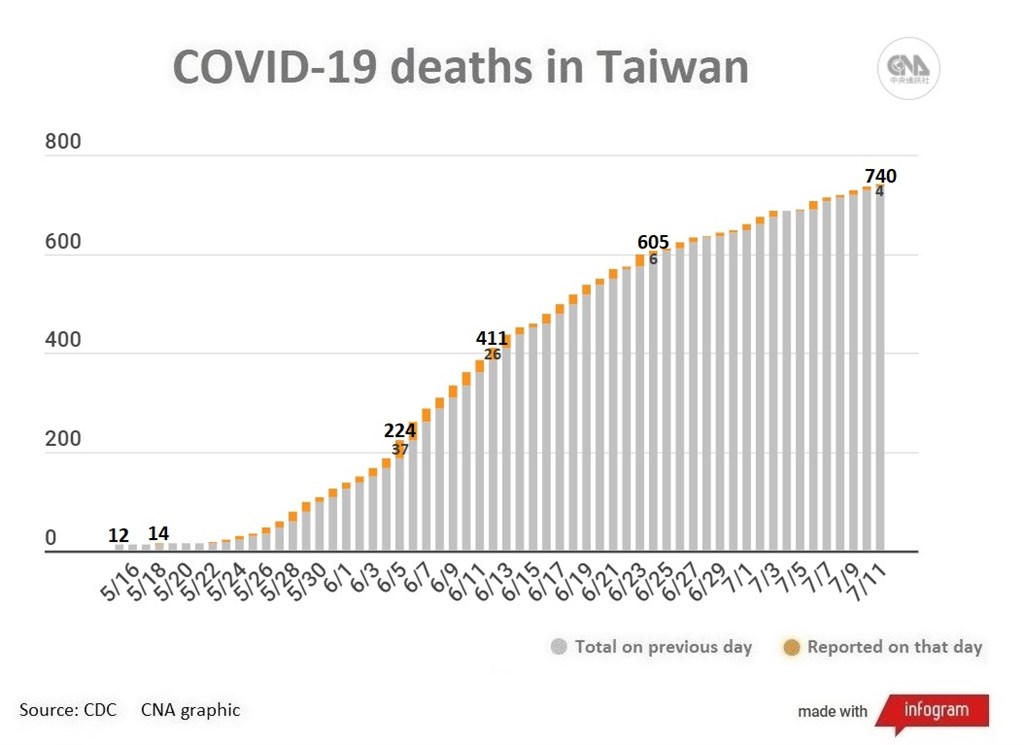 The deaths reported Sunday were two men and two women, in their 40s to 70s, who passed away between July 7 and 9, the CECC said.
To date, 740 people in Taiwan have died of COVID-19, including 728 since May 15.
Recent cases
July 10: Taiwan adds 33 new COVID-19 cases; Taipei, Pingtung clusters 'contained'
July 9: Taiwan reports 32 domestic COVID-19 cases; all in the north
July 8: Taiwan reports 18 new domestic COVID-19 cases, all in Greater Taipei
July 7: Taiwan reports 40 new COVID-19 cases, sees flat trend
July 6: Taiwan reports 29 new COVID-19 cases, 1 more in Delta cluster
View All