Chiayi police seize 1,600 cannabis plants, arrest 2 suspects
Taipei, Feb. 23 (CNA) Police in Chiayi County said Tuesday they seized about 1,600 cannabis plants with a market value estimated at over NT$500 million (US$17.94 million) and arrested two suspects in what they described as the largest haul of the drug in Taiwan for several years.
The two men allegedly used multiple newly built townhouses in Chiayi to cultivate cannabis plants indoors before harvesting, processing and packaging the final product to be sold by other parties, according to Chiayi County Police Bureau head Liao Hsun-cheng (廖訓誠), at a press conference.
Acting at the direction of prosecutors in Chiayi, police on Sunday raided 19 houses in the county, which led to the seizure of 1,421 live cannabis plants, 227 dried plants and dried cannabis plant flowers, weighing over 4 kilograms, according to Liao.
Police arrested the two suspects surnamed Chou (周) and Lee (李) in the early hours of Tuesday and later referred them to prosecutors for violating the Narcotics Hazard Prevention Act, Liao added.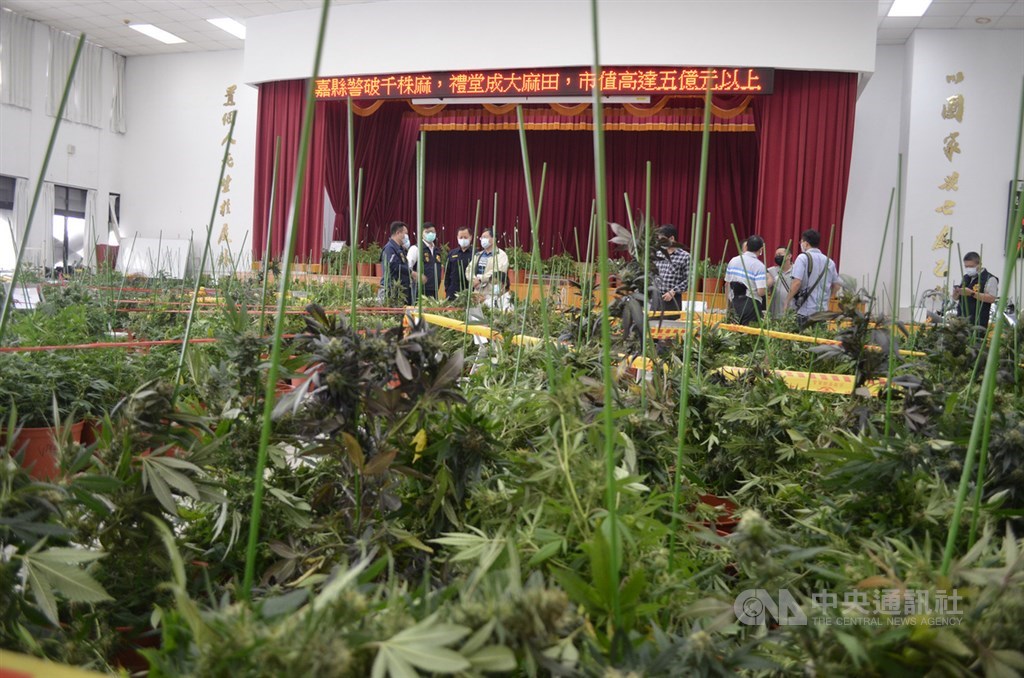 Police believe Chou and Lee were hired to grow, dry and refine the cannabis plants before handing them off for others to sell, according to Hsu Ming-ku (徐名谷), head of a criminal police squad in the county.
However, Hsu did not indicate whether the police have yet identified those who planned and funded the operation.
Another suspect surnamed He (何), who allegedly rented the houses and recorded the plants' growth, was not arrested during the raids and is currently on the run, Hsu added.
Police and prosecutors are still investigating the source of the seeds and the intended destination of the drugs, according to Hsu.