CORONAVIRUS
/
COVID-19 patient had been to New Taipei, Taoyuan restaurants
Taipei, Jan. 31 (CNA) A man confirmed with COVID-19 on Saturday had visited Jiufen Old Street in New Taipei as well as several restaurants in Taoyuan, although Central Epidemic Command Center (CECC) officials stressed Sunday that he was unlikely to have been infectious during that period.
The new case, a Taiwanese man in his 50s, went to Jiufen Old Street and Amei Teahouse in New Taipei on Jan. 25, said Health and Welfare Minister Chen Shih-chung (陳時中), who heads the CECC, at a press briefing in Taipei.
On Jan. 26, the man went to several places in Taoyuan, including a dumpling restaurant on Wenxing Road, Fo Guang Shan Bao Ta Temple, Yongfu Chin Pao Columbarium, Daxi Old Street and the Bai Nian You Fan restaurant on Minquan Road, Chen said.
He went into quarantine on the evening of Jan. 26 after being listed as a contact of a COVID-19 case, and was confirmed as being infected on Saturday. It is unlikely he was infectious on Jan. 25 and Jan. 26, Chen said.
Nonetheless, the CECC still decided to make public some of the places the man visited, so people who have been to these places can be more alert about any symptoms they might develop, Chen said.
Those who do experience symptoms should get tested at a nearby hospital or call the 1922 hotline, he added.
According to Chen, the CECC found during its probe that the man became infected on Jan. 23, when he accompanied his mother to a hospital in Taoyuan.
While waiting for the doctor, the man and his mother were seated in an adjacent row to a man in his 60s who had previously stayed at Taoyuan General Hospital -- where a cluster infection has broken out -- and who was confirmed on Jan. 24 as having COVID-19.
They were in the same waiting area for under 15 minutes and they were all wearing masks, Chen said, citing surveillance footage.
The CECC will conduct genome sequencing on the virus found in the two cases to confirm if the man in his 60s infected the new case, said Chen.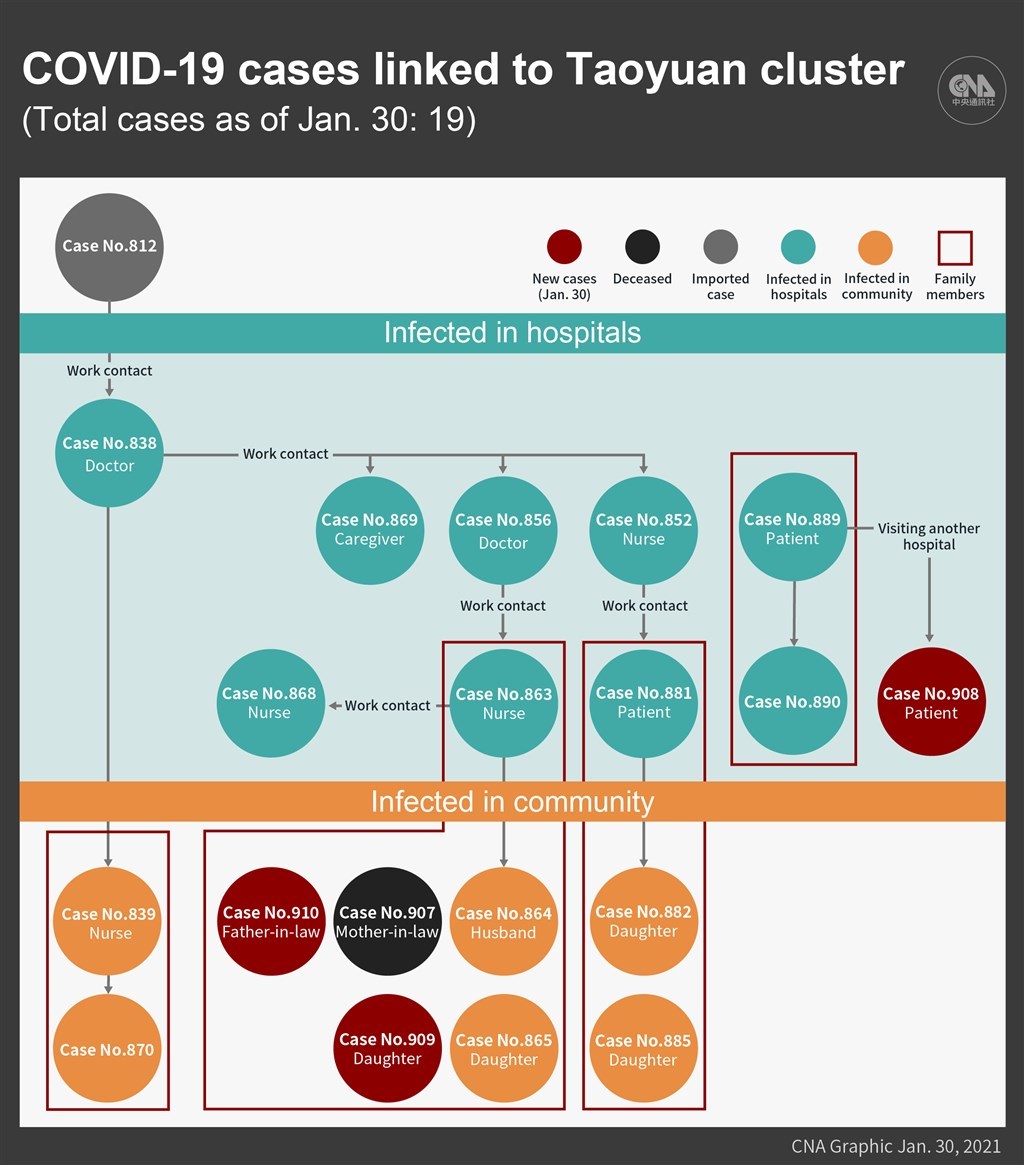 When asked why the CECC would not disclose the hospital where the new case became infected, Chen said because all the potential contacts of the COVID-19 cases at the hospital have been placed in quarantine.
The hospital has also been disinfected many times, Chen said.
In response to rumors circulating on the internet that the newly confirmed case visited Yilan on Jan. 21, Chen said that all of the places the patient visited prior to Jan. 23 -- when he was infected -- are irrelevant to disease prevention.
The four close contacts of the new case, including his mother, who he accompanied to the hospital, have tested negative for COVID-19, according to Chen.
To date, 19 cases have been recorded as part of the cluster infection at Taoyuan General Hospital. A total of 4,213 people linked to the hospital are currently under quarantine as a result.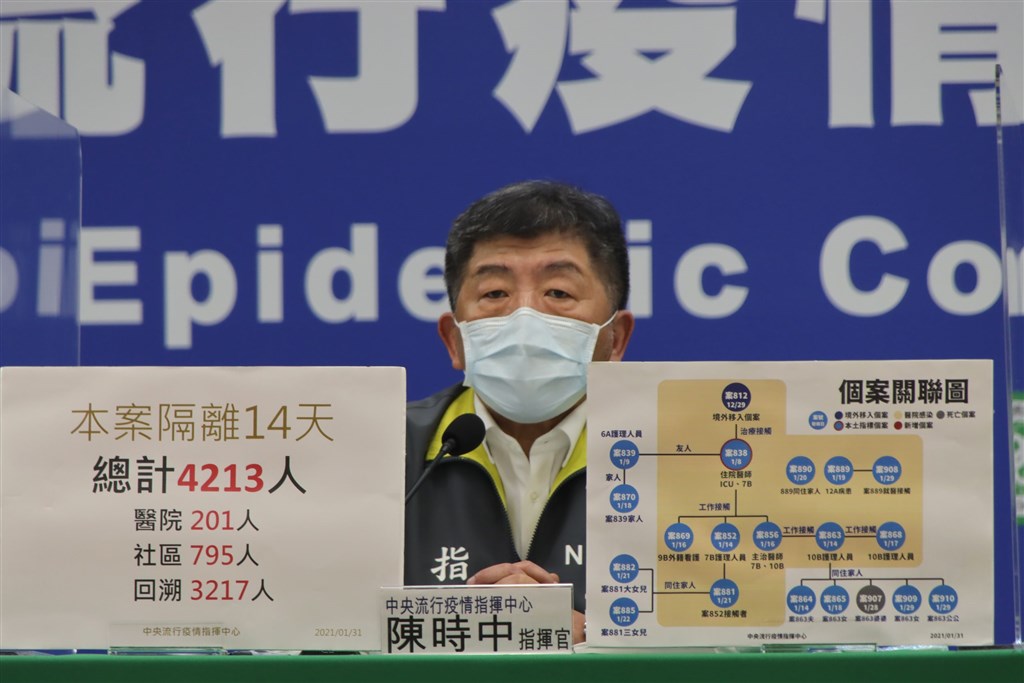 Although people have questions and are panicking because of the cluster, Chen stressed on Sunday that there was no need to be overly anxious.
Anxiety is only meaningful when it is transformed into action, Chen said, so people should try their best to protect themselves from the virus by wearing masks, washing their hands frequently, and avoiding gatherings.
Chen also urged more empathy and less social pressure for the patients affected by the cluster.
"No one wants to become infected." Chen said, citing a letter written by the first COVID-19 patient in Taiwan.
"It is good that people want to understand more about the situation, and we will do our best to provide accurate information quickly," Chen continued, "but people should not put pressure on those who have become sick, as they are already going through a difficult time."
View All