Naturalized citizen from Vietnam says she has long felt Taiwanese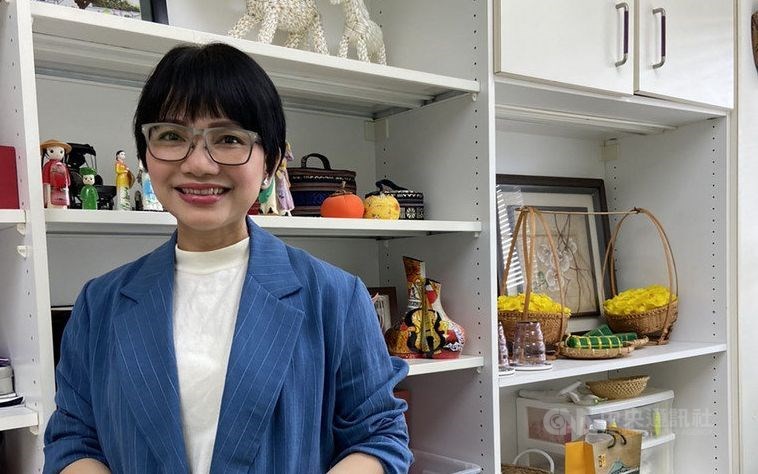 Taipei, Nov. 17 (CNA) Despite having just been naturalized under the government's dual nationality program for high-level foreign professionals, Vietnamese language teacher Trần Thi Hoàng Phượng (陳凰鳳) said that citizenship status aside, she has long considered herself Taiwanese.
Trần was among seven people approved by the Ministry of the Interior last month to receive Republic of China (Taiwan) citizenship without relinquishing their original nationality, as part of the government's efforts to attract and retain top talent from around the world.
Since Taiwan amended its Nationality Act in 2016, a total of 164 foreign nationals from a range of professional backgrounds have been naturalized under the program.
In a recent interview with CNA, Trần, now a lecturer at National Chengchi University's (NCCU) Foreign Language Center, explained how her own experience in Taiwan motivated her to use language instruction as a tool for promoting cultural awareness and ethnic cohesion.
Trần's path to Taiwan goes back to the early 1990s, when she met her husband, a Taiwanese stationed in Vietnam for work, during her studies at Vietnam National University in Ho Chi Minh City.
The couple ultimately spent eight years in Vietnam, where they married and had two children, before relocating to Taipei in 2001.
One of her first memories of Taiwan, Trần said, was of seeing advertisements for arranged marriages with Vietnamese brides.
"That made a major impact on me," she said. "The saddest thing about it was thinking that these families were not based on love. What kind of environment is that for a child to be raised in?"
Trần also recalled seeing negative stories in the media about foreign spouses, many of which involved problems that seemed to stem from cultural or linguistic misunderstandings.
At her husband's encouragement, she began volunteering with groups that serve the new immigrant community, conducting family welfare checks over the telephone and serving as a Vietnamese interpreter in hospitals.
According to Trần, these experiences further convinced her that language constitutes the greatest obstacle for new immigrants trying to integrate into Taiwanese society.
To facilitate that process, Trần said, she decided to start a course at Taipei's Zhongshan Community College teaching Chinese to foreign spouses from Vietnam.
After sitting in on her lectures, however, several of the students' family members asked if she could give them courses in Vietnamese.
Based on the success of these courses, Trần was recruited in 2006 by the NCCU Foreign Language Center, where she has remained as a Vietnamese instructor to this day.
When asked how it felt to become a citizen after all this time, Trần replied that the only practical differences are that she now has a national identity card and the right to vote.
Aside from that, "I've already considered myself Taiwanese for 20 years," she said.
In her efforts to help other new residents of Taiwan, Trần has also gotten involved in politics, serving since 2017 as chair of the governing Democratic Progressive Party's committee on new immigrants.
"Immigrants come to Taiwan with their dreams," Trần said, and like seeds, they need to be properly cultivated.
"If you suppress them, it will limit their growth, and eventually have repercussions on the whole of society. But if you support them and let them grow strong, they will help make Taiwan into an even better place," she said.