EVA Air flight attendants poised to go on strike as negotiations fail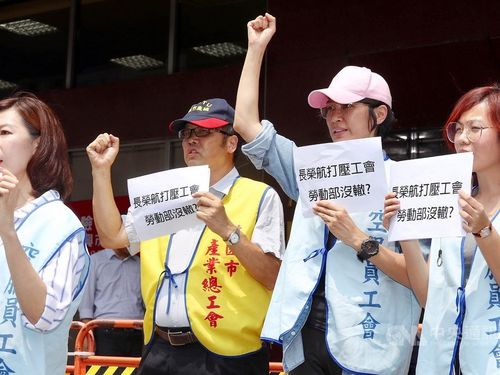 Taipei, June 20 (CNA) Flight attendants with EVA Airways will go on strike from 4 p.m. Thursday as their demands have not been met in the latest round of talks with the airline's management, the Taoyuan Flight Attendants Union (TFAU) said.
The announcement was made one hour into the negotiations as the two sides reached an impasse on the first issue raised, that of a daily allowance for flight attendants.
"The discussion was not generating any concrete results, so we decided to start our strike from 4 p.m. today," TFAU Deputy Secretary-General Chou Sheng-kai (周聖凱) said after the third round of negotiations, which was mediated by government officials.
The decision to strike came in the wake of a vote by flight attendants on June 7, which gave the union the legal right to take industrial action, and after its talks with the airline's management on overseas allowances and work hours on regional trips failed to produce a resolution.
The bone of contention was the union's demand for higher allowances for flight attendants working in overseas destinations and its insistence that the increase, from NT$90 (US$3) to NT$150 per hour per flight, should be given only to its members.
It has also been calling on EVA Air to allow flight attendants to work on only one leg of a trip and rest overnight when they have to serve on nine specific regional routes. Currently, EVA flight attendants on those nine routes are required to work on both legs of each trip.
The union has argued that the flight attendant shifts on the nine routes often exceed 12 hours, in contravention of the Labor Standards Act.
Among the routes cited by the union where flight attendants work more than 12 hours are those between Taiwan and Tokyo, Beijing, Phnom Penh, Ho Chi Minh City, Harbin, Shenyang, and Hohhot.