33 Taiwanese telecom fraud suspects charged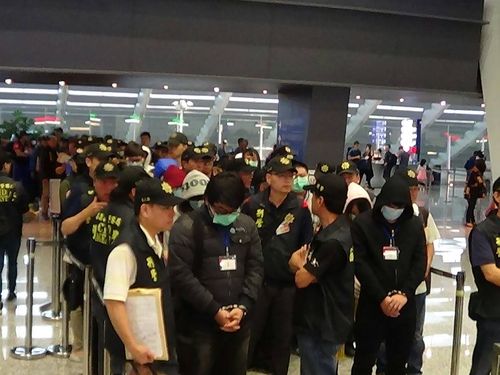 Taipei, May 29 (CNA) Thirty-three Taiwanese nationals involved in a cross-border telecom scam ring in Europe that targeted Chinese citizens have been indicted on charges of organized crime and fraud, Miaoli District Prosecutors Office said Tuesday.
They were part of a 91-member fraud gang repatriated from Croatia this year, according to Huang Chen-lun (黃振倫) of the Miaoli District Prosecutors Office.
Members of the gang were arrested on January 18 by Croatian police, who found that they had been running similar telecoms fraud scams in Slovenia before moving to Croatia about a month previously.
With the assistance of Taiwanese authorities, the suspects were later repatriated to Taiwan in four different groups.
Since being returned, 89 have been detained for questioning while two pregnant women were released on bail, Huang said.
Prosecutors found that the fraud ring had accrued about NT$230 million (US$7.64 million) in illegal assets in four months by making more than 45,000 scam calls to China.
Acting on information provided by some of the detainees, the gang's leader was arrested during a raid in Taichung in April, during which the suspect, named Tsai (蔡), was found to have NT$59 million in illegal assets, according to Miaoli prosecutors.
On Tuesday, 33 of the 91 fraud ring members were indicted on charges of fraud and operating as an organized criminal gang, and if found guilty, will be sentenced to 3-10 years in prison, while prosecutors are still investigating the roles of the other suspects.