Two suspects held for allegedly selling fake pig vaccines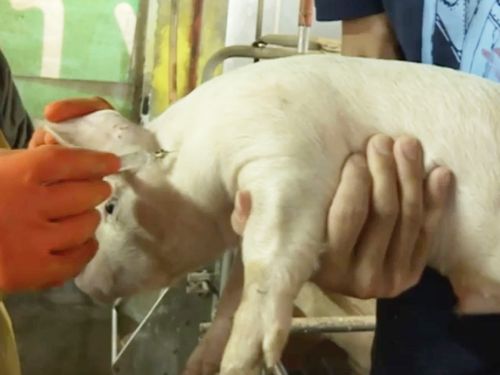 Taipei, May 16 (CNA) Two suspects have been arrested on suspicion of supplying pig farmers with fake vaccines that ultimately caused losses because the animals were not protected against virus infections, according to Yunlin prosecutors.
In the investigation into the deaths of piglets in Yunlin and Changhua counties, Yunlin prosecutors said, they found that the animals have been injected with a counterfeit product that was basically a diluted vaccine.
The counterfeit vaccines were supplied by a suspect surnamed Wang, who was selling them at NT$63 (US$2.09) per dose through a middleman surnamed Shen, according to a statement issued by the Yunlin District Prosecutors Office Monday.
In turn, Shen was selling the fake vaccines at NT$65-NT$74 per dose, undercutting the price of genuine vaccines, which is NT$75 per dose, the prosecutors said.
They said the two suspects made at least NT$25 million in the scam.
Pig farmers were duped because the vaccines carried a label and trademark, and were accompanied by an official looking certificate of authenticity, the prosecutors said.
The investigation found that although the products contained no toxic substances, the concentration of fake vaccine was so low that the piglets were not immunized against porcine circovirus (PCV) and some of them died, the prosecutors said.
They said the two suspects have been arrested and are being held incommunicado.
In March, government authorities received a report from a genuine supplier that diluted vaccines with counterfeit labels and official looking certificates were circulating on the market, according to Shih Tai-hua (施泰華), deputy director-general of the Bureau of Animal and Plant Health Inspection and Quarantine.
The Yunlin County Swine Association said that it was not clear how many pig farmers were affected, but those who bought the fake vaccines were "furious."
Farmers in Kaohsiung also bought the fake vaccines, the hog farmers' association in the southern city said.
PCV in piglets causes progressive loss of body functions and reduces their lifespan, according to the R.O.C. Swine Association.
Without the PCV vaccine, 30 percent of piglets could die, the Yunlin County Swine Association said.
It called on the government to help affected pig farmers obtain compensation of NT$3,000 per piglet from the suspects.
The maximum penalty for making or importing counterfeit veterinary drugs is seven years in prison and a fine of NT$4.5 million, according to the Veterinary Drugs Control Act.
(By Yang Shu-min, Milly Lin and Elaine Hou)ENDITEM/pc