H7N9 has mutated, may spread from human to human: expert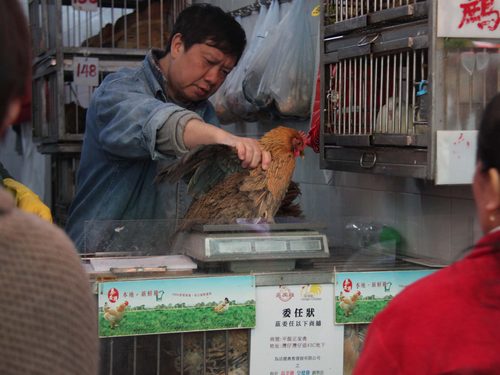 Shanghai, Jan. 11 (CNA) Chinese researchers have discovered mutations in the new strain of avian influenza A, known as H7N9, and have found that the virus has the ability to spread from human to human, the latest issue of China's Southern Metropolis Weekly reported.
George F. Gao, the vice-president of Beijing Institutes of Life Sciences under the Chinese Academy of Sciences and deputy director-general of the Chinese Center for Disease Control and Prevention, told the Weekly that he and his research colleagues have broken down the mechanisms of transmission of the H5N1 and H7N9 avian flu viruses.
The research team pointed out in a study published in Science magazine in September last year that they have identified mutations in four key sites of amino acids of the H7N9 strain and found that the virus has an ability to bind to human cells in the upper respiratory tract.
Although the H7N9 and H5N1 viruses have not had the ability to widely spread from human to human, after undergoing genetic mutations and redistribution through mutations, they become better able to bind to human cells in the upper respiratory tract and can evolve into bird flu strains with the ability to transmit among humans, the team says.
In nature, H7N9 is an avian flu virus, but it tends to bind to poultry cells in the lower respiratory tract, Gao said.
He added that although the H7N9 virus can invade cells in the human upper respiratory tract, it only has a limited ability to transmit among humans.
This winter, China reported several human cases of H7N9 bird flu, with two new cases reported Friday in eastern China's Zhejiang Province and one death in Fujian Province.
The report said that H5N1 and H7N9 have been two of the the most lethal avian influenza viruses for humans in recent years. Since the first case of human influenza A H5N1 was reported in 1997 in Hong Kong, the virus has affected more than 60 countries around the world, with a fatality rate of 60 percent.
After a number of human infections of the H7N9 virus have been reported in eastern China, mostly in the Yangtze River Delta region in late February 2013, more than 140 human infections of H7N9 have been reported in 12 provinces and cities in China, including 46 deaths, according to the report.
Gao said that closing live poultry markets, adopting more intensive livestock farming practices and using the mass slaughter of live poultry are good measures to control the spread of the H7N9 epidemic.
The Shanghai City government has announced it will shut down live poultry markets from the Lunar New Year holiday (Jan. 31) until April 30. (Cheng Chung-sheng and Y.L. Kao)
Enditem/cs