Meta's AI Hokkien-English translation still room for improvement: Reviewer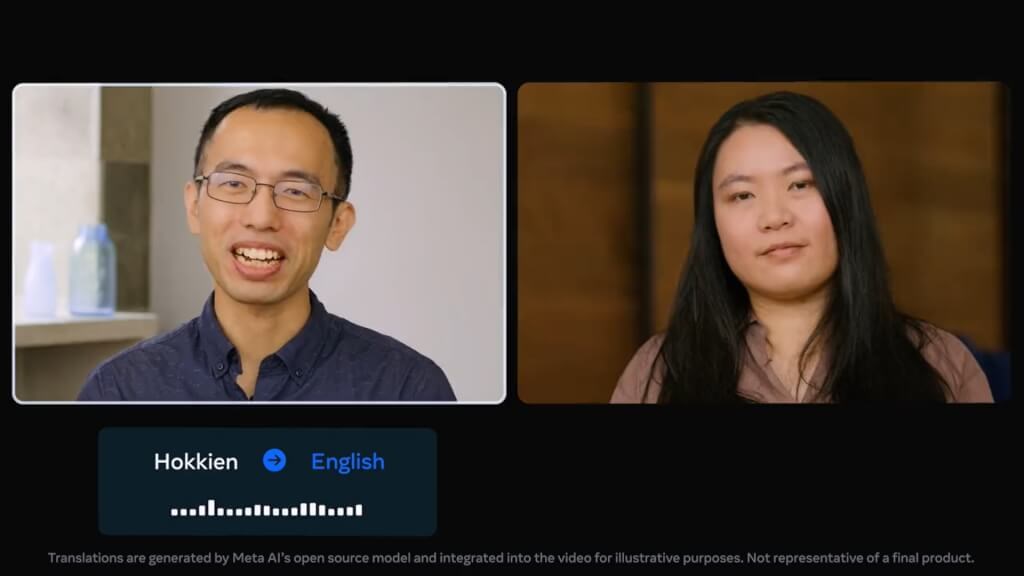 Taipei, Oct. 21 (CNA) A Taiwanese tech reviewer said Thursday that Meta Platforms' recently released Hokkien-English artificial intelligence (AI)-powered translation software falls short in terms of accuracy.
The translations generated by the AI can lag and be quite inaccurate, a reviewer using the pseudonym Yi Ge (壹哥), who has a YouTube channel called "OneGeek1979," told CNA.
"For an AI-enabled translation service that just got off the ground, it is not a surprise," he said after testing out the service through the dedicated demo site made by Meta, the parent company of Facebook.
On Wednesday (U.S. time), Meta unveiled the Universal Speech Translator (UST), which it touted as the first AI-powered speech-to-speech translation system for Hokkien, which has no written form.
According to a release by the multinational tech firm, the Meta AI UST project is an open-source, speech-to-speech translation system that it hopes "will eventually allow real-time, speech-to-speech translation across all extant languages."
There are approximately more than 7,000 living languages that are primarily oral, making this just the first step Meta is taking for real-time speech translation, it added.
Citing Hokkien as an example, the company said there were about 46 million speakers around the world, most notably China with 28 million (2018 figure), Taiwan with 13.5 million (2017), Malaysia with 2 million (2017), Singapore with 1.5 million (2017) and the Philippines with 1 million (2010).
It is not easy to build Hokkien translation software given the time, man power and resources required, and the effort is not cost-effective at all, Yi Ge said.
According to Yi Ge, these are reasons why Hokkien is not currently available on Google Translate.
Yi Ge said what was more surprising was that Meta had attached great importance to the Asian market, as American companies tended to concentrate more on larger markets, including Europe and North America.
The huge market potential and Meta's mastery of relevant translation techniques were two reasons Meta had chosen Hokkien to test its translation software.
In the future of the metaverse, the ability for an individual to use his or her native language and converse with another in a different language through Meta's AI UST will soon be around the corner, the tech reviewer said.
Also on Thursday, a university academic revealed that Taiwanese television dramas played a significant role in creating Meta's translation system.
Lee Hung-yi (李宏毅), an associate professor of electrical engineering at National Taiwan University who contributed to Meta's UST project, said around 1,500 hours of footage from local Hokkien dramas was used to train the AI software.
A crucial feature of these dramas is that they come with subtitles, allowing Meta's machine learning to pair the information for comparison, Lee said.
Lee pointed to the progress Meta has made in unsupervised learning, a method of machine learning based on unlabeled sample data.
"Our progress in unsupervised learning demonstrates the feasibility of building high-quality speech-to-speech translation models without any human annotations," Meta said in the release.
However, Lee said that while the current translation system could be used for casual purposes, in a formal setting, the system still had some ways to go.