Facebook extends climate science information to Taiwan and others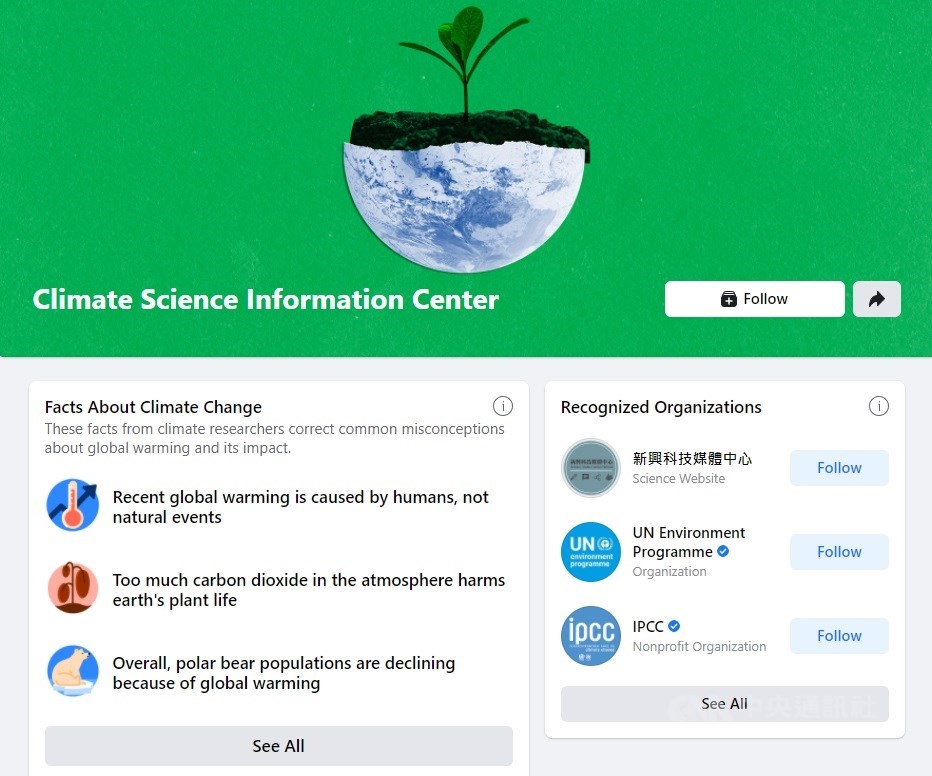 Taipei, Feb. 19 (CNA) Social media platform Facebook on Friday extended its Climate Science Information Center to more countries, including Taiwan, to better educate users about climate change, its effects and the need for action.
"The Climate Science Information Center connects people on Facebook with science-based news, approachable information and actionable resources from the world's leading climate change organizations," Facebook said in a statement.
According to the California-based company, the climate science center is also able to recommend to Facebook users how they can get involved in helping reduce emissions, with information relevant to where they live.
In its release, Facebook said the center includes a section that features facts to debunk myths such as too much carbon dioxide in the atmosphere is beneficial to plants or that polar bears as a species are doing well.
In fact, too much carbon dioxide harms the Earth's plant life, and polar bear populations are declining because of global warming, the company said.
"To debunk the myths with current and specific facts, we've brought in climate communication experts from the George Mason University, the Yale Program on Climate Change Communication and the University of Cambridge," it said.
Facebook first launched the Climate Science Information Center last September, collecting expert insights and information to help dispel common misunderstandings and misgivings about climate science.
According to the social media platform, the climate science center is already available in France, Germany, the United Kingdom and the United States.
"From today, our center will be available in Belgium, Brazil, Canada, India, Indonesia, Ireland, Mexico, the Netherlands, Nigeria, Spain, South Africa and Taiwan," Facebook said.