Asustek to replace netbooks with hybrid laptops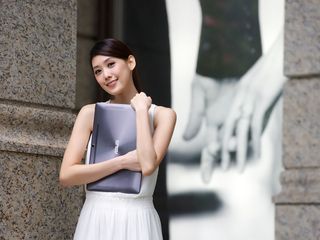 Taipei, May 6 (CNA) Netbook pioneer Asustek Computer Inc. said Monday it is planning a new version of its Windows-based Transformer Book laptops to carve out a new share of the smaller and inexpensive computer category.
Jerry Shen, chief executive officer of Taiwan-based Asustek, said his company will roll out a 10-inch model of the Transformer Book in the second half of this year with a price tag of US$299 to US$399, similar to the company's Eee PC netbook computers.
"The 10-inch model will be a good substitute for Eee PCs," Shen told an investor conference.
The current version of the Transformer Book features a 13.3-inch full-HD display, the touch-enabled Windows 8 operating system, and a detachable keyboard that can be removed from the device to turn it into a tablet.
The hybrid device went on sale in Taiwan in April for NT$46,900 (US$1,590), according to Asustek.
Shen estimated that touch-enabled notebooks in sizes of 11.6 inches or larger will account for more than 50 percent of global touch notebook shipments this year, while 10-inch models are likely to hold a market share of 30 to 40 percent.
First introduced in 2007 by Asustek, netbook shipments steadily climbed for three years and peaked in 2010 when shipments hit a record 32.14 million units, according to research firm IHS iSuppli.
The start of the decline of netbooks coincided with the introduction in 2010 of Apple Inc.'s iPad tablet. Netbook shipments tumbled 34 percent the following year, beginning a trend of irreversible decline, the report said.
IHS iSuppli expects only 3.97 million netbooks to be shipped worldwide this year, down 72 percent from 14.13 million units in 2012.
The market will further contract to a mere 264,000 units next year and will be down to zero by 2015, the researcher said.
(By Jeffrey Wu) ENDITEM/ls