ELECTION 2024
/
KMT's Hou vows to raise Taiwan's health spending to 8% of GDP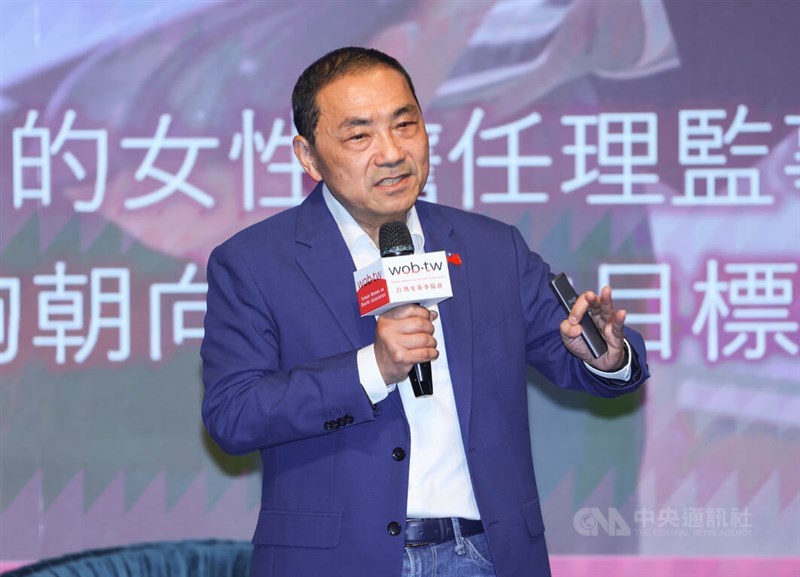 Taipei, Sept. 30 (CNA) New Taipei Mayor Hou Yu-ih (侯友宜), the opposition Kuomintang (KMT) presidential nominee, pledged Saturday to gradually raise Taiwan's health spending to eventually comprise 8 percent of its gross domestic product (GDP) in a bid to tackle the acute shortage of nurses the country is contending with.
Taiwan's current health spending, which equates to 6.1 percent of its GDP, is much lower than countries such as Japan (11.1 percent), South Korea (8.4 percent), and Organisation for Economic Cooperation and Development (OECD) members (9.6 percent), Hou said on his Facebook.
To fundamentally address the nurse shortage, Hou said, it is important to raise salary levels for all nurses, regardless of shift type, which is in contrast with the proposal made by Vice President Lai Ching-te (賴清德), the ruling Democratic Progressive Party candidate in the January presidential election.
On Sept. 27, Lai called for higher salaries and a better work environment for nursing staff, in particular for those working the evening and graveyard shifts.
One day later, the Executive Yuan approved a 12-point incentive program-- which included retention and night shift incentives, overhauling the work environment, and implementing a standard 3-1 nurse-to-patient ratio per shift.
The incentives, which will be partly funded by Taiwan's National Health Insurance (NHI) program, will cost around NT$18 billion (US$558 million) per year, and are expected to help recruit an additional 67,000-78,000 nurses a year from 2024-2030, health ministry officials reported.
186,000 nurses are currently practicing across Taiwan, meaning there is a workforce gap of between 55,000 and 74,000, according to the ministry.
As part of the program, the ministry will also provide extra incentives for nurses working unsociable hours -- NT$400-NT$600 per shift for the evening shift and NT$600-NT$1,000 for the night shift.
However, Hou argued that treating nurses differently depending on what shift they work could create tension and result in difficulties in arranging shifts.
In addition, he said, such incentives should be funded through a government budget, instead of an NHI budget, because the latter is on the brink of insolvency.
In response, Lai's campaign office accused Hou of maliciously distorting Lai's proposal, which it said plans to "address different problems at different stages."
View All