U.K. will work with allies to ensure Taiwan can defend itself: PM Truss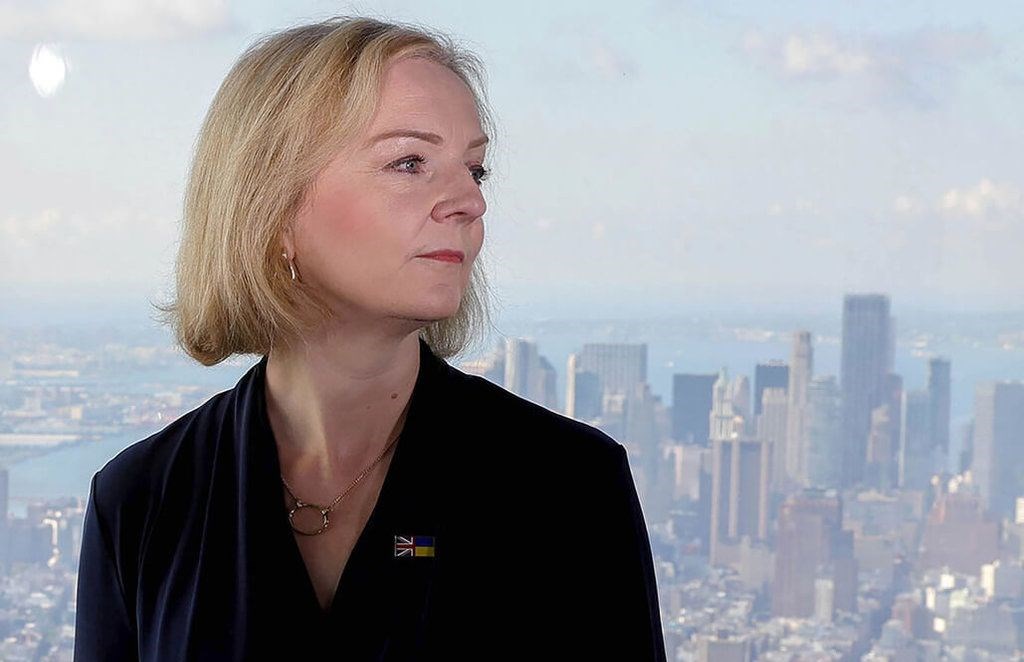 Taipei, Sept. 26 (CNA) The new Prime Minister of the United Kingdom Liz Truss said Sunday that her country is determined to work with its allies to make sure Taiwan can defend itself, a pledge that drew expressions of gratitude from the Taiwan government.
"Well, what I've been clear about is that all of our allies need to make sure Taiwan is able to defend itself, and that is very, very important," Truss said in a CNN interview, when asked whether the U.K. was willing to match the United States' pledge last week to defend Taiwan militarily in the event of an attack by China.
Truss said her government was working with its G7 allies, including the United States, Japan and Canada, to reduce "strategic dependency" on China and to ensure they have a "common response" to the threat of Beijing's military aggression.
"We need to learn the lessons from Ukraine," she said. "The fact is the free world didn't do enough to counter Russian aggression early enough. And Putin was emboldened to start this appalling war. And we can't see that situation happen in other parts of the world."
CNN host Jake Tapper raised the Taiwan question with Truss after U.S. President Joe Biden said last week during a "60 Minutes" interview on CBS that U.S. forces would defend Taiwan "if in fact there was an unprecedented attack."
U.K. Prime Minister Liz Truss was asked about China and Taiwan at around the 6-minute mark in the video. Source: CNN
Asked to comment on Truss's latest remarks on Taiwan, Ministry of Foreign Affairs (MOFA) spokeswoman Joanne Ou (歐江安) said Taiwan was grateful to the British prime minister for her pledge and for continuing to stand with Taiwan.
When Truss was the U.K. foreign secretary, she also expressed support for Taiwan on several occasions, Ou said.
In a speech titled "the Return of Geopolitics" in April, Truss called on the North Atlantic Treaty Organization (NATO) to be ready to tackle global threats by working with Japan and Australia to ensure order in the Pacific.
"And we must ensure that democracies like Taiwan are able to defend themselves," she said at the time.
When U.S. House Speaker Nancy Pelosi made a controversial visit to Taiwan last month, Truss said it was "well within her (Pelosi's) rights as speaker of Congress to visit the island's capital Taipei."
The real issue was the retaliatory action by China, Truss said then, referring to the unprecedented large-scale military drills China held around Taiwan after Pelosi's visit.
On Monday, Ou said Taiwan will continue to work closely with the U.K. and other like-minded countries to jointly "resist authoritarian expansion and aggression" and to safeguard a free and open Indo-Pacific region and rule-based world order.
Related News
Sept. 27: Nauru calls on United Nations to recognize Taiwan
Sept. 26: Attack on Taiwan could devastate global economy: Blinken
Sept. 25: Taiwan accuses China of misinterpreting U.N. Resolution 2758
Sept. 25: Taiwan thanks Philippine president for cross-strait peace appeal
Sept. 25: St. Vincent calls for Taiwan's U.N. inclusion; China, Russia reiterate stance
Sept. 24: EU, four allies speak in favor of Taiwan at U.N. general assembly
Sept. 24: Blinken reaffirms Taiwan Strait commitment in meeting with Chinese minister
Sept. 22: Biden reaffirms opposition to changing cross-strait status quo in U.N. address
Sept. 21: 3 allies speak up on Taiwan's behalf at U.N. General Assembly