Visiting MEP urges China to refrain from 'threatening gestures' toward Taiwan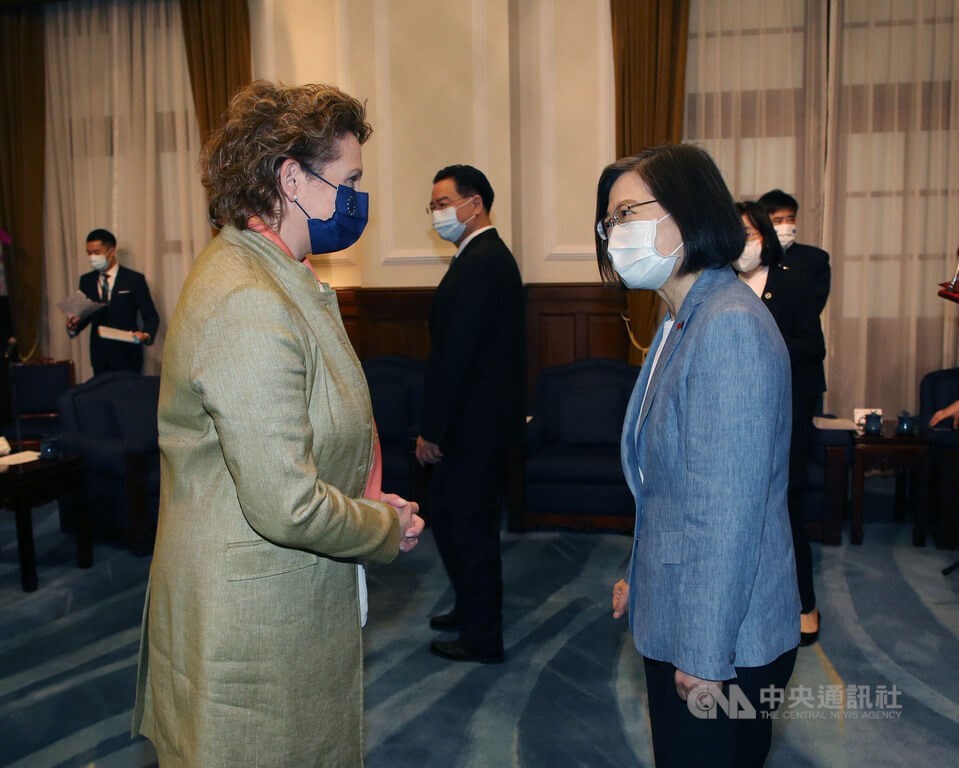 Taipei, July 20 (CNA) Visiting European Parliament Vice President Nicola Beer on Wednesday urged China to cease intimidation that she feared would change the status quo in the cross-Taiwan Strait relations, during a meeting with President Tsai Ing-wen (蔡英文).
"We call on the People's Republic of China to refrain from its threatening gestures" and instead "take an active and constructive part in maintaining and securing the current status quo based on neutral and respectful dialogue," said Beer, who led a delegation from the European Parliament to Taiwan on Tuesday for a three-day visit.
Beer said while the European Union remained committed to having good relations with China, it had "deep and serious concern about China moving in a direction that could unilaterally alter the status quo [in cross-strait relations]."
She said that only Taiwan's people could decide its future, adding that societal development ought to continue in a "free and peaceful" manner.
The vice president went on to say Europe would "stand up against any provocation or threatening of the status quo" while working to contribute to the peace and stability throughout Asia.
At the same time, Beer noted that Taiwan was a "responsible and reliable international partner" while speaking in favor of a bilateral investment agreement (BIA) between the EU and Taiwan, as well as an upgrade of the EU's representative office in Taiwan.
Tsai expressed similar hope that Taiwan and the EU could begin talks on forging a BIA, saying such a trade pact would "generate even greater well-being among our people."
Taiwan looks forward to strengthening cooperation with fellow democracies to "jointly create a resilient democratic alliance," Tsai said, adding that the country could share its experiences from being on the frontline of the defense of democracy.
According to the Ministry of Foreign Affairs (MOFA), Beer, a German politician who has been a member of the European Parliament since 2019, was the first vice president from the advisory body to visit Taiwan in an official capacity. Previous vice presidents have also visited Taiwan but as parliamentarians rather than executives.
In addition to meeting with Tsai and Premier Su Tseng-chang (蘇貞昌) on Tuesday, the European Parliament delegation will also meet Deputy Legislative Speaker Tsai Chi-chang (蔡其昌), Minister Without Portfolio Audrey Tang (唐鳳) and Mainland Affairs Council Minister Chiu Tai-san (邱太三), during its stay until Thursday, MOFA said.
Source: Presidential Office (For English subtitles, YouTube offers an "Auto-translate" feature available in "Settings")