U.S. Navy, Coast Guard ships sail through Taiwan Strait, 8th transit under Biden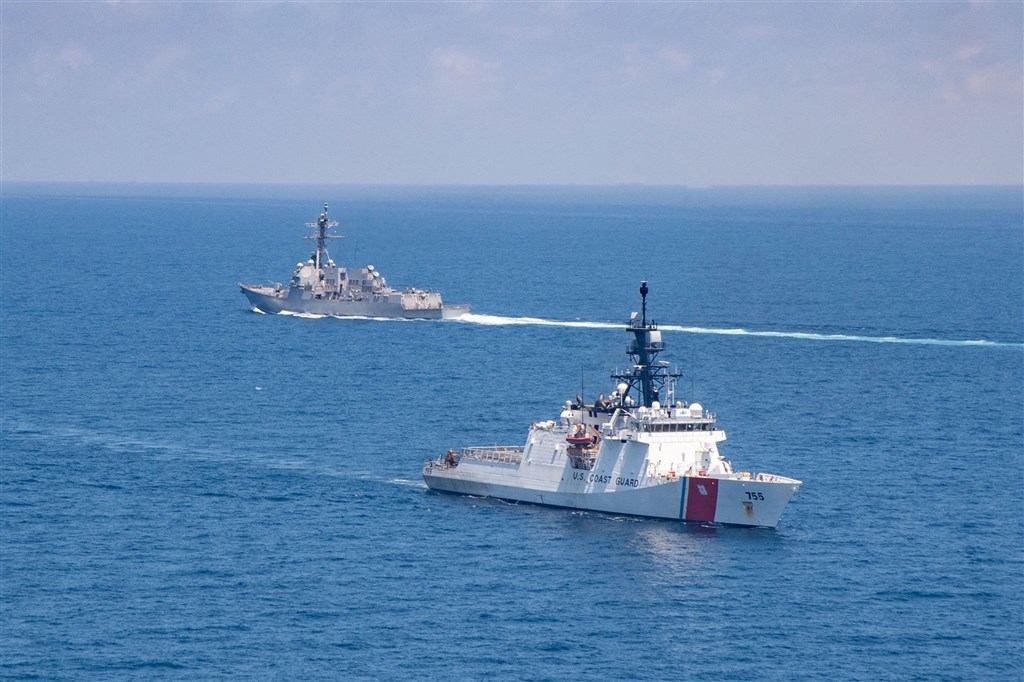 Taipei, Aug. 28 (CNA) A U.S. Navy ship and a Coast Guard vessel sailed through the Taiwan Strait on Friday, making the eighth transit under the Biden Administration after the president took office in January.
In a statement released on Friday, the U.S. Navy said the Arleigh Burke-class guided-missile destroyer USS Kidd and the legend-class U.S. Coast Guard National Security Cutter Munro conducted routine transits through Taiwan Strait.
The Navy added the transit was conducted through international waters in accordance with international law.
"The ships' lawful transit through the Taiwan Strait demonstrates the U.S. commitment to a free and open Indo-Pacific," the U.S. Navy said. "The United States military flies, sails, and operates anywhere international law allows."
Taiwan's Ministry of National Defense (MND) confirmed on Saturday the transit of the two U.S. ships through the Taiwan Strait, one sailing south to north and the other from north to south.
The MND said the ministry has a full grasp of the latest transit of U.S military ships through the Taiwan Strait by using joint intelligence, surveillance, and reconnaissance tools to monitor movements at sea and in the air around Taiwan.
The MND also described the situation as "normal."
The latest transit of the two U.S. warships came at a time of growing tensions across the Taiwan Strait, in particular after China staged assault drills near Taiwan last week, when Chinese warships, anti-submarine aircraft, and fighter jets conducted exercises off the island's southern coasts to improve their joint combat coordination.
The Chinese military drills were a necessary response to the recent "collusion and provocation" by Taiwan and the U.S. to infringe on "Chinese sovereignty," the "interference by outside forces," and the "provocations by Taiwan independence forces," according to China's People's Liberation Army.
Before Friday's transit, the Arleigh Burke-class guided missile destroyer USS Benfold sailed through the Taiwan Strait on July 28.
Earlier this year, the USS John S. McCain sailed through the waters on Feb. 4 and April 7, the USS Curtis Wilbur on Feb. 24, May 18 and June 22, and the USS John Finn on March 10.