Former Premier Lai stumps for Tsai in U.S.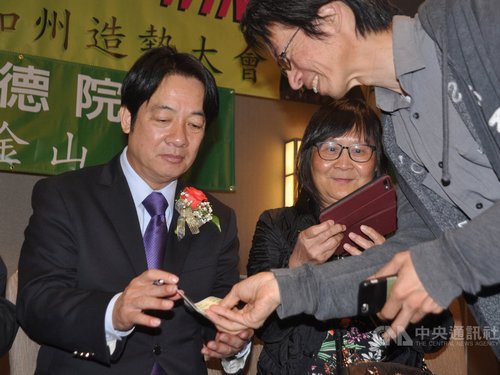 San Francisco, Oct. 15 (CNA) Former Premier Lai Ching-te (賴清德), who lost the Democratic Progressive Party (DPP) primary for the 2020 presidential election to President Tsai Ing-wen (蔡英文), on Tuesday stumped for Tsai's re-election in San Francisco, his first public appearance since the DPP primary.
Lai said during a campaign event that in the wake of the primary it is time for the party to unite, which drew a warm reaction from pro-independence DPP supporters who shouted "2020, Taiwan must win," "re-election of the president, a majority of parliamentary seats."
Lai said he is in the United States to campaign for the re-election of Tsai and expressed the nation's gratitude to Taiwanese expatriates in the U.S. who care about the country.
Even the U.S. is supportive of Taiwan moving in the direction of democracy and freedom, he noted, adding that petitions have been initiated in Germany and the U.S. calling for the restoration of formal relations with Taiwan, an indication that many support a larger role for Taiwan in the international community.
Lai said his participation in the DPP presidential primary has inspired Tsai to be better and voiced his strong support for her re-election so that she can lead Taiwan and make it stronger.
Lai's trip was arranged by Tsai's 2020 presidential re-election campaign office and the DPP headquarters and will see him attend several events, including the launch of Tsai supporters' centers in the U.S. and Canada, as well as campaign events held by supporters groups in the Midwest, Washington and New York.
The campaign event in San Francisco is Lai's first stop in the U.S. He is scheduled to participate in another event in Northern California Wednesday, followed by the Midwest Friday, Washington Sunday and New York Monday.