Two Taiwan allies face pressure to switch allegiance: U.S. official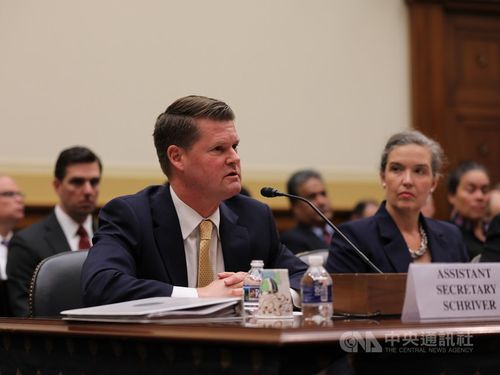 Washington, Sept. 26 (CNA) The Marshall Islands and Palau, two allies of Taiwan, face great pressure from China to change their allegiance, a U.S. official said Thursday.
"There's tremendous pressure on the remaining diplomatic allies of Taiwan to switch diplomatic recognition," Randall Schriver, U.S. assistant secretary of defense for Asian and Pacific security affairs, said during a U.S. House of Representatives hearing on sustaining U.S. Pacific insular relationships.
"We are particularly concerned by China's use of coercive tools to attempt to erode their sovereignty and induce them to behave in accordance with Chinese interests," Schriver said in his statement, referring mainly to the Marshall Islands and Palau.
Being asked to comment on how China influences the two countries, Schriver said China's measures include a range of economic coercion, debt trap diplomacy and diplomatic and political pressure.
Beijing created the sense that "China's large in the region, not going away, and you need to deal with us on our terms," the U.S. official said.
To elaborate on how China applies pressure, Schriver cited how China in 2018 prohibited Chinese tourists from visiting Palau, "gutting Palau's tourism industry in an attempt to pressure the country into switching its diplomatic recognition."
Gerald M. Zackios, the Marshall Islands' ambassador to the United States, also said in the hearing that his country faces a similar situation to that of Palau.
The Marshall Islands are threatened by the use of Beijing's economic leverage, as seen in China's economic activity with the Pacific country totaling US$2.2 billion in 2018, Zackios said.
The U.S. trade with the Marshall Islands was only US$311 million during the same period, Zackios said.
China is "indisputably important to our economy and budget," the ambassador said.
The diplomat went further and alleged that earlier this year, China proposed building a port and 1,000 homes on Rongelap Atoll in the Marshall Islands in return for the atoll receiving greater autonomy from the central government.
"Even today, the PRC continues to aggressively court our leaders through visits to China," Zackios said.
However, Zackios told CNA that the Marshall Islands, under pressure from China, did not agree with China's proposal to switch diplomatic recognition.
"We have a very good relationship with Taiwan and the United States," the ambassador said.
Meanwhile, Joanne Ou (歐江安), spokesperson of Taiwan's Ministry of Foreign Affairs, told CNA that Taiwan's ties with the Marshall Islands and Palau are stable.
Last week, the Solomon Islands and Kiribati decided to switch allegiance to Beijing, leaving Taiwan with only 15 diplomatic allies worldwide. Among them, four are in the South Pacific -- the Marshall Islands, Palau, Nauru and Tuvalu.
Beijing could persuade another one or two countries to switch sides before the end of the year as a way of interfering in Taiwan's 2020 elections, according to a report released by Taiwan's National Security Council Wednesday.