Five contenders to compete in KMT's presidential primary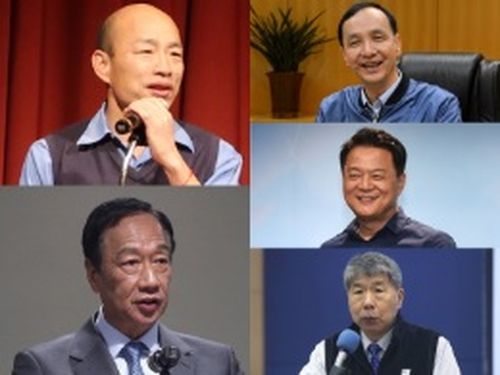 Taipei, June 10 (CNA) Five people will compete in the opposition Kuomintang's presidential primary to represent the party in the January 2020 election, the KMT headquarters announced Monday.
The five contenders are former New Taipei Mayor Eric Chu (朱立倫), former Taipei County Magistrate Chou Hsi-wei (周錫瑋), National Taiwan University political science professor Chang Ya-chung (張亞中), Hon Hai Precision Industry Co. Chairman Terry Gou (郭台銘) and Kaohsiung Mayor Han Kuo-yu (韓國瑜), according to the list that was released Monday.
The KMT primary will take the form of a number of public opinion polls and a series of televised presentations, in which the contenders will detail their platforms, according to the party.
The opinion polls and televised forums will be coordinated by a five-member panel, headed by KMT Vice Chairman Tseng Yung-chuan (曾永權), the party said.
The first TV presentation is scheduled for June 25 in Kaohsiung, and the candidates are expected to detail their plans for the country in the areas of economic affairs, finance, the environment, and energy, Tseng said.
In the second televised forum on June 29 in Taichung, the contenders will speak about youth, society, culture and education, Tseng said.
The final presentation will be held July 3 in Taipei, with a focus on constitutional politics, diplomacy, cross-Taiwan Strait affairs and national security, he said.
The public opinion polls, meanwhile, will be conducted nationwide July 5-15, the results will be released July 16, and the KMT's Central Standing Committee will announce the candidate on July 17, according to Tseng.
Through a fair primary process, the party will select the candidate with the best chance of winning in the 2020 presidential election, he said.
On May 15, the KMT chose to change the selection process for its 2020 presidential candidate, opting solely for opinion polls, rather than the 70-30 weighting of polls and party member votes it had decided on in February.
The change prompted former Legislative Speaker Wang Jin-pyng (王金平) to pull out the race last week, on grounds that the new primary process would favor some KMT candidates over others.
Meanwhile, the ruling Democratic Progressive Party (DPP) will begin its public opinion polls Monday evening to choose between President Tsai Ing-wen (蔡英文) and former Premier Lai Ching-te (賴清德) in its presidential primary.
The polls, which are scheduled to run through Friday, will give equal weighting to landline and cellphone samples to ensure that people who rely only on cellphones can also be reached, according to the party.
If enough samples are obtained by Wednesday, however, the party will announce the winner the following day, according to a DPP source.
If the polling continues until Friday, the DPP will release the results the same day, the source said.