President Tsai inspects Han Kuang military drill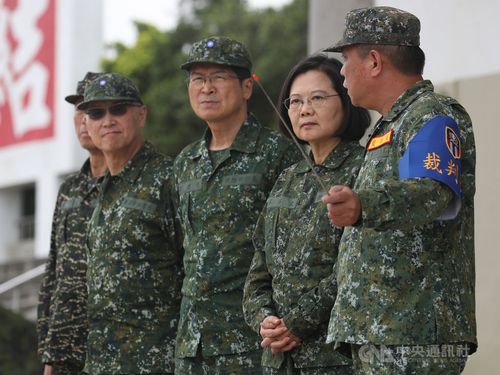 Taipei, May 29 (CNA) President Tsai Ing-wen (蔡英文) inspected a military drill Wednesday that involved the mobilization of over 200 personnel deployed to sweep out enemy forces airdropped into Taiwan.
The exercise, part of the annual Han Kuang live-fire exercises, was conducted at an army base in Hukou Township, Hsinchu County.
In addition to the 200 Army personnel, the exercise involved Apache attack helicopters and Black Hawk utility helicopters, as well as CM-11 Brave Tiger tanks, according to the Republic of China Army (ROCA).
CM-11 Brave Tiger tanks
Tsai was briefed on the details of the exercise as she watched it, which took approximately 20 minutes to complete.
The short-distance military exercise was conducted with a company from ROCA Special Forces Command serving as the attacking force, which completed a landing under the cover of the air force and successfully set up a landing field for follow-up reinforcements.
Meanwhile, the Army's 542nd Armored Brigade served as the defensive force, which destroyed the enemy under the cover of artillery fire and military helicopters.
The aim of the exercise was to familiarize ROCA personnel with its operating procedures to command troops, and at the same time improve the combat effectiveness of the Army, the military said.
The 35th Han Kuang live-fire exercises, Taiwan's most important war games, started Monday and are being staged over five days.
They are held each year to test the combat capabilities of all branches of Taiwan's armed forces in the face of the continued military threat from China.