U.S. 'does not support' Taiwan holding referendum on independence: AIT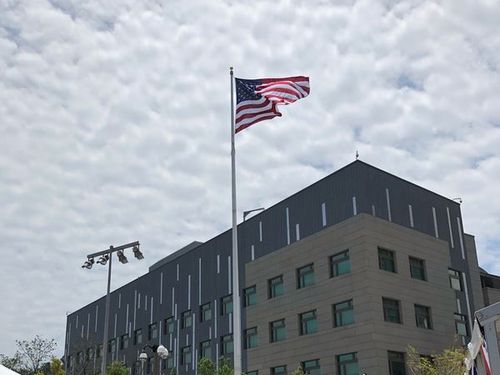 Taipei, Feb. 13 (CNA) The United States does not support a referendum on independence, the U.S. de facto embassy in Taiwan said Wednesday, in the wake of a proposal by a local pro-independence group for a referendum on the matter.
"The United States opposes unilateral actions aimed at altering the status quo. It has been our longstanding policy that we do not support a referendum on Taiwan independence," American Institute in Taiwan (AIT) spokesperson Amanda Mansour told CNA when asked to comment on the proposal.
However, the spokesperson also stressed that the U.S. has a deep and abiding interest in cross-strait peace and stability and praised Taiwan as "a reliable partner" and said "we appreciate Taiwan's efforts to maintain peace and stability."
"Taiwan is a democratic success story, and a force for good in the world. As Vice President Mike Pence said in a 2018 speech, America will always believe Taiwan's embrace of democracy shows a better path for all Chinese people," she added.
AIT's comments came against the backdrop of an ongoing push by Kuo Pei-hung (郭倍宏), chairman of Formosa TV and chief convener of the pro-independence Formosa Alliance.
The alliance called on local lawmakers on Jan. 31 to make clear their stance on revising Taiwan's Referendum Act to allow votes on issues concerning Taiwan's future.
The Referendum Act currently does not allow votes on matters that require changes to the country's Constitution, and sovereignty issues fall within that category, which is why Kuo and his backers want to amend to the law.
In his statement, Kuo said "Taiwan should create an independent state this year and advance toward becoming a normal country."
The statement was endorsed by several independence activists, including former ROC Vice President Annette Lu (呂秀蓮), former Democratic Progressive Party presidential candidate Peng Ming-min (彭明敏), and Kao Chun-ming (高俊明), a minister of the Presbyterian Church in Taiwan.
The campaign has been criticized by former AIT chairman Richard Bush, who in an open letter issued on Feb. 11, publicly challenged the activists' aggressive push for a referendum on Taiwan independence, questioning whether they had consulted with Washington given that such an act could lead to the need for American intervention.
Asked to comment, Ministry of Foreign Affairs (MOFA) spokesman Andrew Lee (李憲章) expressed gratitude for U.S. praise of Taiwan's democracy. However, the ministry declined to comment on Washington's opposition to a Taiwan independence referendum, he told CNA.