Taiwan-led regional dialogue to focus on youth engagement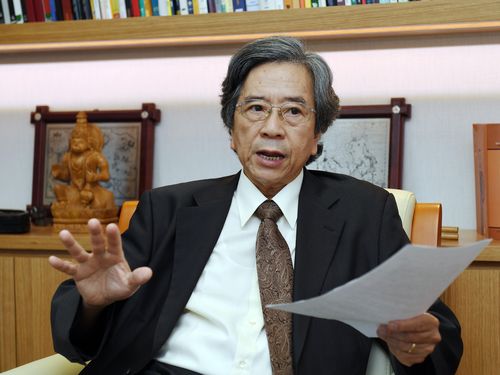 Taipei, Sept. 15 (CNA) The upcoming Yushan Forum, a Taiwan-initiated multilateral dialogue, will feature engagement between young leaders as part of the country's efforts to provide a constructive platform in establishing a common regional community for the next generation, the organizer said recently.
Looking into the future, with its challenges and opportunities, "we are setting a lot in store for the youth exchange programs," Michael Hsiao (蕭新煌), chairman of the Taiwan-Asia Exchange Foundation (TAEF), a national think tank and host of the Yushan Forum, told CNA in a recent interview.
The Yushan Forum was inaugurated last October as an institutionalized dialogue platform on cooperation between Taiwan, the 10 Association of Southeast Asian Nations (ASEAN) members, six South Asian countries, New Zealand and Australia under the New Southbound Policy, as well as other regional players, including the United States and Japan.
The second edition of the annual forum is slated to take place Oct. 11-12 in Taipei.
Hsiao said the first day of the forum will provide an opportunity to assess the progress of the four major projects under the New Southbound Policy -- collaboration in innovative industries, talent cultivation and agriculture, as well as medicine and health -- and to discuss chances for further cooperation in these areas.
On the second day of the forum, the panel discussions will highlight exchange programs undertaken by the TAEF that involve young leaders, nongovernmental organizations (NGOs) activists, think tanks and members of the cultural community, Hsiao said.
The forum will feature six young leaders from the region, representing the Young Leaders Programs, an initiative established by the Hawaii-based think tank the Pacific Forum, he said.
Their presence will reflect some of the collaborative efforts between Taiwan and the U.S. in youth empowerment, which also includes a new project similar to the Young Southeast Asian Leaders Initiative (YSEALI) launched by the U.S. to strengthen leadership development and networking in Southeast Asia.
Hsiao said the TAEF will partner with the Pacific Forum to usher in the new project -- the Taiwan-Asia Young Leaders Exchange (TAYLE) --in a way in which the Pacific Forum will recommend future leaders in the regional countries to join the TAYLE programs.
Related:●Taiwan government teams up with NGOs on Southbound Policy