Former president, premier endorse referendum on nuclear energy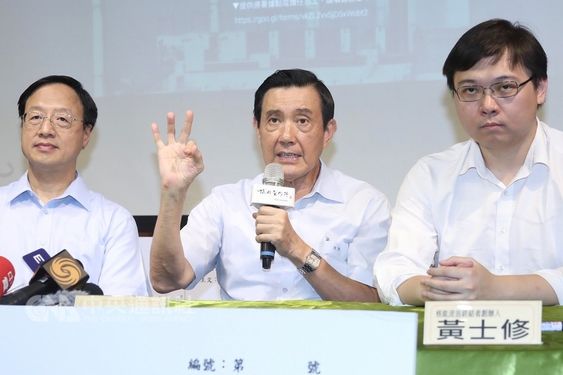 Taipei, July 31 (CNA) Former President Ma Ying-jeou (馬英九) called on the public Tuesday to support two referendum proposals that are seeking to override the government's policy of scrapping the fourth nuclear power plant and making Taiwan a nuclear-free homeland by 2025.
Ma made the appeal at a press conference and was joined by former Premier Jiang Yi-huah (江宜樺), who was serving in Ma's administration in 2014 when the decision was taken to mothball the fourth nuclear power plant amid public concerns over nuclear safety.
One of the referendum proposals Ma and Jiang are now supporting will ask whether the power plant should be activated for commercial operations. The other referendum proposal is about whether Article 95-1 of the Electricity Act, which will phase out nuclear power plants by 2025, should be abolished.
Ma said that as global warming intensifies, the trend against nuclear power that emerged in many countries after the Fukushima Daiichi Nuclear Power Plant accident in 2011 "has reversed."
Currently, there are 450 nuclear power reactors in operation in 31 countries, compared with 435 before the Fukushima accident in Japan, Ma said.
He said countries such as Japan, South Korea, Belgium and Switzerland have shifted from plans to phase out nuclear energy to either returning to the use of nuclear energy or abandoning their decommissioning schedules.
"Opposing nuclear energy is now an outdated trend," Ma said. "What has become a trend is how to reduce emissions of carbon dioxide to tackle global warming."
That aside, Ma said, people in Taiwan have lost faith in the government's pledge of achieving its nuclear-free goal without compromising the stable supply of electricity, since the major power outage on August 15 last year that was associated with human error at a power plant in Taoyuan.
Ma urged the public to support the two petitions to press the government to change its policy because the cost of implementing that policy can be significant.
He cited possible issues such as higher electricity prices and adverse effects on economy, which he said occurred in the years after Japan shut down its nuclear reactors in the aftermath of the Fukushima accident.
Jiang, meanwhile, said the government's plans to move more toward renewable energy were far behind schedule, as indicated in media reports on the Ministry of Audit's latest audit of the government budget last year.
"Last year, the installation of solar photovoltaic power generation capacity was at 14 percent (of its set target), and wind power at 2.2 percent," he said.
The many difficulties the government has encountered in areas such as converting lands into renewable energy sites have cast doubt on its ability to achieve its ambitious goal of increasing the share of renewable energy generation to 20 percent by 2025, Jiang said.
The decision in 2014 to mothball the fourth nuclear power plant has helped keep open the option of nuclear energy for future generations, he said.
Jiang said he hoped the referendums would be held in tandem with the local elections on November 24 to allow Taiwan to move at a steady pace toward the goal of becoming a nuclear-free homeland.
According to Huang Shih-hsiu (黃士修), founder of Nuclear MythBusters which initiated the two referendum proposals, the campaign has collected 25,000 signatures so far.
The campaigners would need to turn in 280,000 signatures to the Central Election Commission by the middle of September in order for the proposals to be considered valid.