National Tsing Hua University supports university autonomy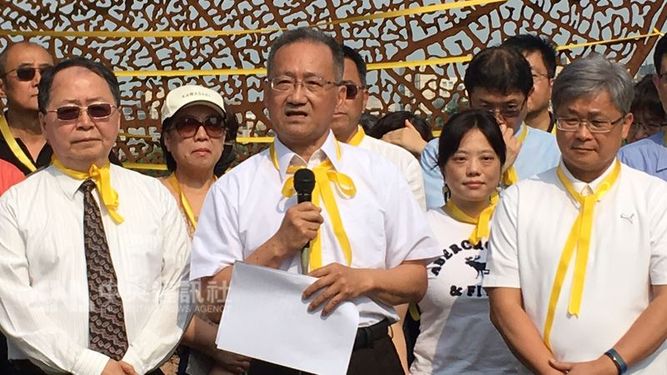 Taipei, April 29 (CNA) National Tsing Hua University on Sunday issued a "Tsing Hua Declaration" calling on the nation's politicians to refrain themselves from intervening in university affairs.
Wearing yellow ribbons, a group of Tsing Hua University faculty and students, including three previous presidents and the incumbent, made it a point that they were not supporting a specific candidate for university head, but were just trying to "defend university autonomy."
The move came two days after the Ministry of Education (MOE) rejected National Taiwan University's (NTU) selection of Kuan Chung-ming (管中閔) as president on the ground that the selection process was rife with flaws.
The Tsing Hua Declaration called on all Taiwanese people who are fed up with political fightings between the Pan-Blue and Pan-Green camps to speak up on their demands for the nation's political workers.
The Tsing Hua faculty and students also demanded that President Tsai Ing-wen (蔡英文) ask the MOE to retract its decision announced on Friday and amend the university law so that each university's president selection committee would be fully authorized to choose their administrative heads.
They requested that politicians make good on their words about removing the influences of political parties, government agencies and military and intelligence units on universities so that students and faculties can enjoy a free and "clean" environment in their academic pursuits.
Education Minister Wu Maw-kuen (吳茂昆) said Sunday that the education ministry does respect university autonomy.
"All we're asking is that NTU make its president selection rules more comprehensive and well-rounded, since the current ones are problematic," he said.
On the question of whether the university selection process should be democratic, Wu said that "in the academic world, there is no real democracy."
The NTU on Saturday expressed its strong objection and regret over the MOE's decision, claiming that it had adhered to all the relevant regulations throughout the process of selecting Kuan, contrary to the reasons given by the MOE for not confirming the result.
Also on Saturday, the Association of National Universities of Taiwan said that the government should not interfere in the decisions of a university's selection committee.
In a statement, the association of 50 state universities said an overwhelming majority of their members supported the position that the government should not be involved in a university's selection of its administrative team.
Kuan himself said late Sunday that he will take legal actions in an effort to defend university autonomy as he deemed the MOE move as having harmed not just NTU but also the nation's institutions of higher education as a whole.