Taiwan awards posthumous medals to two U.S. officers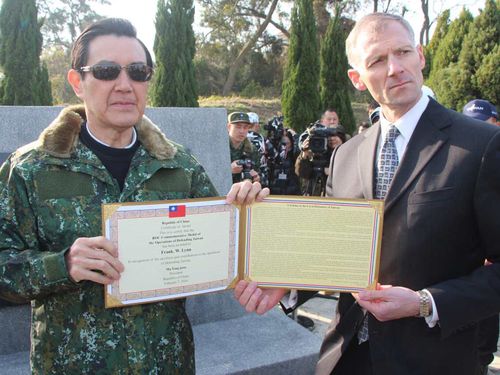 Taipei, Feb. 7 (CNA) President Ma Ying-jeou (馬英九) on Sunday conferred a posthumous honor on two American military officers who died during China's bombardment of Kinmen Island in 1954.
Gene Richards, chief of the American Institute in Taiwan's (AIT's) Liaison Affairs Section, accepted the commemorative "Defending Taiwan" medals on behalf of the two late officers -- Lt. Col. Alfred Medendorp and Lt. Col. Frank W. Lynn.
The award ceremony was held at a war memorial on Shueitao Pier in Kinmen, where the two officers were killed in 1954.
The commemorative medals were introduced in January by the Ministry of National Defense to honor military personnel, including Americans, who helped protect Taiwan in battles against China after 1949.
Medendorp and Lynn were members of the Joint U.S. Military Advisory Group to the Republic of China (Taiwan) and were in Kinmen when China's communist forces began shelling the outlying island on Sept. 3, 1954.
The two Americans were killed at the pier during the bombardment that lasted until Sept. 22 that year. Taiwan built two cenotaphs in honor of Medendorp and Lynn in 1992 and 2011, respectively.
At the ceremony Ma paid tribute to the two late U.S. officers and their contribution to Taiwan's protection. The president also visited military personnel assigned to remain on duty in Kinmen on Lunar New Year's Eve.