Ma-Xi meeting should be applauded: ex-White House official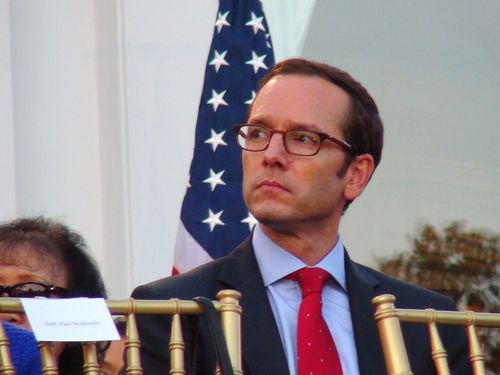 Washington, Nov. 3 (CNA) With Taiwan's President Ma Ying-jeou (馬英九) to meet with his Chinese counterpart Xi Jinping (習近平) soon in Singapore, Evan Medeiros, a China expert and former Asia chief on the U.S. National Security Council, praised the arrangement Tuesday as an important development in Northeast Asia.
Saying he was surprised by the meeting slated for Nov. 7, Medeiros told CNA that the meeting "is a historic opportunity and demonstrates the leaderships of both Ma and Xi."
From the U.S. perspective, "this is a very important development in Northeast Asia and one that should be vigorously applauded," he said.
"This meeting is further evidence that U.S. diplomacy -- and in this case the U.S. Asia-Pacific rebalancing strategy -- has played a key role in creating conditions for reconciliation between China and Taiwan," Medeiros said in an e-mail to CNA on the upcoming Ma-Xi meeting.
Now serving as head of Euroasia Group's research on Asia, Medeiros stepped down as National Security Council (NSC) senior director for Asia in June. He has been praised as a "key architect of the (U.S.) president's Asia rebalance strategy."
In a statement, NSC spokesman Alistair Baskey acclaimed Medeiros for having "helped restructure the content and operation of our China policy in ways that shaped China's choices as a rising power."
Asked what changed Xi's mind, since Beijing always insists that meetings between its leader and that of Taiwan should be held in China instead of in a foreign country or an international organization, Medeiro said that "Chinese concerns about the Taiwan election likely encouraged Beijing to consider Ma's longstanding request to hold this meeting and agreed to do it outside of mainland China."
Taiwan's Presidential Office announced Tuesday that Ma will meet with Xi in Singapore Nov. 7.
The Ma-Xi meeting will be a history-making event, as the top leaders of Taiwan and China have never met since the government of the Republic of China moved to Taiwan in 1949.
(By Rita Cheng and Elizabeth Hsu)ENDITEM/J