Speaker calls for self-restraint in Legislative standoff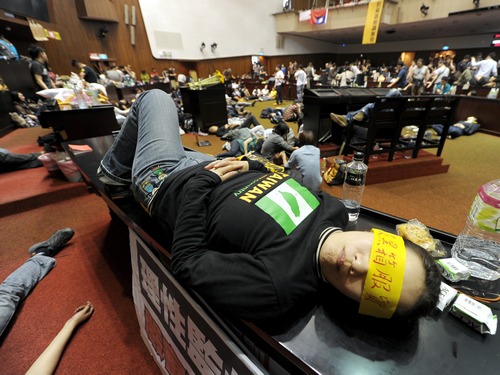 Taipei, March 19 (CNA) Legislative Speaker Wang Jin-pyng called for reason and self-restraint Wednesday as protesters skeptical of the service trade pact with China forced the Legislative Yuan to shut down.
Commenting on the storming of the legislature by demonstrators the previous night, Wang said he hopes the confrontation will be resolved peacefully and that the protesters will not be harmed.
Wang called for "calm, reason and self-restraint" and for an early resumption of legislative work as normal. He also called for a rational handling of the cross-strait trade-in-services agreement.
The Legislature ground to a halt as hundreds of protesters continued to occupy the main chamber while thousands more surrounded the entrances to the complex.
(Protesters outside one of the Legislative Yuan's entrances call for removal of the police force on site, and later for air condition inside, Wednesday)
President Ma Ying-jeou's administration has made few comments on the event other than a presidential spokeswoman's urging for everyone to express their views in a reasonable and moderate manner.
The Presidential Office respects the autonomy of the Legislative Yuan and believes the Legislature will handle the situation in an appropriate way, spokeswoman Garfie Li said late Tuesday.
Update: ●Opposition party mobilizes members, mulling 'long-term' protest (3:46 p.m. Wednesday / For latest developments, please click here.)●President calls for approval of cross-strait pact before June●Cabinet to respect how Legislature deals with protest
Related stories:●March 19: Meetings canceled as protesters occupy Legislature●March 18: Protesters break police line, storm Legislature●March 18: Talk of the Day -- Service trade pact pushed forward amid chaos