PHOTO ESSAYS
/
Encounters with migrant Filipinos in Taiwan
Gemma – "I never gave up"
"I have been here for a very long time. A lifetime actually. I came in 1986, after having met my then future husband in the Philippines. He was on a business trip in Cebu at the time; we met there, fell in love. He took me with him really quickly afterwards, we married in Taiwan and that is it. My two sons were born here in Taipei.
These past 30 years have been everything but a smooth sailing. The cultural shock when I first arrived hit me really hard. Because my husband was making enough money to sustain our couple, he refused to let me work. He was also against me making Filipino friends, or going to Church on Sundays. As a fervent Catholic, that was difficult to accept. My first few years were very lonely, I used to stay at home most of the time. I could have felt depressed by then, but I chose to make use of my time the best way I could. I forced myself in learning Chinese through the TV programs that were available. Later on, I volunteered in the primary school where my kids were going, and I was able to make many Taiwanese friends, mothers and children alike. It is actually very impressive the extent to which children wanted to help me improve. Thanks to this, I managed to acquire a very strong proficiency in Mandarin and sooner or later, I was asked to join the Saint Christopher's parish; they needed help with their Filipino community. My husband accepted, and I became the secretary of the parish about 10 years ago.
I believe my job now goes way beyond the one of a secretary. Because of my life long experiences being married to a Taiwanese and having lived here as a Filipina, people often come to me for advice. From my personal experience, all mixed couples face the same kind of problems. It all starts with a love at first sight, of course. But very soon they are facing serious issues and argue every day a bit more. If they do not manage to deal with those problems, the couple will eventually explode. It is very difficult for Filipinas to adapt to a Taiwanese way of life, especially when they have to live with the parents of their husband which, traditionally, happens quite often. Because of cultural differences, the relationship between a Filipina and her mother-in-law can be… quite bumpy.
I am always telling them that they have to overcome those issues because lies ahead a life of ups and downs.
I never gave up on my marriage, and that is why I am here today, 30 years later."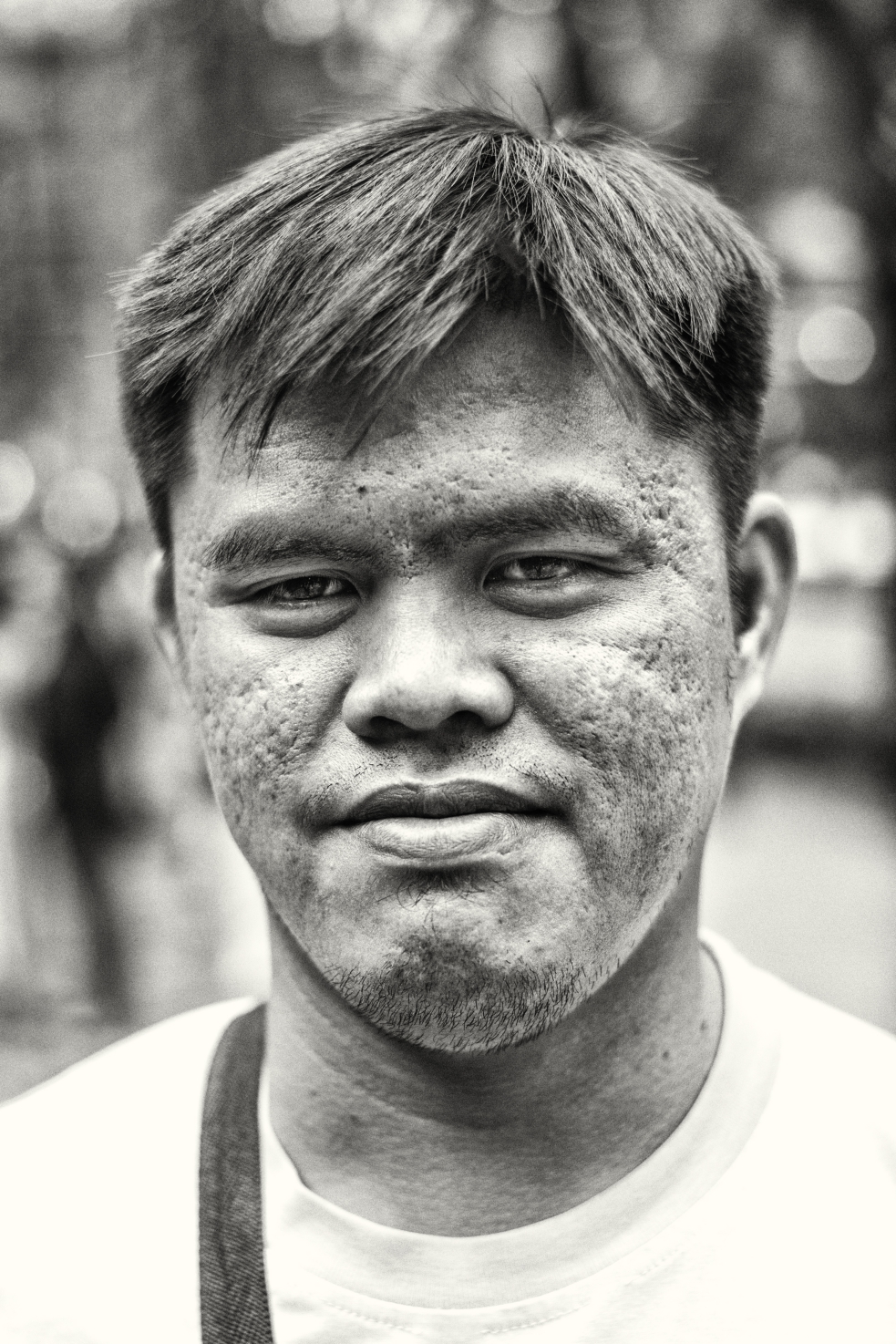 Jay – "The only solution"
"I need to support my family. The only solution I have found is to come to Taiwan. There was no other option for me. Finding a job here is not based on your age, but on your skills. Not like in the Philippines, where finding a job after 25 became terribly hard.
I am not planning on staying here too long though. After my older daughter finishes school, I think I will want to go back to my family. She is eight years old. The other one is turning one very soon. I really miss them, and of course, I cannot go back to see them as often as I would want to. I think I will go back to the Philippines after my three-year contract. Or perhaps next year, if I save enough money by then. You know, my wife does not work, she only takes care of the children. They all count on me to send money home, so I have no choice but to work hard for them.
When I first moved, I was really happy to meet many other Filipinos like Angel, who helped me learn the basic Chinese you need to communicate and get around here."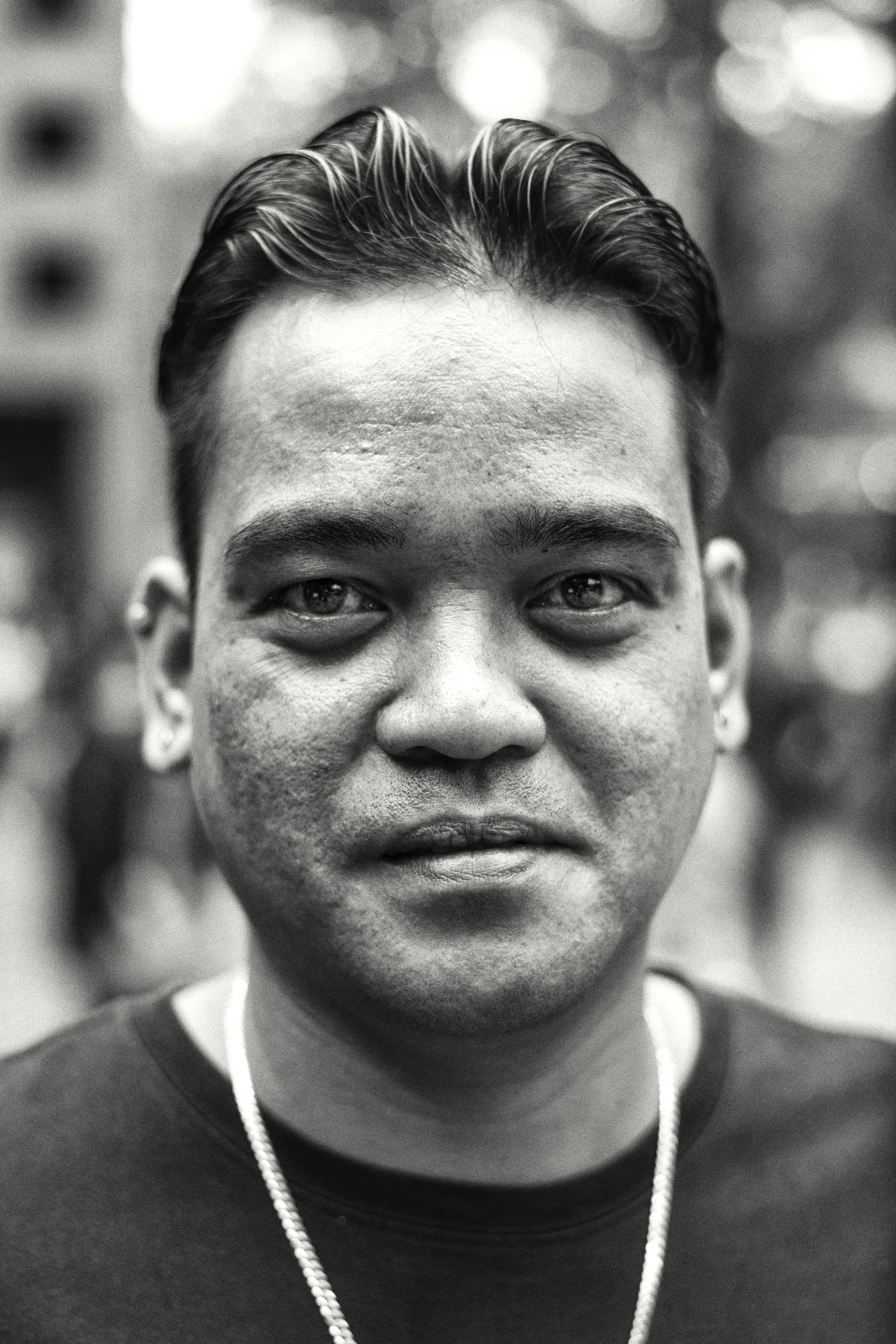 Angel – "I can be older and still find a job"
"I'm Angel. I am from Kabite, in the Philippines, a province in the South of Manila. I have been in Taiwan for about three years now. I started working in Kaohsiung first and am now working in Taoyuan, in an electronics factory.
It is really difficult for any of us to find a job in the Philippines. If you are older than 25 and without a job, there is just no chance. Employers nowadays are only looking for very young people. I was 30 when I decided to leave, I was already too old to find a job. That is why I came to Taiwan.
If you ask me how I find it here, I would say it is quite alright. It can be difficult, of course, but I am happy. The Taiwanese I met have all been friendly to me; I really like the food, I am doing quite good with the adaptation I think. And at least, I have a job. I cannot complain.
My biggest struggle when I first came here was the language barrier. I could barely communicate with anyone. After those three years here, I know the basics, enough to go on with daily life. On top of that, I am of great help for the new comers. I teach them what I know in Chinese, because I know how hard it is when you first arrive in Taiwan.
On the topic of my job, I must say that I have never had to complain about how things work. Some say they face issues with their employers, perhaps do not even get their salary at the end of the month. In my company, the pay comes at an exact day every month, there is no uncertainty about this. I make honest money, I am happy.
That being said, it is at the same time difficult to envision my future here in Taiwan. As a migrant worker, the government allows us to stay for 12 or 15 years. After that, I will certainly have to go back. That is if I have such a long contract. For now, I only have a three-year contract. After this period, my employer will renew it. Hopefully."
Sharon and Lisa – "I overcame the difficulties of my life"
Sharon: I have been here for 3 years.
Lisa: 12 years for me. A long time.
S: I decided to come here to support my kids. So I left them back home, and came to Taiwan.
L: Same for me. Financially, I had no choice. I wanted to make the family economy more stable, support my son and help my brother and sisters. My whole family is in the Philippines; I am the only one who moved. My son is turning 12 soon… I left him when he was not yet one year old.
Sharon and I met in the hospital, both our patients had an appointment at the same time, on a Monday. Oh, yes, I work as a personal caretaker. And Sharon works in a nursing home. Waiting for our patients to do their weekly exercises, we got into talking to each other, and eventually became good friends.
Sharon : After this encounter, we accidentally bumped into each other at Church. We have known each other for 6 months or so.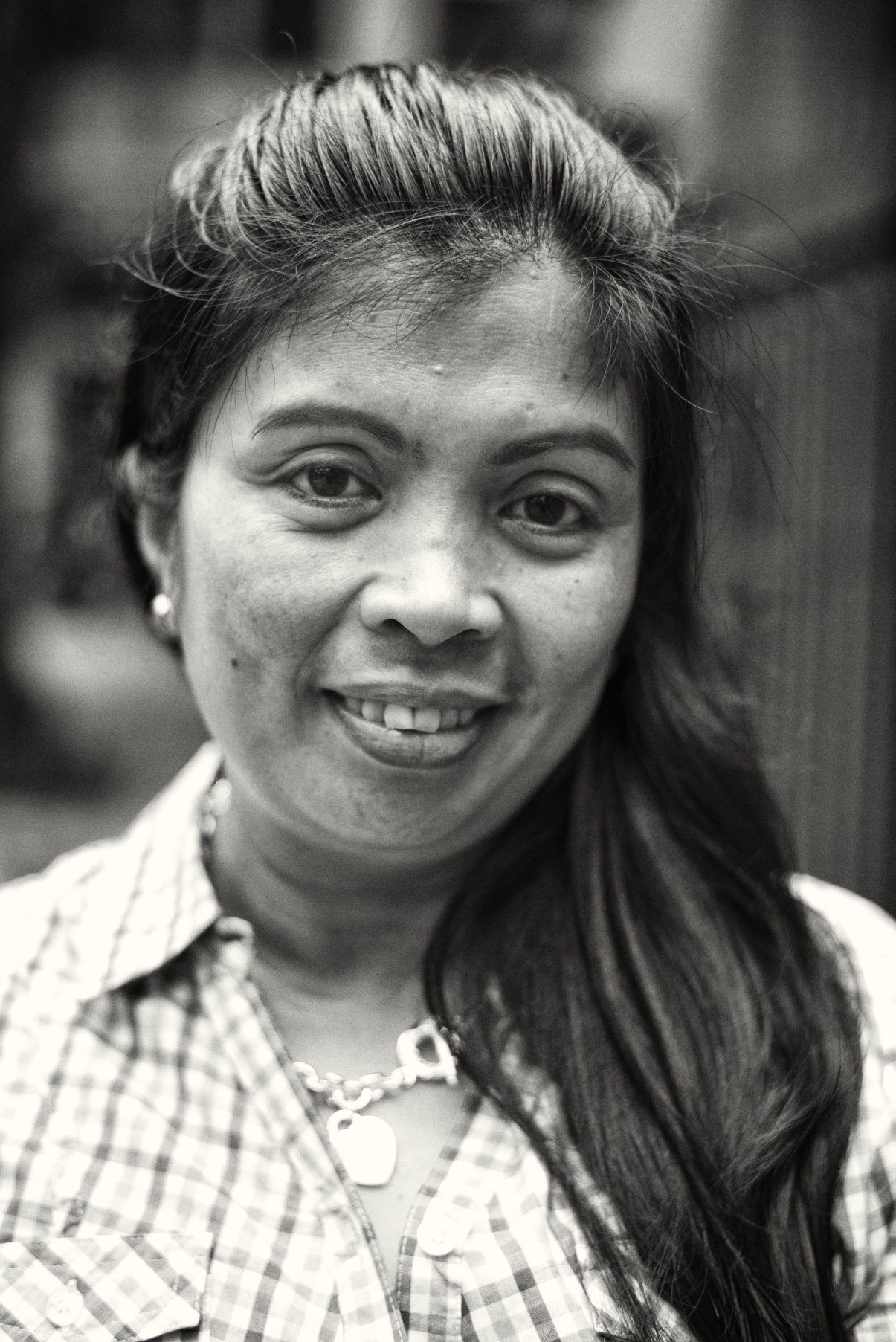 Sharon: "When I came to Taiwan, it felt like I was abandoning my daughters. I cried everyday for four months. I have not returned home yet; I need to finish my contract first. I cannot just take a vacation and spend the money I am saving to go back and see them. I have to wait and be brave. I have been feeling better recently, I am now taking care of 'grandpa' and 'grandma.' I used to take care of my first employer's twin sisters. I had never seen such difficult children in my life. It was exhausting."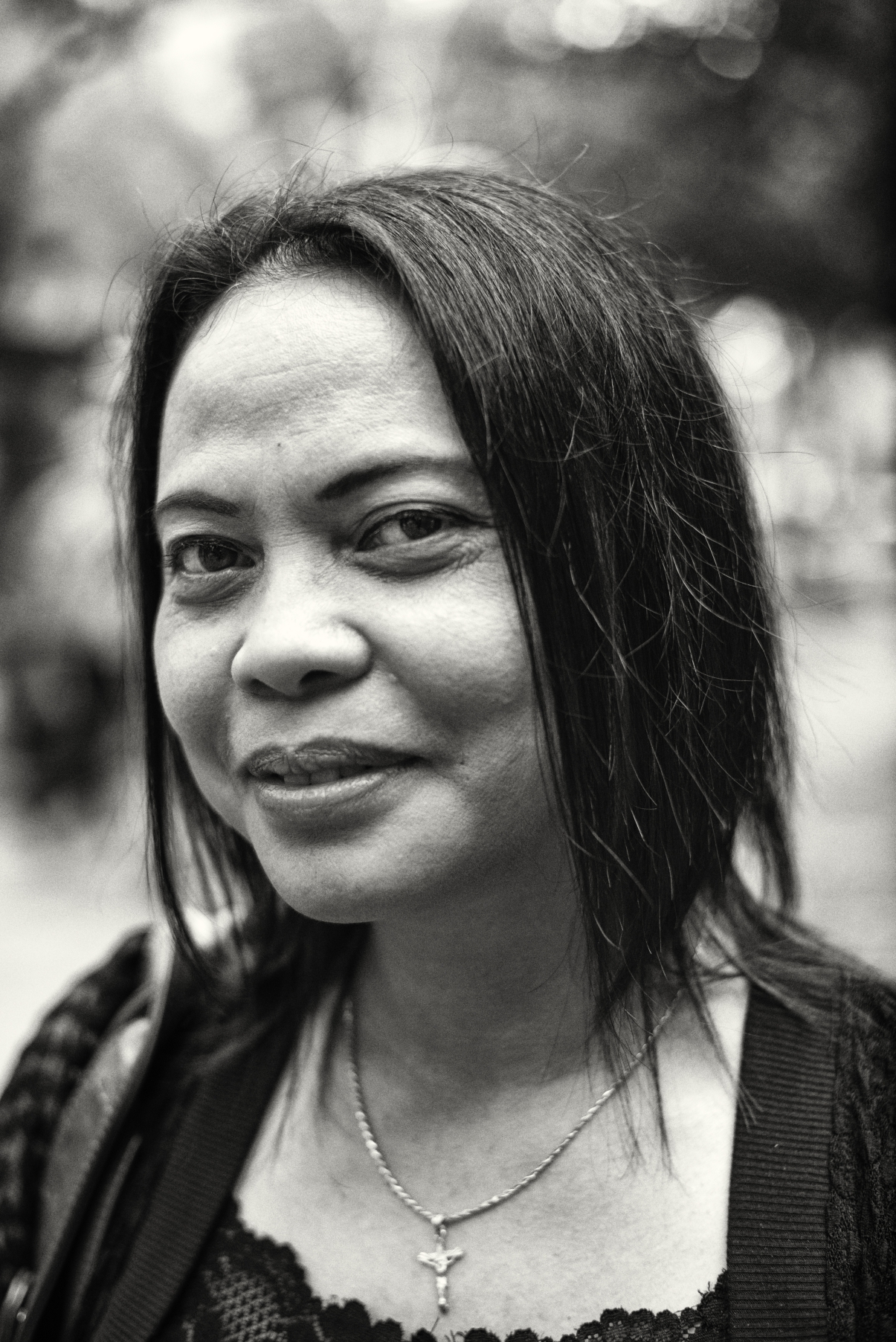 Lisa: "when I came to Taiwan, my only goal was to earn money, support my family and plan to start a business. It was so difficult. You know what my first month was like: I cried everyday. I felt so lonely, so far away from my little boy, I was also longing for the environment I used to know in the Philippines. My first employers were not particularly good people. On top of caring for their old parent, I had to help running their restaurant. It was exhausting.
When my patient died, I was transferred to a new employer. I then had to take care of a very old woman, and it was a difficult task. At the time I started, she was in a coma and underwent five head surgeries. Almost 24 hours a day I had to make sure she was alright, which left me with very little sleep. I am still taking care of her today. Almost 10 years have passed. She woke up from her coma many years ago. Even though she cannot talk due to her condition nor express her feeling, I can sometimes feel her attachment towards me. The relation I have with her is very special. I treat her as my own mother.
With the rest of the family however, it is not so simple. Her husband is an old man; he easily gets angry at me. But it is fine, I overcome all of this.
Language was such a struggle when I first came. I put a lot of efforts into learning Mandarin to manage my life here.
After 12 years here, it is different. Of course, I still miss my son every day, but I believe I am fully adjusted to Taiwanese culture. I really wish I could stay; bring my husband and son and start our family life here. Unfortunately, it seems impossible. I then have no choice but to leave this place when my contract ends and go back to the Philippines. This will happen so soon actually. My contract ends next year, in February; and frankly I do not know what to think of all that. After so many years spent in Taiwan, I think I will have to readapt to my own culture! Besides, I fear the money I have managed to save will not be enough. So many people need my help back there. Nevertheless, I hope I will be able to make their life a bit more beautiful; and start mine all over again.
I am looking back at those years, and it really has not been an easy journey, believe me. I went through countless depressions, moments where I had no idea what I was doing. But through prayer, belief, faith in God, and thanks to the people I have met, I overcame all the obstacles.
In those 12 years in Taiwan, I have had my happy moments."
(By Thomas Cytrynowicz)
Enditem/BL
View All