Annual Taipei-Shanghai forum focuses on improved cross-strait ties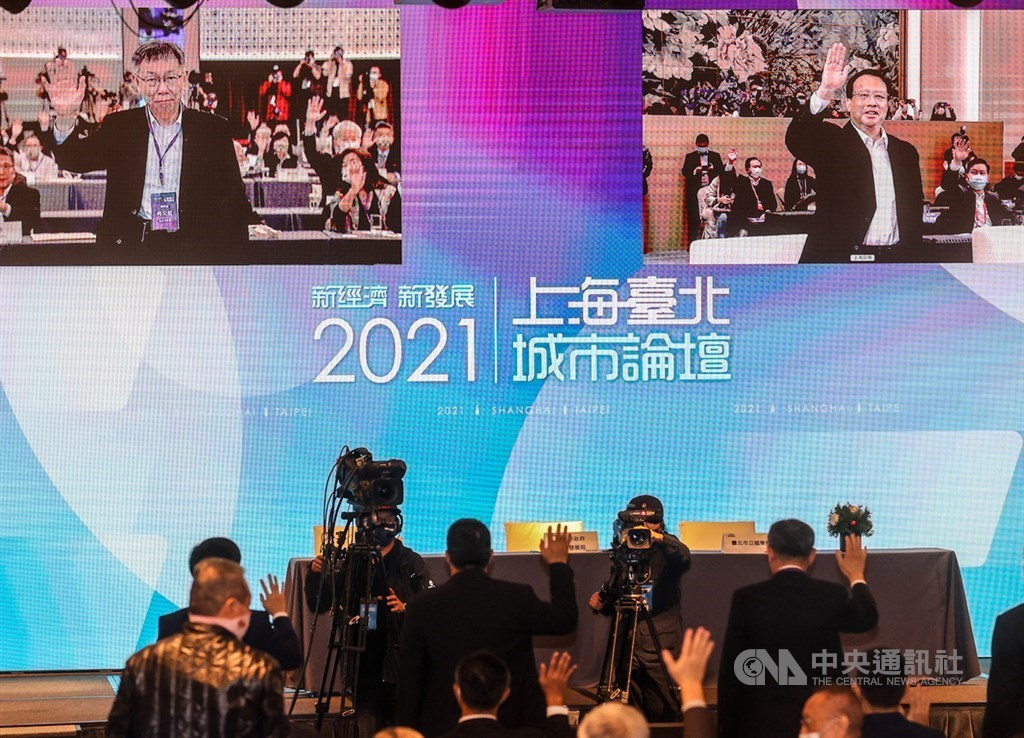 Taipei, Dec. 1 (CNA) The annual Taipei-Shanghai forum held virtually on Wednesday called for the strengthening of bilateral exchanges and ties across the Taiwan Strait.
Due to the COVID-19 pandemic, the twin-city forum was held via video link for the second year in a row.
The online video conference, which lasted 90 minutes started with opening remarks from Shanghai Mayor Gong Zheng (龔正) and Taipei Mayor Ko Wen-je (柯文哲) before keynote speeches by their deputies and secretaries-general and the signing of three memorandums of understanding.
Gong touted the forum as a mechanism to enhance longstanding cross-strait exchanges, noting the forum's multiple achievements in the areas of culture, technology and business.
As Shanghai works to strengthen its global resource allocation, it will support Taiwanese individuals and businesses seeking to develop in mainland China, he said.
The goal is to jointly build the Chinese dream based on the fact that "the two sides of the Taiwan Strait belong to one family" and "people on both sides of the Taiwan Strait are Chinese of the same race and speak the same language," he added.
Ko emphasized his pragmatic approach to cross-strait ties, saying that "conducting exchanges is better than disrupting exchanges,""dialogue is better than confrontation"and "rapport is better than animosity." He also promised to continue advocating for mutual understanding, respect and cooperation between the two sides.
Given the shared challenges facing the mainland and Taiwan and their shared history, language, culture, and close business relationships, the two sides should strive to resolve common problems together despite the differences in political ideas and systems, Ko said.
"We will be kind to Chinese spouses, Chinese students and Chinese enterprises and hope China-based Taiwanese will also be treated well and their rights guaranteed," while cross-strait disputes can be peacefully settled, Ko added.
Taipei and Shanghai will continue to work for the peaceful development of cross-strait relations, Ko said.
He also called for meaningful dialogue between the two sides to promote the long-term development of stable cross-strait relations.