Chinese activist leaves Taiwan on flight back to China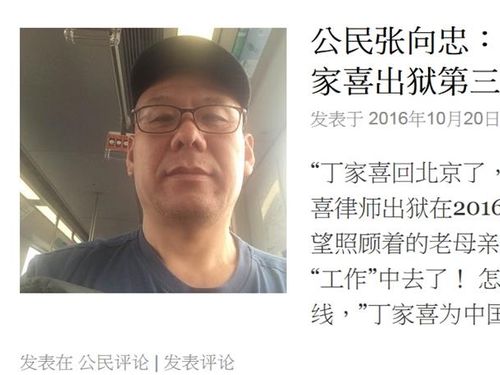 Taipei, April 19 (CNA) A Chinese civil rights activist who left his tour group last week and asked for political asylum in Taiwan flew back to China on Wednesday of his own volition, the National Immigration Agency (NIA) said that day.
The agency assisted Zhang Xiangzhong (張向忠) with his departure earlier in the day, it said.
The 48-year-old civil rights activist from Shandong Province arrived in Taiwan on April 12 as part of a Chinese tour group on an eight-day visit. However, he left the group the next day and kept his whereabouts unknown until Monday.
Before being found by the NIA in New Taipei that day, Zhang had indicated his intention to seek political asylum. He claimed that his act was inspired by the dauntless actions of Lee Ching-yu (李凈瑜) to save her husband, Taiwanese activist Lee Ming-che (李明哲), who is being held in China.
At the NIA, Zhang explained his appeal and ideas, which, however, were later determined by the relevant authorities as not conforming to Taiwan's existing regulations governing long-term residency or related draft amendment bills, including the draft of a refugee act, the agency said.
After being informed of the decision, Zhang expressed his respect and said it would be best for him to return to China, so he agreed to return along with the tour group with which he came to Taiwan, the NIA added.
Mainland Affairs Council (MAC) Minister Chang Hsiao-yueh (張小月) has said that Taiwan's Act Governing Relations between the People of the Taiwan Area and the Mainland Area does not cover political asylum, but political refugees from China may be granted long-term residency on a case-by-case basis.
In a statement released Wednesday, the MAC explained that all the relevant authorities reached the conclusion after discussion of the case that Zhang is not eligible to apply for long-term residency.
The statement also said the NIA assisted with Zhang's departure along with his tour group earlier in the day. "The process was peaceful. No pressure was exerted," it said.
While local media reported that Zhang was repatriated, NIA Deputy Director-General Jeff Yang (楊家駿) was quoted in a report on Storm Media, an online news service based in Taipei, that "Zhang agreed willingly to return."
"It was his own decision," Yang said.
Asked about the government's policy for handling visits by Chinese dissidents, Presidential Office spokesman Alex Huang (黃重諺) said that as a democratic country, Taiwan employs and follows the laws governing the entry and exit of people from other regions.
Asked why Zhang left only two days after he was taken to the NIA for questioning, and why the decision was made so quickly, Huang, suggesting that reporters acquire details of the case from the NIA, reiterated that all relevant government departments handled the issue based on existing laws.
(By Chu Tze-wei and Elizabeth Hsu)ENDITEM/J