Taiwan shares end down on U.S. losses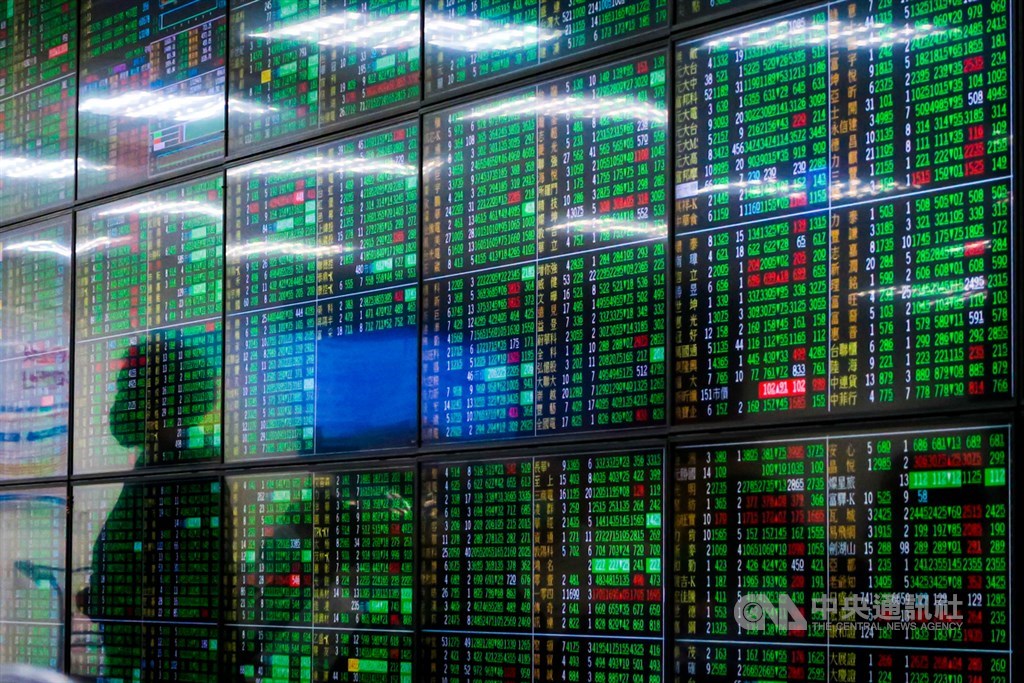 Taipei, June 4 (CNA) Shares in Taiwan closed lower Friday as investors reacted to a decline in markets in the United States overnight and concerns over the ongoing domestic COVID-19 outbreak in Taiwan, dealers said.
The electronics sector struggled throughout the session after semiconductor stocks fell in U.S. markets, and selling spread to old economy stocks, in particular in the textile sector, as investors locked in recent gains, they said.
The Taiex, the Taiwan Stock Exchange's (TWSE) benchmark weighted index, ended down 98.75 points, or 0.57 percent, at 17,147.41, after moving between 17,084.49 and 17,225,06. Turnover totaled NT$437.63 billion (US$15.8 billion).
The market opened down 0.12 percent and trended lower in early trading after the tech-heavy Nasdaq lost 1.03 percent and the Philadelphia Semiconductor Index fell 1.81 percent in the U.S. on Thursday.
Once the Taiex slipped below the 17,100-point mark, however, buyers returned to pick up select large cap tech stocks, including contract chipmaker Taiwan Semiconductor Manufacturing Co. (TSMC), to help the broader market recover some of its losses, dealers said.
"The losses among U.S. tech stocks overnight largely resulted from fears that the U.S. Federal Reserve might tighten monetary policy at a time when the U.S. economy continues to recover," Mega International Investment Services Corp. analyst Alex Huang said.
"It was no surprise that their downturn sent ripples through Taiwan, in particular in the semiconductor industry," Huang said.
"But optimism over the sector's prospects in the second quarter encouraged some bargain hunting, helping it recover by the end of the session."
TSMC closed at the day's high of NT$595.00 but still finished down 0.17 percent from its previous close, which led to a 0.43 percent fall of the electronics sector.
"TSMC is likely to continue to consolidate for some time and move between NT$575.00 and NT$605.00, as many investors are expected to pay more attention to old economy stocks," Huang said.
Among other falling semiconductor stocks, United Microelectronics Corp., a smaller contract chipmaker, lost 3.64 percent to end at NT$53.00, integrated circuit packaging and testing services provider ASE Technology Holding Co. dropped 0.89 percent to close at NT$111.00, and IC designer MediaTek Inc. fell 0.41 percent to end at NT$977.00.
Also in the electronics sector, flat panel maker AU Optronics Corp. lost 1.81 percent to close at NT$24.40, and rival Innolux Corp. ended down 0.64 percent at NT$23.15.
Bucking the downturn, iPhone assembler Hon Hai Precision Industry Co. rose 0.90 percent to close at NT$112.00 after a U.S. brokerage issued a target price for the stock of NT$168.00, citing the company's efforts to develop electric vehicles.
"The old economy sector remained a focus today, although many stocks suffered from profit taking," Huang said, referring to the huge NT$158.86 billion in turnover generated by the shipping and airline industries on optimism over rising global cargo demand.
That was more than the NT$157.45 billion turnover for electronics shares, which usually account for 70 percent of the market's turnover.
Despite a 1.30 percent fall in the shipping and airline industry, aircraft maintenance services provider Air Asia Co. soared 10 percent, the maximum daily increase allowed, to end at NT$21.50.
Also, EVA Airways rose 7.23 percent to close at NT$21.50, and container cargo shipper Yang Ming Transport Corp. added 2.67 percent to end at NT$115.50.
The textile sector encountered relatively heavy downward pressure, with Far Eastern New Century Corp. closing 1.69 percent lower at NT$31.90, and Eclat Textile Co. falling 2.77 percent to end at NT$631.00.
"In addition to the movement on the U.S. markets, investors here have to keep a close eye on the development of COVID-19 cases at home since the infections have not yet hit a peak," Huang said.
According to the TWSE, foreign institutional investors sold a net NT$16.65 billion in shares on the market Friday.