Taiwan shares plunge amid concerns over Hong Kong turmoil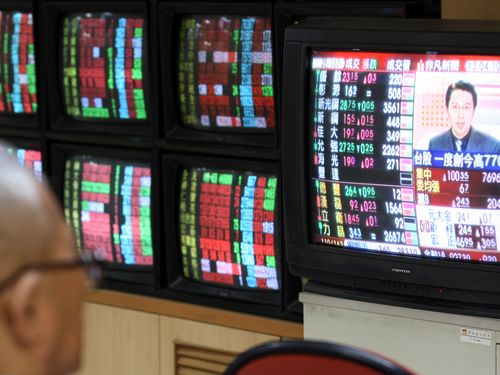 Taipei, Aug. 13 (CNA) Shares in Taiwan took a beating Tuesday, falling just over a percent, as investors worried about the turmoil in Hong Kong and its potential adverse effect on the global economy, dealers said.
Selling was seen across the board, especially in the exports-oriented electronics sector, amid concerns over the situation in Hong Kong and ongoing trade friction between the United States and China that has already hurt global demand, they said.
The weighted index on the Taiwan Stock Exchange (TWSE), the Taiex, closed down 109.70 points, or 1.05 percent, at 10,362.66, after moving between 10,361.89 and 10,436.62, on turnover of NT$117.75 billion (US$ 3.73 billion).
The market opened down 0.34 percent in reaction to a 1.48 percent fall in the Dow Jones Industrial Average and a 1.20 percent fall in the tech-heavy Nasdaq overnight, dealers said.
Ongoing protests in Hong Kong against the erosion of freedoms in the former British territory that led to shutdown of its airport Monday afternoon continued to haunt investors a day later, as they continued to sell off large cap stocks throughout the session.
"Hong Kong is a global financial hub so the continued turmoil has raised concerns over its impact on the regional and even the global economy," Dayu International Securities Investment Consultant analyst Chang Chih-cheng said.
"There are no signs that the Hong Kong situation will improve any time soon and what investors can do now is to cut their holdings and keep cash on hand to avoid more losses down the road," Chang said.
Regional markets, including Taipei, were also influenced by a fall in the benchmark 10-year U.S. treasury yield as trade tensions between the U.S. and China escalate.
"These negative external factors have deepened worries over the global economy," Chang said. "It was no surprise that large cap stocks, in particular in the electronics sector, fell victim to the downbeat mood today."
Among the battered large cap tech stocks, contract chipmaker Taiwan Semiconductor Manufacturing Co., the most heavily weighted stock in the local market, fell 1.79 percent to close at NT$246.50, with selling in the stock accelerating late in the session.
Also affected by late-session selling, iPhone assembler Hon Hai Precision Industry Co. lost 1.09 percent to end at the day's low of NT$72.90, and Largan Precision Co., a supplier of smartphone camera lenses to Apple Inc., also fell 2.48 percent to close at NT$3,730.00.
Led by TSMC, which accounted for a 45-point fall in the Taiex on its own, the electronics sector fell 1.18 percent and the semiconductor sub-index lost 1.68 percent.
"Judging from the steep downturn suffered by these market heavyweights, I think selling largely came from foreign institutional investors," Chang said.
As U.S. markets fall, foreign institutional investors tend to dump stocks here to meet redemption needs back home.
According to the TWSE, foreign institutional investors sold a net NT$7.36 billion in shares in Taiwan on Tuesday.
While large tech stocks came under heavy pressure, investors set their sights on smaller stocks, Chang said. Among them, touch panel maker General Interface Solution (GIS) Holding Ltd. gained 0.44 percent to close at NT$113.00, and rival TPK Holding Co. rose 1.08 percent to end at NT455.90.
"Pessimism spread across the market today so the financial sector was also a victim amid fears that the U.S. Federal Reserve will cut interest rates to boost the economy, which is expected to erode financial firms' profitability," Chang said.
In the financial sector, which ended down 0.91 percent, Mega Financial Holding Co. fell 1.72 percent to close at NT$28.50, and Yuanta Financial Holding Co. lost 2.28 percent to end at NT$17.15.
Bucking the downturn, Fubon Financial Holding Co. rose 0.95 percent to close at NT$42.30 as it took the title of most profitable company in the sector based on both net profit and earnings per share in the first seven months of the year.
"After today's plunge, the Taiex failed to remain above the 5-day moving average of 10,422 points, which meant the market has turned more fragile technically," Chang said.
"Unless the U.S. markets come out of their current weakness, the Taiex could test 10,300 points or even lower soon," he said.