Taiwan can benefit from U.S. ban on foreign telecom supplies: minister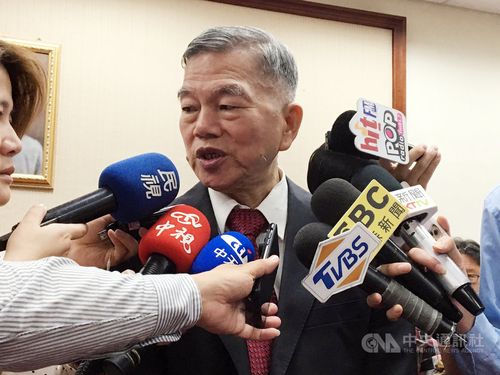 Taipei, May 16 (CNA) Taiwan companies have a chance to benefit from an impending ban by the United States on foreign manufactured telecommunications equipment deemed a national security risk, Minister of Economic Affairs Shen Jong-chin (沈榮津) said Thursday.
"Taiwan companies should seize this opportunity to diversify their supply sources," Shen said at a legislative hearing when asked about the impact of U.S. President Donald Trump's executive order signed Wednesday, which would ban U.S. companies from purchasing foreign telecom equipment that could pose a security risk.
While a senior White House official has said that no particular country or company was targeted in the executive order, the move is widely seen as taking aim at Chinese telecom giant Huawei Technologies Co., Ltd. amid an escalating trade war between the U.S. and China.
The U.S. Department of Commerce has also placed Huawei and 70 affiliates on its "Entity List," which prohibits the Chinese company from buying parts and components from U.S. suppliers without U.S. government approval.
Against that backdrop, orders placed with Huawei would be shifted to other companies, thus presenting an opportunity for Taiwan firms, Shen said.
He said Nokia Corp., Sony Ericsson Mobile Communications and Alcatel-Lucent S.A. are all world-class core networking equipment providers that can replace Huawei.
On the question of Taiwan's own policy regarding Huawei equipment, Shen said the Ministry of Economic Affairs (MOEA) and its affiliated agencies would adhere to the Cabinet's directive on the issue when it is released.
Currently, the use of any Huawei equipment is prohibited at MOEA-affiliated Industrial Technology Research Institute.
On Wednesday, Minister without Portfolio Kung Ming-hsin (龔明鑫) said Taiwan companies are likely to play a critical role in the development of a regional "non-red supply chain" -- a supply chain outside China -- as the government has been offering incentives for overseas-based Taiwanese firms to return home.
Commenting on this, Shen said manufacturing bases will be relocated from China to Taiwan and countries in Southeast Asia, and his ministry will do its best to help returning companies solve the problems related to adequate supplies of water, electricity and land.