Taiwan shares recoup part of earlier losses in mid-morning session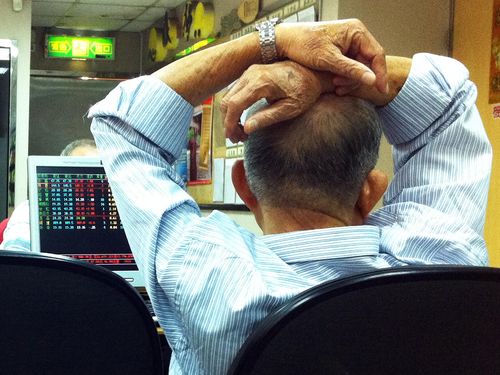 Taipei, Dec. 1 (CNA) Taiwan shares recovered part of their earlier losses in the mid-morning session Monday as bargain hunters rushed to pick up select high-tech heavyweights on hopes that the bellwether electronics sector will benefit from a buying spree in the upcoming Christmas season, dealers said.
The buying in the high-tech stocks offset the political impact after the ruling Kuomintang (KMT) suffered major losses in local government elections Saturday, they said.
As of 11:03 a.m., the weighted index on the Taiwan Stock Exchange had fallen 0.63 percent at 9,128.84 points, recovering from an earlier low of 8,998.55, on turnover of NT$51.41 billion (US$1.66 billion).
In the high-tech sector, shares of Taiwan Semiconductor Manufacturing Co. (TSMC), the most heavily weighted stock in the local market, had dropped 1.06 percent to NT$140.00 (US$4.52), off an early low of NT$$138.50, with 21.87 million shares changing hands.
Shares of Hon Hai Precision Industry Co., which assembles iPhones and iPads for Apple Inc., had lost 1.24 percent to NT$95.80, recovering from an early low of NT$93.30, while shares of smartphone camera lens supplier Largan Precision Co. had fallen 0.21 percent to NT$2,380.00, off an early low of NT$2,320.00.
"It seemed that the local bourse had found technical support after the index dipped below the 9,000 point mark earlier this morning in the wake of the KMT's defeat in the Saturday vote," Mega International Investment Services Corp. analyst Alex Huang said.
On Saturday, the ruling KMT only held onto six county and city executive seats out of 22, less than half of the 15 it won in the last election. In the six special municipalities that make up nearly 70 percent of Taiwan's population -- Taipei, New Taipei, Taichung, Tainan, Kaohsiung and the soon-to-be-upgraded Taoyuan -- the KMT won only one mayoral post.
"The KMT's defeat was beyond market expectations, which made share prices reflect badly soon after the local bourse opened," Huang said.
"But after the pullback, many investors shifted their attention to the economic fundamentals, looking for bargains in the electronics sector as the fourth quarter is a peak season for high-tech firms," Huang said.
Huang said that retail stocks in the U.S. market staged a rally Friday on strong Black Friday sales after Thanksgiving, benefiting electronics gadget makers. He said that the uptrend could continue into the Christmas season.
"As the local bourse had consolidated around 9,000 points in recent sessions, the level has become a strong technical support for the moment so that bargain hunters were willing to enter the market to buy into high-tech stocks by taking advantage of their recent consolidation," Huang said.
Selling appeared more visible in the financial sector amid fears that an announced reshuffle of the Cabinet following the KMT's trouncing could trigger a change in the management of government-invested financial institutions.
In addition, investors have been watching closely how the KMT's defeat will affect cross-strait exchanges, Huang said.
"Investors should keep their hands off financial stocks for now," he suggested.
In finance, Mega Financial Holding Co. had fallen 1.79 percent to NT$24.75, and Cathay Financial Holding Co. had lost 2.71 percent to NT$48.55.
Update:●Dec. 1: Taiwan shares suffer limited retreat on KMT election defeat