Shipbuilder expects rise in Taiwan's yacht industry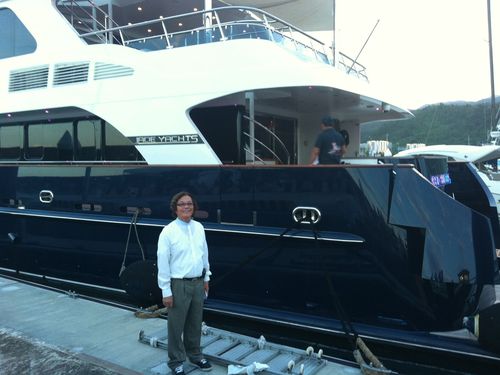 Taipei, July 13 (CNA) Taiwan, an Asia-Pacific Rim island that has rarely been regarded as a yachting destination on the world map, is believed to have local potential for domestic yacht sales, as more and more Taiwanese people are becoming interested in the expensive recreation activity.
Taiwan's yacht manufacturing industry is rising, said Han Bi-xiang, founder and CEO of the Kaohsiung-based Jong Shyn Shipbuilding Corp., who has been a strong supporter over the years of government plans to build yachting marinas.
An exclusive yacht built by Han's company at a cost of NT$300 million (US$10 million) was the climax of the inauguration of a marina at the Wushi Fish Port in Yilan County, northeastern Taiwan June 23. The ship, made with top quality materials, is Han's sample in his bid to attract global buyers.
After visiting the 30-meter-long yacht in Yilan, Fisheries Agency Director-General James Sha praised the vessel as a work of excellent technique and attention to detail. He was particularly impressed by the marble floor, which he said is thinner than normal.
Han said he had already sailed the yacht to Qingdao, Shanghai and Hainan in China, as well as Hong Kong and Singapore, to take part in yacht expositions to promote Taiwan's shipbuilding technology.
Having been in the business for several decades, Han told CNA that Taiwan's yacht-building techniques have been lifted to the "exquisite" level, but prices remain "fair" compared with European brands.
"Taiwanese work is substantive and on a par with Europe," he said.
Optimistic with the outlook of Taiwan's yacht industry, the veteran shipbuilder said he expects more and more Taiwanese people to join the global yacht recreation trend that is big business in Europe, the United States and Japan, thanks to the rise of the Asian economies and the government's relaxation of restrictions on tourist yacht cruises along the coasts of Taiwan.
Under President Ma Ying-jeou's i-Taiwan 12 public construction projects aimed at stimulating Taiwan's economic growth, three fishing ports -- Badouzi in Keelung, Wushi in Yilan and Anping in Tainan -- have been selected as locations for the establishment of marinas in a bid to develop yacht tourism.
The Badouzi Port Bisha Marina was inaugurated Sept. 21 last year, while the Anping facility is expected to open in one month, according to Han, who said he will take his boat there to help promote yachting.
(By Yang Shu-min and Elizabeth Hsu) ENDITEM/J