Wen Tzu-yun wins silver in Karate 1-Premier League Tokyo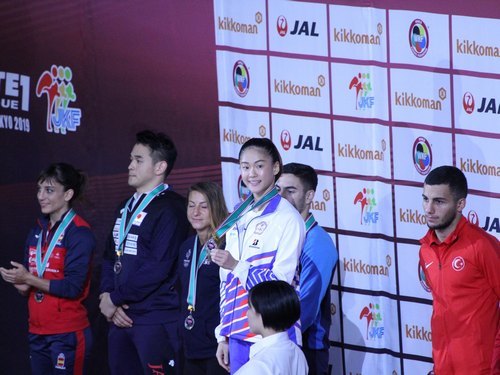 Taipei, Sept. 8 (CNA) Taiwanese Wen Tzu-yun (文姿云) won a silver medal Sunday in the women's kumite 55-kilogram category at the Karate 1-Premier League tournament in Tokyo, losing the final 1-3 to world No. 1 Anzhelika Terliuga from Ukraine.
In their previous match at the Karate 1-Premier League Dubai, world No. 2 Wen edged out Terliuga 4-3 to win her first gold of the season, but she could not repeat that performance in Morocco.
Last year, Wen successfully defended her title in the women's under 55-kg division to become the first athlete to be bantamweight champion at two consecutive Asian Games.
This year, Wen won a gold at the Karate 1-Premier League tournament in Dubai, with silvers in the Morocco and Turkey legs of the tournament.
The 2019 edition of the Karate-1 Premier League consists of seven events held in Paris, Dubai, Tokyo and Rabat in Morocco, among other venues.
Competitors earn ranking points in every Karate-1 event and the world rankings play an important role in the Olympic Games Tokyo 2020 qualification process.
Wen has the fifth highest ranking points in her weight category in the Olympic qualification process.
Accumulated ranking points earned by each athlete count toward the qualification on April 6 next year, as karate prepares to make its Olympic debut at the 2020 Tokyo Games.
The four highest ranked male and female athletes in each weight category in the WKF World Ranking qualify automatically for the 2020 Olympic Games.