19 receipts win NT$10 million in March-April invoice lottery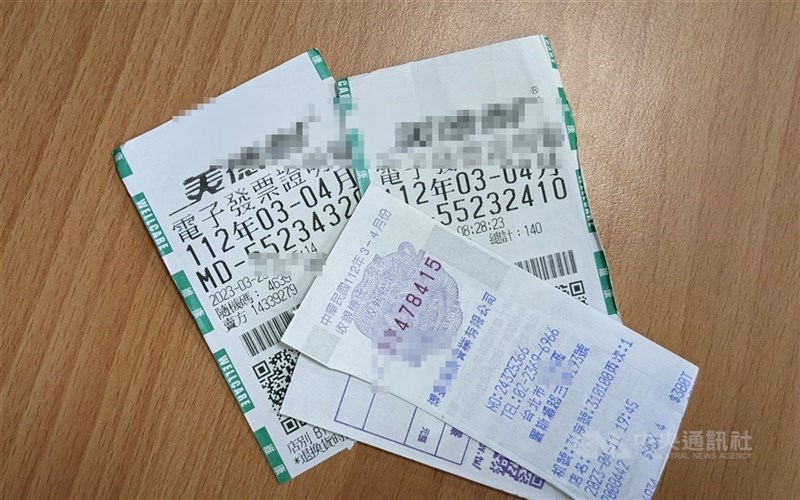 Taipei, June 5 (CNA) A total of 19 receipts with the NT$10 million special prize-winning number 20783987 were issued in March and April as part of Taiwan's bimonthly invoice lottery, the Ministry of Finance (MOF) said Monday.
The MOF also announced that 17 receipts with the number 04135859 won the invoice lottery's NT$2 million grand prize.
The lottery also drew three numbers -- 94899145, 71143793 and 41055355 -- for its first prize, with receipts that fully match one of the three numbers winning NT$200,000.
In addition, those with receipts matching the last seven digits of a first prize-winning number can claim NT$40,000, while those with receipts matching the last six digits can claim NT$10,000.
Other prizes are NT$4,000 for receipts with the last five digits of the first-prize numbers, NT$1,000 for receipts with the last four digits, and NT$200 for invoices with the last three digits.
Those holding prize-winning receipts can claim their winnings from June 6 to Sept. 5, 2023.
Winnings of up to NT$1,000 can be collected directly from 7-Eleven, FamilyMart, OK Mart, Hi-Life, PX Mart and Simple Mart.
As of press time, 7-Eleven, FamilyMart, Hi-Life and PX Mart announced that a total of six special prize-winning and five grand prize-winning receipts were issued at their stores.
The two special prize winners who shopped at 7-Eleven spent NT$62 on bread and beverages and NT$114 on fresh food and beverages.
One of the two consumers at FamilyMart who won the special prize spent only NT$84, while a NT$46 purchase including a bottle of soy milk and two tea eggs at Hi-Life netted a special prize.
Meanwhile, a consumer who spent NT$293 on household necessities at PX Mart also won the special prize.
According to the MOF, a detailed list of the winners will be published at 4:30 p.m. Monday.
The ministry explained that the list of winners is compiled after extensive scrutiny to confirm the eligibility of the winners.
Taiwan's uniform invoice lottery started in 1951 to increase the issuance of receipts and clamp down on tax evasion by businesses.