CORONAVIRUS
/
Taiwan reports 17,892 new COVID cases, 31 deaths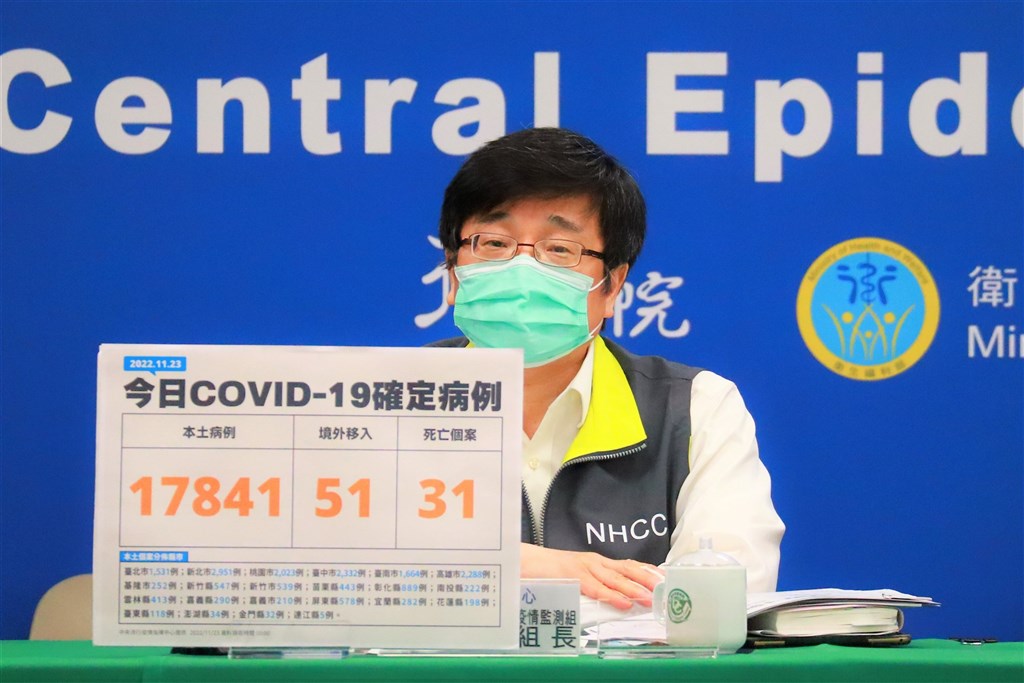 Taipei, Nov. 23 (CNA) Thirty-one more people in Taiwan have died from COVID-19 complications, including a man in his 40s who did not have any chronic diseases but had not been vaccinated against the disease, the Central Epidemic Command Center (CECC) said Wednesday.
The CECC reported 17,892 new COVID-19 infections, all but 51 of which were locally transmitted, and 31 deaths from the disease on Wednesday.
Deaths, severe infections
Though case numbers have fallen in the recent weeks, the COVID-19 death toll has remained relatively high, with Taiwan ranked tied for third worldwide in deaths per 100,000 population over the past week, according to data from Johns Hopkins University and reported by the New York Times.
The man in his 40s was found in coma at home on Nov. 12 and had no vital signs when he was rushed to the hospital later that day, Lo Yi-chun (羅一鈞), head of the CECC's Medical Response Division, said at the CECC's daily press conference.
He tested positive for the virus with a cycle threshold (CT) value of 33 and was determined to have died of respiratory failure and bronchitis caused by COVID-19 after he could not be resuscitated, Lo said.
Another younger person among the deaths was a cancer patient in her 40s who had received three shots of a COVID-19 vaccine, Lo said.
Her death on Nov. 19 was attributed to COVID-19 and cancer, Lo said.
Meanwhile, the CECC also reported 65 new COVID-19 cases classified as moderate and 32 as severe, of which 29 involved people also suffering from other severe diseases or chronic illnesses.
According to the CECC, the 17,841 domestic infections reported Wednesday represented a 0.21 percent drop from the same day a week earlier.
Regional breakdown
Regionally, New Taipei had the highest number of new cases Wednesday, with 2,951, followed by Taichung with 2,322, and Kaohsiung with 2,288.
Taoyuan reported 2,023, Tainan 1,664 cases, Taipei 1,531, Changhua County 889, Pingtung County 578, Hsinchu County 547, Hsinchu City 539, Miaoli County 443, Yunlin County 413, Chiayi County 290, Yilan County 282.
Keelung had 252, Nantou County 222, Chiayi City 210, Hualien County 198, Taitung County 118, Penghu County 34, Kinmen 32, and Matsu islands five.
To date, Taiwan has recorded 8,210,955 COVID-19 cases since the pandemic began in early 2020, including 37,367 classified as imported.
With the 31 deaths reported Wednesday, the total number of confirmed COVID-19 fatalities in the country rose to 14,060.
Related News
Nov. 22: New round of COVID-19 rapid test rationing to start Dec. 1
Latest COVID-19 rules
● Taiwan cuts COVID isolation to 5 days, lifts workplace vaccine mandates (Nov. 14)
● Taiwan to further ease border rules for China, Hong Kong, Macau residents
● People with fever will be advised against taking high speed trains
● Taiwan's new COVID-19 regulations taking effect Nov. 7
● Taiwan lifts ban on international cruises
● Taiwan's updated COVID-19 protocols for arriving travelers from Oct. 13   
Recent cases
Nov. 22: Taiwan reports 18,179 new COVID-19 cases, 38 deaths
Nov. 21: Taiwan's domestic COVID-19 cases drop to lowest in 207 days
Nov. 20: Taiwan reports 16,236 new COVID-19 cases, 43 deaths
Nov. 19: Taiwan reports 16,571 new COVID-19 cases, 59 deaths
Nov. 18: Taiwan reports 18,003 new COVID-19 cases, 58 deaths
Nov. 17: Taiwan reports 20,127 new COVID-19 cases, 77 deaths
Nov. 16: Taiwan reports 22,692 new COVID-19 cases, 69 deaths
View All