CORONAVIRUS
/
Taiwan reports 45,850 new COVID-19 cases, 28 deaths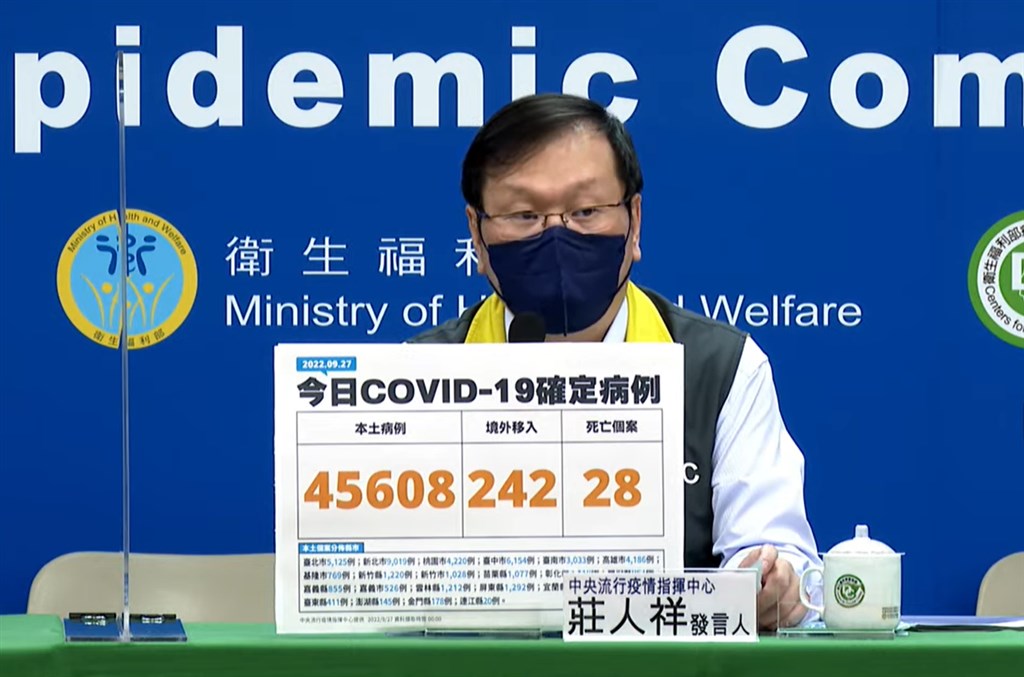 Taipei, Sept. 27 (CNA) Taiwan reported 45,850 new COVID-19 infections and 28 deaths from the disease Tuesday, according to the Central Epidemic Command Center (CECC).
The 28 fatalities, which brought the total in Taiwan since the pandemic began to 10,912, ranged in age from their 50s to their 90s, with all but one having underlying health issues such as stroke and cancer, the CECC said.
Thirteen of the new deaths were not vaccinated against COVID-19, while one had received one dose of a COVID-19 vaccine, one had gotten two shots, ten had received three doses, and three had received four shots, the CECC data indicated.
Also on Tuesday, the CECC reported 35 cases that were newly classified as "severe" and 48 which were newly categorized as "moderate."
Regional breakdown
Regionally, New Taipei reported the highest number of new cases on Tuesday, with 9,019, Taichung had 6,154, Taipei 5,125, Taoyuan 4,220, Kaohsiung 4,186, and Tainan 3,033, the CECC said in a statement.
Changhua County had 2,418 new cases, Pingtung County 1,292, Hsinchu County 1,220, Yunlin County 1,212, Yilan County 1,109, Miaoli County 1,077, Hsinchu City 1,028, Nantou County 961, and Chiayi County 855.
Keelung had 769 cases, Hualien County 650, Chiayi City 526, Taitung County 411, Kinmen County 178, Penghu County 145, and the Matsu islands 20, the CECC said.
To date, Taiwan has recorded 6,324,578 COVID-19 cases since the pandemic began in early 2020, including 34,267 cases classified as "imported" because they were deemed to have originated abroad.
View All