CORONAVIRUS
/
Taiwan ban on tour groups to end under '0+7' policy: Minister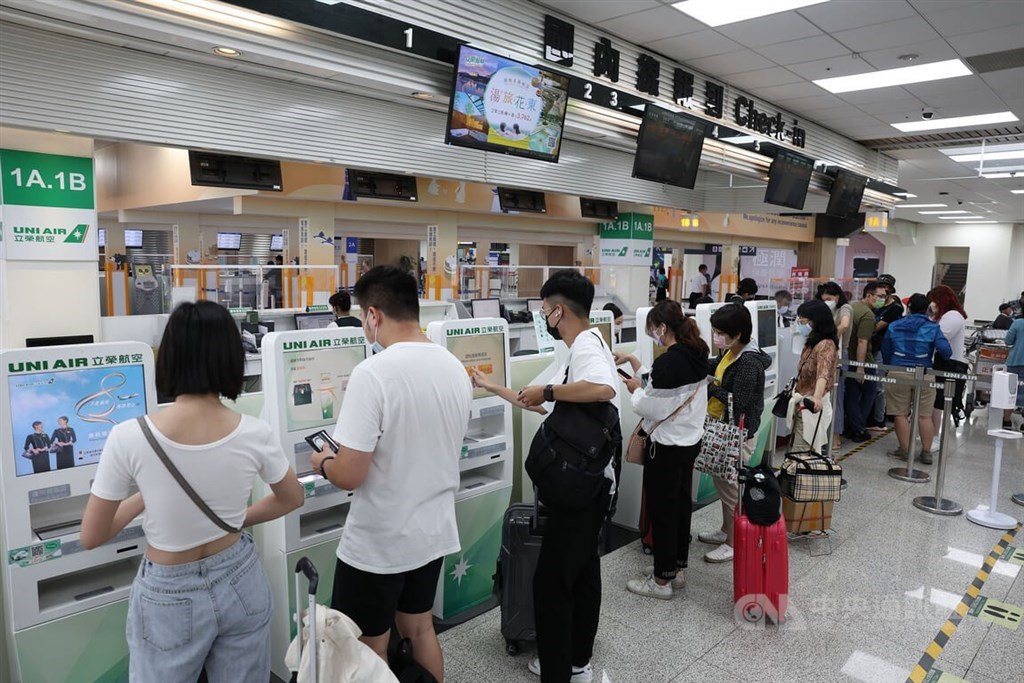 Taipei, Sept. 23 (CNA) Taiwan's ban on inbound and outbound tour groups will be lifted when it eases border controls in mid-October that were imposed to combat COVID-19, Transportation Minister Wang Kwo-tsai (王國材) said Friday.
With the planned lifting of the ban, travel agencies can start preparing for the resumption of group tours, Wang said when asked before a Legislative Yuan meeting about measures related to the cancellation of Taiwan's mandatory quarantine for arriving visitors, dubbed the "0+7" policy.
The "0+7" policy is expected to begin on Oct. 13, and would replace a "3+4" policy under which all arrivals have had to isolate themselves for three days.
Taiwan is one of the last economies in the world to maintain a strict quarantine policy, and there have been growing calls for a change amid hopes for a rebound in tourism.
In anticipation of the lifting of border controls, the Ministry of Transportation and Communications has finalized instructions for inbound and outbound tour groups and conducted the necessary training of concerned personnel, Wang said, without elaborating.
Taiwan has banned inbound and outbound tour groups since the early stages of the pandemic in 2020.
In a separate interview at the Legislative Yuan on Friday, Premier Su Tseng-chang (蘇貞昌) said Taiwan would lift border controls if there were no major changes to the COVID-19 situation over the next three weeks.
The Cabinet on Thursday announced border controls would be eased amid lower daily numbers of confirmed COVID-19 cases.
Meanwhile, Central Epidemic Command Center (CECC) head Victor Wang (王必勝) said daily numbers of confirmed COVID-19 cases had dropped for four straight days Friday to about 39,000, even though case numbers actually rose on Tuesday and Wednesday and have been significantly higher than in late August and early September.
He acknowledged, however, that the decline was just a minor drop and that further assessment was required ahead of the planned lifting of border controls, he said.
Asked whether the CECC was worried that lifting border controls would introduce new COVID-19 variants, Wang said there were no new variants of the virus at the moment.
He said he believed that lifting border controls would not have a significant impact on the local COVID-19 situation because recent numbers showed that cases contracted abroad accounted for only about 1 percent of the daily total of cases.
Also on Friday
Sept. 23: Taiwan to report to Legislature every 6 months on vaccine injury claims
Sept. 23: Taiwan reports 40,025 new COVID-19 cases, 41 deaths
Sept. 23: Travel agency predicts spike in travel to Japan when borders reopen
Latest COVID-19 rules
Sept. 29: Taiwan's new COVID-19 protocols for arriving passengers
Sept. 8: Taiwan to ease COVID-19 in-person class suspension rules
Sept. 5: Taiwan to resume visa-free entry for multiple countries from Sept. 12
Sept. 1: Taiwan's new COVID-19 protcols, '3+4' policy taking effect Sept. 1
Related News
Sept. 22: Foreign business groups welcome Taiwan's plan to end quarantine mandate
Sept. 20: CECC cautions of dual threat from COVID-19, flu this winter
Sept. 13: Japan to relax entry rules for Taiwan citizens from Sept. 14
Sept. 9: Girl to receive NT$3 million payout for adverse COVID vaccine reaction
Sept. 2: Taiwan grants EUA for 2nd-generation Moderna COVID-19 vaccine
Aug. 28: Taiwan begins rollout of Pfizer-BNT vaccines for young children
Aug. 24: Omicron subvariant-induced outbreak forecast to peak earlier: CECC
Taiwan's eased border controls in 2022
● Taiwan to ease rules for last four days of arrival COVID-19 protocol in September
● Taiwan raises weekly arrivals cap (Aug. 22)
● Taiwan lifts pre-flight PCR test requirement for all arriving travelers on Aug. 15
● Taiwan to reopen borders to some foreign students on Aug. 1: MOE
● Taiwan allows entry of 6 groups of foreign nationals on July 25
● Taiwan raises weekly arrivals cap, loosens pre-entry PCR requirement on July 7
● Taiwan introduces '3+4' quarantine policy for arriving travelers on June 15
View All