CORONAVIRUS
/
Taiwan reports 25,901 new COVID-19 cases, 40 deaths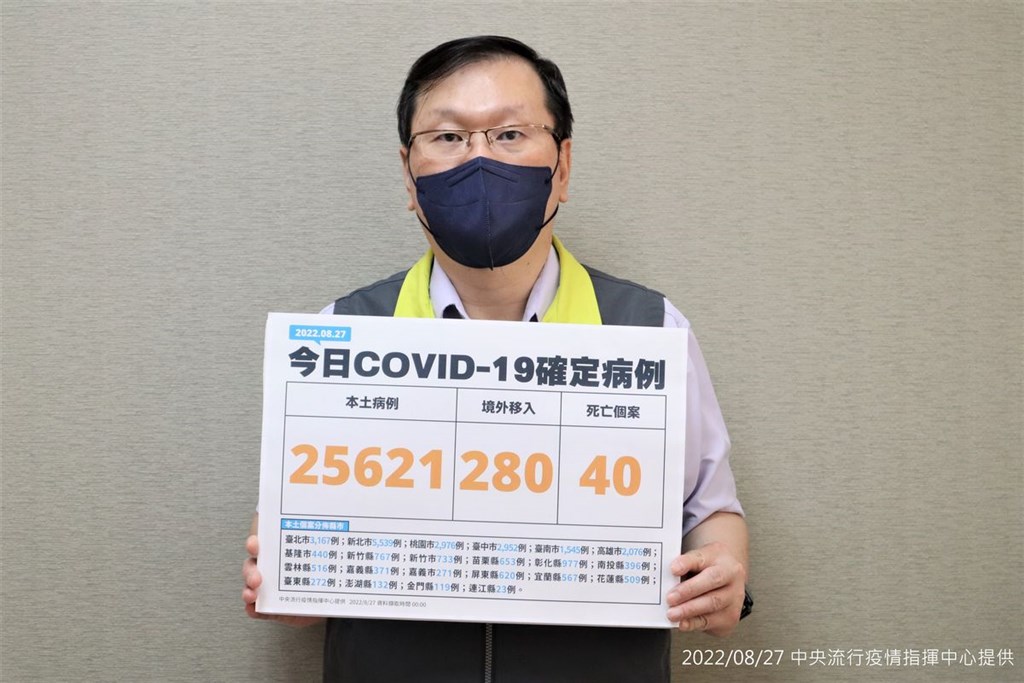 Taipei, Aug. 27 (CNA) Taiwan on Saturday reported 25,901 new cases of COVID-19 and 40 deaths from the disease, according to the Central Epidemic Command Center (CECC).
The deceased ranged in age from less than 5 years old to their 90s. All except two suffered from chronic illnesses or other severe diseases, while 18 had not been vaccinated against COVID-19, the CECC said.
Also on Saturday, the CECC reported 41 COVID-19 cases newly classified as severe and 138 newly classified as moderate.
MIS-C cases
Among the severe cases were two young patients, one aged below five while the other was over 10. They were diagnosed with multisystem inflammatory syndrome in children (MIS-C), the CECC said.
Both did not have a history of chronic illnesses and they had recently been discharged from the hospital after their conditions improved, the CECC said.
Of the 5,127,915 domestically transmitted cases recorded in Taiwan this year, 10,408 have been classified as severe infections and 13,158 as moderate, accounting for 0.20 percent and 0.26 percent of the total, respectively, according to CECC data as of Aug. 26.
Regional breakdown
Regionally, New Taipei reported the highest number of new cases on Saturday, with 5,539, followed by Taipei with 3,167 and Taoyuan with 2,976.
Taichung had 2,952 new cases, Kaohsiung 2,076, Tainan 1,545, Changhua 977, Hsinchu County 767, Hsinchu City 733, Miaoli 653, Pingtung 620, Yilan 567, Yunlin 516, Hualien 509, Keelung 440, and Nantou 396.
Chiayi County reported 371 cases, Taitung 272, Chiayi City 271, Penghu 132, Kinmen 119, and the Matsu Islands 23, the CECC said.
To date, Taiwan has recorded 5,194,850 COVID-19 cases since the pandemic began in early 2020. Of those, 5,168,096 were classified as domestic cases in which the virus was not contracted abroad.
With the 40 deaths reported Saturday, the number of COVID-19 fatalities in the country rose to 9,813.
(By Ko Lin)
Enditem/cs
Recent cases
Aug. 26: Taiwan reports 26,761 new COVID-19 cases, 45 deaths
Aug. 25: Taiwan reports 27,275 new COVID-19 cases, 37 deaths
Aug. 24: Taiwan reports 28,570 new COVID-19 cases, 18 deaths
Aug. 23: Taiwan reports 26,382 new COVID-19 cases, 16 deaths
Aug. 22: Taiwan reports 16,911 new COVID-19 cases, 23 deaths
View All